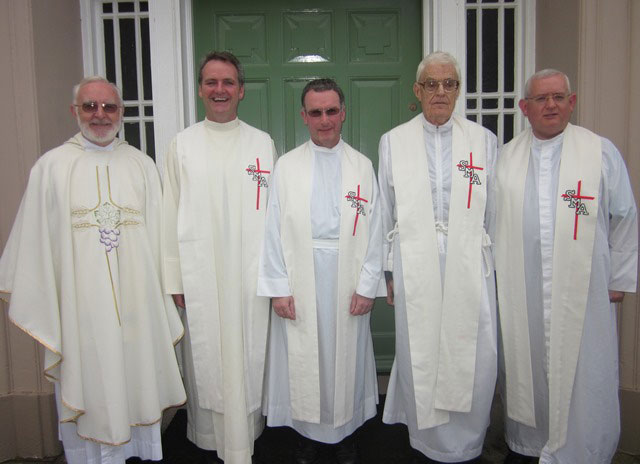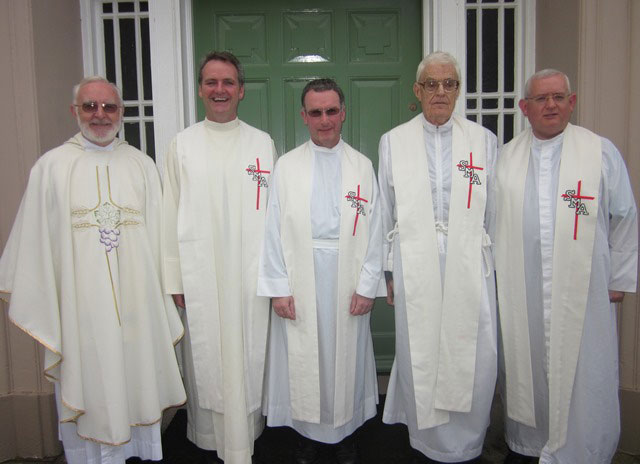 Our Jubilarians, Frs Damian Bresnahan, Tommy Faherty and Alberto Olovoni are flanked by Frs Colum O'Shea (left) and Malachy Flanagan (right)
Monday, 27 May 2013, saw the SMA Blackrock Road community gather to celebrate the Silver Jubilee of Priestly Ordination of Fathers Chris Brennan, Damian Bresnahan, Tommy Faherty and Alberto Olivoni. Three of the Jubilarians are living in Blackrock Road and the fourth, Fr Alberto Olivoni, was home on holidays from his mission in Nigeria. Though ordained on different dates in June / July 1988 we anticipated the actual dates to ensure all could be present for the community celebration. However, the best laid plans of mice and men… Fr Chris was unable to be with us due to a foot injury which necessitated rest. Thankfully a couple of days later he was back on his feet and getting about.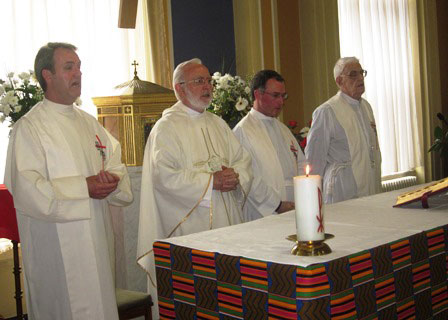 From left: Frs Damian Bresnahan, Colum O'Shea, Tommy Faherty and Alberto Olovoni.
The community Leader, Fr Colum O'Shea, was the Principal Celebrant at the 11am Mass with the other three Jubilarians assisting. Fr Edmund Hogan led the Choir.
In his homily, Fr Malachy Flanagan, paid tribute to all four priests for their dedicated service to the mission of the Church and particularly through their membership in the Society of African Missions. His homily touched on four key points: Call, Service, Witness and Thanks.
Fr Malachy reminded us of the words of Alan Paton in his book, Cry the Beloved Country: "Do not look for me just in the sanctuaries, or in the precise words of theologians, or in the calm of the countryside: Look for me in the place where people are struggling for their very survival as human beings." Our Jubilarians responded to their call to missionary priesthood through different ministries in the Society in the pastoral, medical, promotion, formation and administrative areas. They now look to the future with a renewed vision.
Our picture shows Fr Colum addressing the community during the celebratory lunch after the Mass.
Read Fr Malachy's homily here.
During our celebratory lunch afterwards, Fr Colum congratulated the Jubilarians and thanked them for their service to the Society in general. He did not want to repeat the curriculum vitae given by Fr Malachy in his sermon but thanked them for their help with the running of Blackrock Road.