The 2015 SMA Summer School, held at the Dromantine Conference & Retreat Centre, Newry, had as its theme, Living Faith means Living Justly. The Summer School brought together SMA priests, members of the SMA Justice and Laity Commissions, lay members of the Armagh Diocesan Justice committee and other lay participants. Former Northern Ireland Police Ombudsman, Nuala O'Loan, was invited to address the School on the subject of 'Social Justice, Faith and the Public Square'.
Baroness O'Loan is pictured with Social Justice Ireland CEO, Fr Seán Healy SMA and Fr Maurice Henry SMA, organiser of the Summer School.
In her address we were challenged to move from shock to action; to acknowledge that the Church is more than an NGO because the Church begins from its faith in a merciful and compassionate God who gave the earth for all to enjoy, not just the rich and powerful, echoing Pope Francis who said that we can walk all we want, build many things but if we do not proclaim Christ then something is wrong.
The following is an edited version of her address, delivered on 5 July 2015.
It is a great pleasure to be here with you this afternoon. I was asked to talk about "Social Justice, Faith and the Public Square" so I did what I always do when asked to speak and asked myself what does the SMA do? What is it that it contributes to the world and what does it think of this topic? Obviously I know about your work, and about the beginnings of the SMA, about the early heroism that enabled men to fight back against the terrors of Yellow Fever and all the other ills that awaited them when they went to Africa. I have often thought about these men, and the Sisters, who went to Africa in the second half of the 19th century, just a few years after the Famine here in Ireland, to bring the word of Christ to people. As word came back to the seminaries across Europe of the death rates, they must have gone knowing that they were unlikely to survive more than six weeks or so, and that the journey itself to Africa involved many perils, much danger and sickness. Yet still they went.
And the fruits of their labours were many. I do not think that many of us can really understand what it must have been like, even for those of you who went to Africa to set up parishes, build churches and parish, with all that that means in profoundly difficult circumstances. I want to pay great tribute to all of you present here today who have served on the African missions, giving your health, your energy and your lives to that work of the Lord which has evolved so much over the decades until it is extensive and wide ranging, for it is not enough to simply tell people to live Christian lives and to believe in him, in the Father and in his teaching.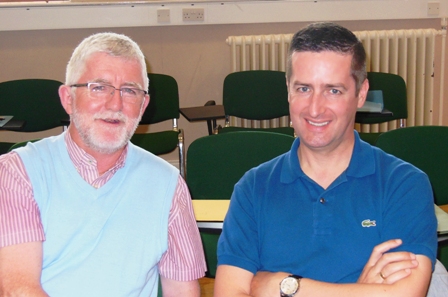 You work now on immigration issues, trafficking, witchcraft, economic issues, and now you are challenging and advocating at the highest level.
Fr Noel O'Leary SMA, PP of St Joseph's SMA Parish, Blackrock Road, Cork and Fr Hugh Lagan SMA, home on holidays from Pretoria, South Africa.
On the SMA website – www.sma.ie – I found this
'The Church in the developed world has the dual role of challenging indifference by raising awarenessof ourcurrent structurally unjust economic system, and by taking the lead in advocating for reform that will bring about justice.' It went on..
Today, corporate rather than colonial action isstripping Africa of its wealth. Within the continent the gap between the richand pooris being increased through corruption. The human dignity of millions of Africans is being sacrificed to provide dividends to foreign investors or to build up the economies of countries faraway. This economic exploitation in Africa is facilitated both by a culture of indifference in the western world, and by the powerlessness of ordinary Africans in the face of wealthy multinationals and corrupt powerful officials.
The Church's response must be to challenge this indifference and to empower the powerless.
In order to overcomeeconomic injustice, whether in Africa or in Europe, whether as individual or church we must do four things:
Firstly, promote the moral behaviour of individuals and organizations;

Secondly,

advocate and support efforts to bring about prudent regulation of markets so that the worst economic

abuses 

can be prevented;

Thirdly, work continuously for a situation in which the

needs of the

poor

are met;

Finally, we must use every means at

disposal to

nurture

and support the emergence of a vibrant civil society in African countries.
If we took out the word 'Africa' we might conclude that we had the broad strategy which would enable achievement of the common good anywhere in the world.
It is that common good which we are all called to seek. It stems from the dignity, unity and equality of all people [Compendium of the Social Doctrine of the Church]. It was earlier described as consisting 'of three essential elements: respect for, and promotion of, the fundamental rights of the person; prosperity, or the development of the spiritual and temporal goods of society; the peace and security of the group and its members'
For me in the work which I do, the issues are all social justice matters – human rights, the abolition of the death penalty, justice and security, accountability of policing and power, the protection of the right to life both in the womb and at the end of life, medical ethics and really challenging issues like mitochondrial transfers, when one has to really try and think the issues through.
If one accepts that medical technology has rightly brought us lung transplants and amazing advances in saving premature babies and so many other developments, is it right or wrong to replace a defective battery cell with one which is not defective which is harvested from another mother. The question, of course, is how is that battery cell or mitochondria secured? And if women are being paid £500 a time to allow their eggs to be harvested so that the healthy mitochondria can be extracted, is that wrong? And who are those women? Serious risks attach to it, even of life threatening renal failure. The women therefore are not necessarily true volunteers. Is that permissible? Trying to argue against this against the pioneers of test tube babies can be very difficult. To go back to abortion one can recognise the value of the abortion industry – BPAS [British Pregnancy Advisory Service] carried out 60,000 abortions at a cost of £27m, most of it funded by the UK taxpayer. How do we fight the commercial exploitation of women's vulnerability? Should we? Are these issues of faith in the public square?
And what of the growing thrust towards assisted dying? If we can allow someone to die easily, in the presence of their loved ones, at a time of their choosing, is it not inhuman to condemn others to the fear and uncertainty and pain of death? And what of euthansia? In Belgium last year over 1,000 people were euthanased without their consent and it is now legal to euthanise children of any age. In the Netherlands the greatest growth in assisted deaths has been in those who have been diagnosed with dementia or are suffering from depression or other mental illness. Will that happen here?
Mrs Dympna Mallon, the SMA Laity Coordinator pictured with Fr Maurice Henry SMA and the SMA Vice Provincial Leader, Fr Malachy Flanagan SMA.
And what about the Palestinian girls I met in Camp Gaza in the Jordanian desert, not even refugees but rather displaced people with no refugee rights, no right to enter the professions or the civil service, no possibility of going to university. Their only access to the world was through a couple of computers.
What do they want, these beautiful, bright, articulate, talented young women, living out their young lives on the bleak mountain side? They told us:
They want to be recognised as human beings with rights, not as people with no identity who are helpless;
They want the right to own property;
They want not to be poor, to be able to work;
They want something to do outside school hours, other than the monotonous drudgery of housework;
The boys have billiards. The girls have nothing.
They do not want to see so many relatives sitting at home useless, unable to do anything. They do not want to be useless too;
Several of them want to study medicine. One wants to be a cinematic director;
If they cannot study then they want to learn;
They do not want to be forced into early marriages;
They do not want to become pregnant in their early teens after a forced marriage;
They want to be happy. Everything is about grieving, one said, even when it seems there might be some happiness, it always ends in sadness for all that has been lost.
Above all they want to be able to make a contribution to the world in which they live using their talents.
There is something very shocking about the plight of the displaced, those of you who have worked in mission territory will know about it. The question is how do we respond to such a situation? It is not enough to be shocked.
What about all those people coming from Africa in the hope of a better life? Africa is a continent of huge natural wealth. As you often say, 'it is not that Africans could never have a proper standard of living, rather it is that society has continued to permit Africa's assets to be stripped out by its corrupt rulers and multi-nationals, leaving its people in penury'. So what do we do about the current problems in Lampedusa and Calais? Do we have to do anything, or is our lot actually to pray that someone else will solve the problem and salve our consciences for us?
In 2013 I was asked to go to Uganda to talk to parliamentarians about the fact that it is right to abolish the death penalty. They were contemplating expanding the use of the death penalty to convictions for aggravated homosexuality – cases where the participants in a sexual act are not consenting adults. In Uganda there was a popular perception that it is right to execute people for such acts to protect society. The challenge for them therefore as parliamentarians was to ensure their own future electoral chances whilst doing that which most of them freely acknowledged to be the right thing to do.
My role was to explain how the UK came to a place where we no longer have the death penalty. It was a process which took over a hundred years, moving from stopping executing pregnant women, to children, then to the vulnerable and so on. It is about sharing the arguments, rehearsing the counter arguments… one of the things which impressed me most was that it was clergy of several different denominations, including Catholic priests, who were leading the debate and dedicating funds to help enable the parliamentarians to come together in a safe place and work it all out.
This is the work of faith in the public square. It is work which many of my agnostic and atheist friends do too!
So what makes the Catholic quest for the Common Good different from that of secular society? Surely it is that it has at its heart the reason why we try to make a contribution, no matter how inadequate in the few short years that we have here in this life.
We make it because we believe in the Gospel, and in answering that most basic and fundamental element of our call to holiness, that we love God as he has loved us, we try to know that Christ is there in the quiet and in danger, and that we must love him not just when we encounter him in the hearts of all who love us, but also in the mouth of friend and stranger.
It is all very challenging and it demands of us in each and every interaction of our days, even the ones we avoid: it can be a bit disconcerting. I remember when I lived in Africa there were people with leprosy outside the market where I shopped on Saturdays. Missing fingers, toes, noses and ears they did not make a pretty sight. There is no welfare service in Kenya and they begged to stay alive.
They were outcasts in modern day Kenya just as they were in the Bible. I was happy to give them money but I feared to touch them lest I take leprosy home to my two year old and my new baby. One day one of the missionaries said to me that I should touch them. If I washed my hands well there was no risk. He had been doing it for 30 years. He loved them, visiting them in their homes, bringing them Holy Communion, planting seeds for them and doing many other things. Yet I was afraid. I feared too much to touch.
I thought of it when I read about Pope Francis speaking in 2013 and recording his approach to hearing confessions as a priest. He said, "I would ask them, "Do you give alms?" — "Yes, Father!" "Very good." And I would ask them two further questions: "Tell me, when you give alms, do you look the person in the eye?" "Oh I don't know, I haven't really thought about it". The second question: "And when you give alms, do you touch the hand of the person you are giving them to or do you toss the coin at him or her?" This is the problem: the flesh of Christ, touching the flesh of Christ, taking upon ourselves this suffering for the poor. [Address of Pope Francis to the different Ecclesial Movements at the Pentecost Vigil, 18 May 2013]

We have our outcasts, and our excluded brothers and sisters too – the mentally ill; alcoholics, substance abusers, the homeless, those who have been in prison, those abandoned by their families, old and young; those who cannot participate in modern life because they need so much care that a journey into the world is too difficult, or too complicated, or there is no-one who can manage to take them. The people who cannot play an active engaged role in the world as we know it. The elderly who rarely speak to anyone because they live alone and do not have the mobility to get out and about.
That is what our call to holiness and to faith is all about in all the corners of the public square within which we function.
In a place like Dromantine, with its beauty and its peace it might be tempting to lose sight of the secular world in which so many of us are called to live out our faith. Of course, for some faith is a funny sort of notion. People may even sneer at people of faith, implying that we are a bit simple. Yet the gift of faith is a massive gift. It informs and colours how we see this world in which we live. It gives purpose to our lives, even if others denigrate our beliefs, or even when they regard us and our beliefs as irrelevant. We are actually called to be evangelisers to those who see us thus – to be a light to the world!
In Evangelii Gaudium Pope Francis said that, 'humanity is experiencing a turning-point in its history: steps are being being taken to improve people's welfare in a health care, education and communications. Yet the majority of our contemporaries are barely living from day to day, with dire consequences. Diseases are spreading. The hearts of many people are gripped by fear and desperation, even in the so-called rich countries. The joy of living frequently fades, lack of respect for others and violence are on the rise, and inequality is increasingly evident. It is a struggle to live and, often, to live with precious little dignity.
I think we can all recognise the world which he describes, and he tells us we must say no to "an economy of exclusion and inequality, in which it is not a news item when an elderly homeless person dies of exposure, or when food is thrown away while people are starving, but it is when the stock market loses two points. Today, he says, everything comes under the laws of competition and the survival of the fittest, where the powerful feed upon the powerless. Masses of people find themselves excluded and marginalized: without work, without possibilities, without any means of escape.
Exclusion, he says, ultimately has to do with what it means to be a part of the society in which we live; those excluded are no longer society's underside or its fringes or its disenfranchised – they are no longer even a part of it. The excluded are not the "exploited" but the outcast, the "leftovers".
The consequence of living in this world, he tells us, "is that almost without being aware of it, we end up being incapable of feeling compassion at the outcry of the poor, weeping for other people's pain, and feeling a need to help them, as though all this were someone else's responsibility and not our own. The culture of prosperity deadens us; we are thrilled if the market offers us something new to purchase. In the meantime all those lives stunted for lack of opportunity seem a mere spectacle; they fail to move us."
Can that be true? Can we really become immune to the pain of others? We would surely say we could not. Yet it must happen to us, and the greatest evidence must be that we are able to sustain our way of life in the face of all that pain and misery. We justify it by saying that we do our best, and we need a degree of comfort and prosperity to be able to do what we do!! We may even argue that the situation is so complex, so big and so overwhelming that really we cannot make difference. Is that good enough?
Pope Francis has identified many of the causes we need to espouse:
'We cannot ignore the fact that in cities human trafficking, the narcotics trade, the abuse and exploitation of minors, the abandonment of the elderly and infirm, and various forms of corruption and criminal activity take place. At the same time, what could be significant places of encounter and solidarity often become places of isolation and mutual distrust. Houses and neighbourhoods are more often built to isolate and protect than to connect and integrate.'
The answer he tells us is 'To live our human life to the fullest and to meet every challenge as a leaven of Gospel witness in every culture and in every city. This will make us better Christians and bear fruit in our cities.'
It is a fact, too, as Cardinal Daneels said, that the Kingdom of God grows primarily outside the Church, in the field, among the people, in the world. He told us, 'you can help us most by making Christ's Spirit present in your home, in your work, in your profession, in the world of economics and politics, in culture, in schools, in health care institutions… To be present in the world and in life, to discern therein what is in conformity with the gospel, and to bear witness to it all: this is not merely a prelude to the coming of the Kingdom of God.It is a kingdom itself already established and founded.'
It can seem a bit overwhelming. The corrupt exercise of power is hard to challenge, especially when it reposes in the hands of oligarchs, presidents, and multi-nationals. It can seem an insuperable task.   It will only be achieved in small steps. That the steps may have to be small, must not be a deterrent for us in trying! I have learned that faith must be lived in the world in which we live, with the people whom we meet. It is not an intellectual exercise.
It must be lived in prayer, in communion with the Lord who made us to do the work, and when you are busy in the world whether as a wife and mother of children, as a professional person, as someone who sees the need and really wants to do something to help, it can be very tempting to put prayer last, until there is neither much time nor energy for the encounter with the Lord, for hearing what he has to say to us. That is a dangerous route to take… There must be balance in everything, but it can be very hard to achieve.
Cardinal Hume said in 1996 Religion is always personal, but never just a private affair. Discipleship involves seeking God in this world, as well as preparing to meet Him in the next. The Gospel imperative to love our neighbour entails not only that we should help those in need, but also address the causes of destitution and poverty. The deepening of the spiritual life must go hand in hand with practical concern for our neighbour, and thus with social action. [The common Good and the Catholic Church's Social Teaching – a statement by the Catholic Bishops' Conference of England & Wales, 1996]
The Church's social teaching places the political within the larger context of humanity's relationship with God. Social and political action is important, but realising our full human dignity as children of God, made in his image and likeness, also requires each of us to undertake an inner spiritual journey. The future of humanity does not depend on political reform, social revolution or scientific advance. Something else is needed. It starts with a true conversion of mind and heart.
Francis talks too of our call to holiness as a call to protect our inheritance: "It means protecting all creation, the beauty of the created world, as the Book of Genesis tells us and as Saint Francis of Assisi showed us. It means respecting each of God's creatures and respecting the environment in which we live. It means protecting people, showing loving concern for each and every person, especially children, the elderly, those in need, who are often the last we think about. It means caring for one another in our families: husbands and wives first protect one another, and then, as parents, they care for their children, and children themselves, in time, protect their parents. It means building sincere friendships in which we protect one another in trust, respect, and goodness. In the end, everything has been entrusted to our protection, and all of us are responsible for it. Be protectors of God's gifts!" [Homily of Pope Francis, St Peter's Square, 19 March 2013]
There is plenty of guidance, then for those of us who work in the public square, if we can find the courage to hear and to act, not just out of our common humanity, but in faith.
Many of you have given your lives to the Missions. You have contributed to the building of Christ's kingdom across the world. You are part of a very noble tradition in this Church of ours. I have seen many situations where people live in desperate poverty and among them live the priests, sisters and volunteers, people at different stages of their lives who go to live in another country to try and give something back for all the goodness they have known, who work to try and bring help in all its necessary forms, health, education, social care, living the gospel and thus bringing people to Christ, providing for them in their desolation and in those terrible situations of conflict which inevitably arise in our world.
I have seen it in Nairobi in the shanty towns, in remote western Kenya where our third son was born in a mission hospital 40 km from the nearest town; in the favellas of Rio de Janeiro; in the remote districts of Timor Leste where I worked for the Irish Government as a Special Envoy. In Timor Leste, as is so often the case, the church was the only real surviving national network after a 25 year military occupation by Indonesia in which over 100,000 people died – over 10% of the population. I was in Suai where the people were taken up the single mountain road across the island to a place they called Jakarta 2 and thrown off a cliff, and where the people took refuge in the church only to be massacred there; in Ermera where it was the local priest who was able to negotiate with guerrillas hiding in the mountains and get them down peacefully to surrender, and to allow the peace to be consolidated.
I remember sitting in our chapel and listened to Sr Ursula of the Columban Sisters tell the story of her sisters and their work. She was wonderful, modest, proud of her sisters, graphic in her description of the places where they work: in China and the Far East, her voice broke only once when she told us of the sister who, working in a war zone, was taken hostage and murdered. Despite its failings, despite the fact that the numbers in Europe are dwindling and that there is a crisis of priestly and religious vocations here, we have much to be proud of in our Church. We need to be aware that we are part of that great universal church, and it is, after all, His Church.
As Pope Francis told us the first day of his Papacy,
"We can walk all we want, we can build many things, but if we don't proclaim Jesus Christ, something is wrong. We would become a compassionate NGO and not a Church which is the bride of Christ."
The most important thing for each of us then, is our relationship with Jesus and through him with God, for it is through and in and with the love that He has for each of us that we will be able to live our faith in this secular world. It may have its profoundly difficult moments. After all Jesus did not find welcome and acceptance everywhere. I think of people like Breda O'Brien and those who fought so valiantly for the protection of marriage, and of the abuse which they took. I largely stayed out of the debate for a variety of reasons, but on the one major issue on which I spoke publicly – the fact that the Garda Siochána were not taking action to secure the independence and impartiality of their role in society, but their members were coming out in many areas and many ways in support of the Yes vote, the response generally was, 'well she is a Catholic, and she would say that'. What I said was actually reflective of my professional views on proper policing which happen to coincide with my religious beliefs, but it was the professional issue and the possible impact in terms of diminution of trust, a global issue for policing that I wanted people to think about.
It can be quite tough to challenge comfortable assumptions, such as the assumption here in Northern Ireland that the police could do no wrong, that collusion was a republican myth, rather than an issue affecting the whole community, that shootings and killings which could have been stopped were allowed to happen because of inaction by the police and security forces. Yet it must be done if we are to be able to build our new world on solid foundations and not on the shifting sands of lies and evasions.
The reality is that as we live our faith in today's secular world, we will find that God reveals himself to us in so many ways. We meet him in others who walk the journey with us, relations, friends, teachers, medical professionals, those who make our world work, and who make it safe for us to live in. There are other ways and other times when we meet the Lord. As Martin Luther wrote, "Our Lord has written the promise of the resurrection, not in scripture alone, but in every leaf in springtime."
And, of course, the reality for all of us, I think, is that there will be times in our lives when we feel that we know why God made us and other times when we wonder, and on occasion we may feel so distanced from God that we may come to wonder whether he exists, and if he does exist, does he know of us? We may wonder, "Can it really be true that he holds us in the palm of his hand, as we were taught as little children.?" Pope Benedict said this in his final address,
The Lord has given us many days of sunshine and light breezes, days when the fishing was plentiful, but also times when the water was rough and the winds against us, just as throughout the whole history of the Church, when the Lord seemed to be sleeping. But I always knew that the Lord is in that boat and I always knew that the boat of the Church is not mine, not ours, but is His. And the Lord will not let it sink. He is the one who steers her, of course also through those He has chosen because that is how He wanted it. This was and is a certainty that nothing can tarnish. And that is why my heart today is filled with gratitude to God, because He never left—the whole Church or me —without His consolation, His light, or His love."
There is a message for us all in those words. If we are to live our faith in the world, no matter how complex or otherwise our individual worlds, we have to go right back in our understanding to the beginnings of Christianity and our heritage before that. It was most unlikely, given all the might of the Roman empire and the power relationships existing in the Holy Land at the time of Christ, that this man from a tiny village, who had lived and worked quietly for 30 years, should have been able, in the space of just three years, to found a global church of 1.2 billion Catholics and millions of other Christians. 
It is even more remarkable when one contemplates the tragedy and the triumph of the cruxifixion and the resurrection, when one reads of the wanderings of men like Paul and Timothy, with no communication systems, very little written material, no modern transport, and of how they encountered such great hostility, being flogged and imprisoned and even executed for their attempts to spread the words of Christ.
It can seem inconceivable when one contemplates the journeys of people like Columbanus and Patrick crossing oceans in the name of Christ some fifteen hundred years ago, when one considers the great schisms of the centuries, when one thinks of the repression of religion through the centuries, even most recently in Penal Laws here in Ireland, in France after the revolution, in Eastern Europe and in China and Russia, during the last century, that the Church survived.
The church is still here.It is changing in its practices, yet its core truths remain unchanged. Yes there are problems of lack of vocations in the first world. This we must pray and talk about. We must examine our value systems, how we measure the contribution of those who choose to give their lives to help people to know God more clearly, to follow him more nearly, how we encourage and support those who choose that path, how we accord them respect and dignity and give them rightful affirmation. But, I think we must leave the Church to God, and just live our little lives as best we can trying to make the world a better place by our presence here, living the love that God has for each of us, using all the talents, technology and functional capacity he has given us.
People became Christians because of the joy of those Christians whom they encountered, because of the way in which they lived… that too could be said of us. Or it could be that we go to church, pay our dues and stay within the comfort of our own little circle of friends, not challenged by the call to take up our crosses and follow him joyfully and in love.
Each of us is called to live our faith in the public square – priests, sisters, missionaries and laity. There are many public squares within the great public square that is our world. We live where we find ourselves, our challenge is to really live in faith, so it is perhaps appropriate to end with some words which are attributed to St Augustine of Hippo, and to bring to God in thanksgiving and hope the work of the brothers and priests in the Society of African Missions [SMA] and the work which each of you do.
"God of our life, there are days when the burdens we carry chafe our shoulders and weigh us down; when the road seems dreary and endless, the skies grey and threatening; when our lives have no music in them,  and our hearts are lonely, and our souls have  lost their courage. Flood the path with light, run our eyes to where the skies are full of promise; tune our hearts to brave music; give us the sense of comradeship with heroes and saints of every age; and so quicken our spirits that we may be able to encourage the souls of all who journey with us on the road of life, to Your honour and glory." [354-430]
Nuala O'Loan
---