Editor's Note: In the SMA 'Revisioning Mission' booklet, highlighting the issues raised, and commitments made, during the 2019 Provincial Assembly, the chapter on 'INTEGRATING JUSTICE – Living and Promoting Justice' begins with the quotation from the Prophet Micah:
"Live justly, love tenderly, and walk humbly with your God." (Micah 6:8)
The chapter states:
"Today, fidelity to our charism invites us to tackle the root causes of the abandonment experienced by so many in our relationships with God, other people, institutions, and the environment. This is something in which all can participate wherever we are, and we wish to partner with people of goodwill on this journey in our renewed awareness of the need to build right relationships."
The chapter also states:
"Within the Province and the broader SMA family, it is vital to develop an understanding of how justice work in Ireland helps the most abandoned in Africa. Unless this is understood, the wonderful justice initiatives of our Province and its members may be undervalued and treated dismissively. Social Justice Ireland and the Shalom Center for Conflict Resolution and Reconciliation in Kenya offer valuable insights and opportunities in pursuit of this goal."
While Social Justice Ireland and Shalom are not SMA projects per se, they were founded and are headed by SMA missionaries who have helped realise the Society's charism of reaching out to the most abandoned through a unique and unfettered approach.
Social Justice Ireland was co-founded by Fr. Sean Healy SMA, who has helped develop and grow the organization to national stature, highly respected as a key social commentator by the media, academia and political institutions. Similarly, the Shalom Center for Conflict Resolution and Reconciliation was co-founded by Fr. Padraig Devine, SMA and Fr. Ollie Noonan, SMA and it too has grown in stature, not only recognized as a key justice and peace organization in Kenya, but also throughout east Africa and internationally. 
In the coming days we will publish an article highlighting the work of Social Justice Ireland. Today, we are delighted and honoured to publish a summary of the work undertaken by SHALOM  throughout 2019. 
We ask you to pray for the work of SHALOM, especially Frs. Devine and Noonan, as they continue the SMA charism in serving the most abandoned. 
——————————————————————————–
In 2019, the Shalom-SCCRR Programs were designed with visionary activities to transform conflict, counter religious ideological extremism, and sustain peacebuilding progress between ethnic communities through sustainable peace and development activities. The key components and outputs in this methodology and process, ultimately oriented to reconciliation, are outlined below. This work amounts to a considerable effort on behalf of the Shalom-SCCRR team to plan and insert itself into these remote, marginalized and dangerous conflict environments across East Africa. With the highest degree of professionalism and ethical standards, the Shalom-SCCRR teams exceeded its targets for the year. At the core of Shalom-SCCRR activities are the communities that we serve, who are inspired by a shared vision of living in a peaceful co-existence, characterized by a desire for interdependence and an appreciation of the other.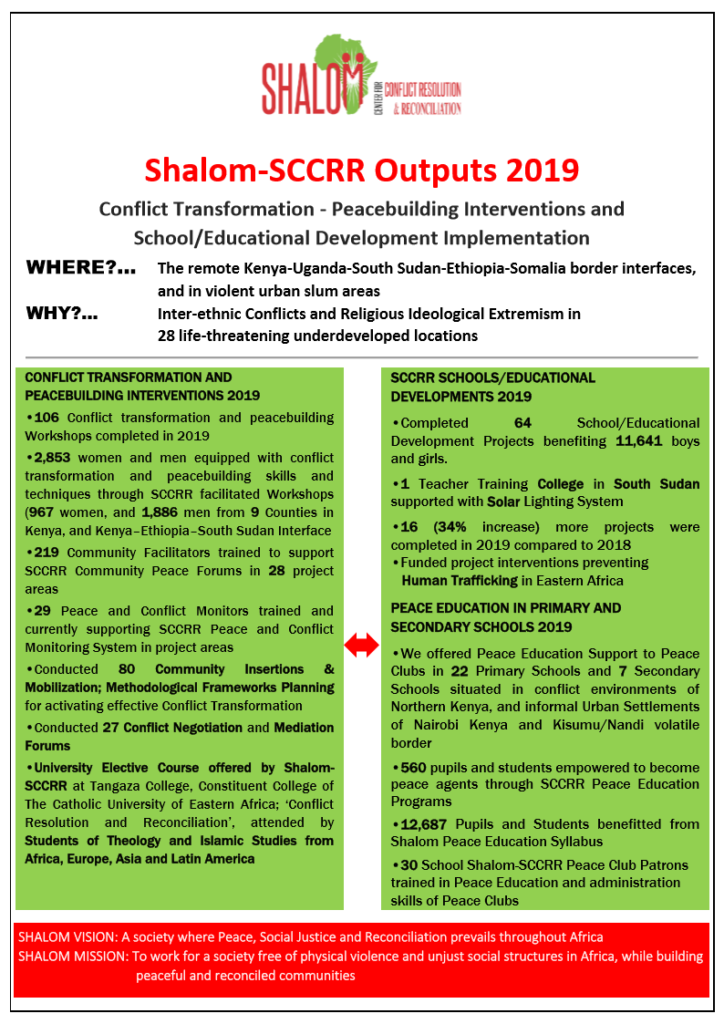 Shalom-SCCRR is grateful to all our donors, partners, and stakeholders across the various international units for their unwavering support and encouragement to the organization's methodology and work in Africa. Shalom-SCCRR appreciates the work of Rev. Dr. Patrick Devine, our international chairman for the promotion, expansion and structuring of the organization internationally. His role is invaluable for the advancement of the cause of peaceful co-existence among peoples in Africa and strengthening the resolve to work together for a just, peaceful and reconciled society. Already in 2020, Shalom-SCCRR is very active in the field consolidating and building on the considerable progress made last year towards sustained peace and development.
Fr. Oliver Noonan MA: Executive Director
Prof. Wanakayi Omoka: Director of Research
Mr. Godfrey Okoth MA: Director of Programs
Mr. Francis Mwangi MA: Monitoring, Evaluation, Research, and Learning Officer