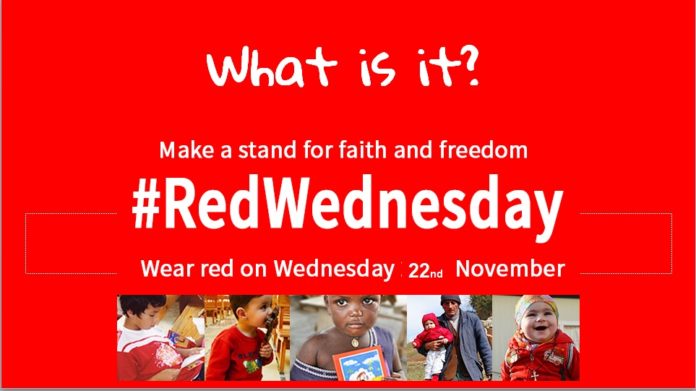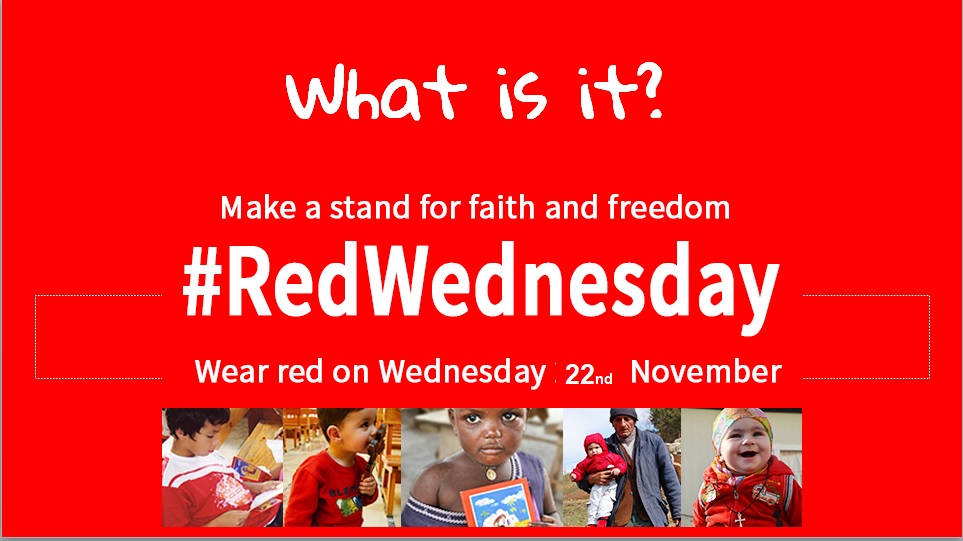 STAND UP FOR FAITH AND FREEDOM
on Wednesday 22 November 2017
Aid to the Church in Need (ACN) Ireland are asking that we stand in solidarity with persecuted Christians and all who suffer for their peacefully held beliefs. ACN are holding a week of events from 19 – 26 November with #RedWednesday as the highlight on Wednesday 22 November.
Red is the Christian colour of martyrdom. Christians are the most persecuted faith group in today's world and #RedWednesday will honour all Christians who suffer and die for their faithfulness to Christ's message of peace and love.
#RedWednesday will shine a light on Christian persecution but also highlight the injustices perpetrated against other faith groups.
Simply because of their religious beliefs, people in many parts of the world suffer:
Name-calling
Harrassment
Denial of jobs
Homelessness
Physical abuse
Kidnap
False imprisonment
Torture
Murder
ACN's campaign calls for respect and tolerance for people of faith and between different faith traditions.
This is important because the rights of people of faith are largely ignored in a society whose secular focus knows little about religion and cares even less.
ACN is asking parishes, schools, and community groups to help change this by wearing red, lighting buildings or landmarks red (with permission and if they are already floodlit) and holding peaceful prayer events, so that Ireland and the world will take notice.
"Your voice on behalf of the voiceless will be heard – people power!"
FLOOD LIGHTING
LED Floodlights will accept a Red High Temperature Lighting Gel, available from theatrical and lighting suppliers. You can find a range of suppliers online by searching for 'high temperature lighting gel for LED floodlights'. Make sure you select a deep red, otherwise your building could display as pink.
You many read Intercom's article on Red Wednesday by clicking here.
The article includes examples of attacks and desecration of Christian churches and shrines across the world.