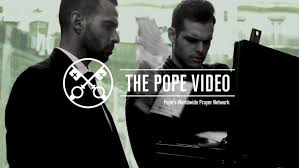 "We pray that the cries of our migrant brothers and sisters, victims of criminal human smuggling and human trafficking, may be heard and considered."
– Pope Francis
The Pope's Video for February 2020 addresses the issue of human trafficking and human smuggling.
As Irish people, we were shocked by the discovery on October 23, 2019, of 39 deceased Vietnamese teenagers and young adults in a refrigerated lorry in Essex, England, driven by a young man from County Down. They died from suffocation.
Can we ever forget the heartbreaking text, sent by 26-year-old Pham Thi Tra My to her mother at 8.28pm GMT, as the lorry was in transit between Belgium and England?:
"I'm sorry Mom. My path to abroad doesn't succeed. Mom, I love you so much! I'm dying bcoz I can't breath… I'm from Nghen, Can Loc, Ha Tinh, Vietnam… I am sorry, Mom".
Pope Francis is uncompromising in his words. He reminds the entire world that we cannot be silent accomplices of the organized criminal phenomenon of human trafficking. Much less can we be protagonists of it, even indirectly.
The Holy Father encourages us, when faced with those who live off the misfortune of others and who take advantage of their desperation, to work to overcome the inequalities that make it possible for one person to enslave another.
You may listen to the Holy Father's reflection by clicking the image below. Afterwards we encourage you to take time to reflect on the information chart at the end of the article:
#PrayAgainstTrafficking