SMA missionary, Italian-born Fr Silvano Galli reports on the partial reopening of parishes in the west African country where he has worked for many years. The closure of churches has made life difficult for the faithful who are used to attending church ceremonies every week with no thought of the need to keep social-distancing etc. In an article he sent to FIDES, the Vatican News Agency, Fr Galli – who works in the parish of Pope St Leo IX, in Kolowarè – writes:
"On 7 July, 2020, the Togolese Bishops' Conference agreed that, on an experimental basis, some churches could be opened in each prefecture, but no specific date has yet been decided. Our Kolowaré parish is included in the prefecture of Tchaoudjo." Until the parish reopens, the Parish Priest, Fr Federico, and Fr Galli celebrate Mass in the convent of the Missionary Sisters of Our Lady of the Apostles [OLA].
"Just a few days ago", continues Fr Galli, "the Sokodé diocesan treasurer, Fr Grégoire Tatoa, passed by to deliver a contribution from Bishop Celestin Gaoua, Bishop of Sokodé, which was a 'contribution to tackle the pandemic' from the Emergency Fund established by Pope Francis at the Pontifical Mission Societies (PMS) to support the Churches of mission countries in the face of the Covid-19 emergency."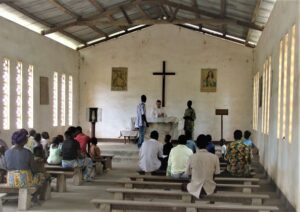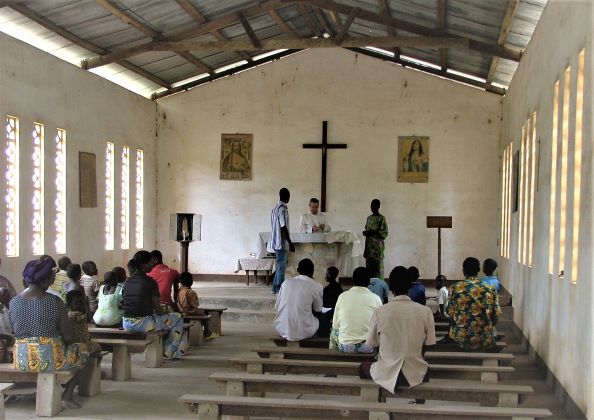 "Since last March, with the churches closed, no gatherings, no catechesis, prayer groups, sacraments, the parish has had no way of collecting money, apart from a previous intervention of assistance from the Bishop. This second contribution was made to all the parishes of the diocese", Fr Galli points out.
"Parish Caritas has also tried to be close to the most vulnerable through the basic ecclesial communities (CEB), identifying in particular needy families in the five communities present in Kolowarè. Everyone was given a food parcel." In recent weeks a number of Irish SMA supporters sent donations for Fr Galli's parish and this money has also been used to support some of these families. Thank you for that support.
As for the pandemic Fr. Galli concluded by saying that "the state of emergency has been prolonged for another 45 days, until mid-August." As of 13 July, 2020, fifteen people have died from the pandemic, 720 people were tested positive and more than 475 people recovered.