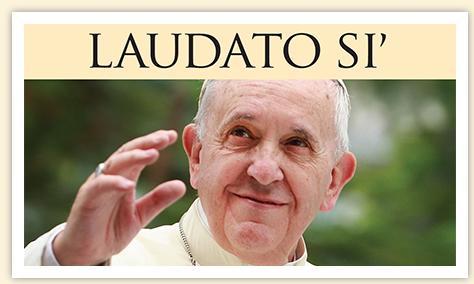 Pope Francis invites us to celebrate Laudato Si' Week –  May 16 – 24. 

His video message below invites us all to participate. Pope Francis asks, "What kind of world do we want to leave to those who will come after us, to children who are growing up?"  Laudato Si' Week is a global campaign on the occasion of the fifth anniversary of his encyclical letter which has done much to promote care for creation and encourage action for Climate Justice in the world,  In his message the pope renews his urgent call to respond to the ecological crisis. "The cry of the Earth and the cry of the poor cannot continue," he says.

A special website has been setup to promote prayer and action during this week. The LAUDATO SI WEEK website contains useful information, links to events around the world, prayer resources and a  very informative section in which care – care for humanity and

Invitation from Pope Francis

care for creation are linked to our current experience of Covid-19 (to access Click here ) Catholics, communities and congregations are invited to use the website to plan and implement actions and to pray during the week.

The fifth anniversary of Laudato Si' coincides with important events to find solutions to the environmental crisis. This year is the deadline for countries to announce their plans to meet the goals of the Paris Agreement on combatting climate change. The year 2020 will also see the United Nations' conference on biodiversity to set meaningful targets to protect the places and species that sustain life.
To mark this occasion the SMA website will, throughout the coming week, publish articles and links to resources produced by SMA staff and other organisations.  Among them will be a video addfress by the SMA Laity Coordinator Dympna Mallon. 

 
We hope that Laudato Si' week will be a time of learning, reflection and action in which we heed the Encyclical's call to hear the cry of the earth and the cry of the poor and come to appreciate that:
"All of us can cooperate as instruments of God for the care of Creation, each according to his or her own culture, experience and talents." (LS14)