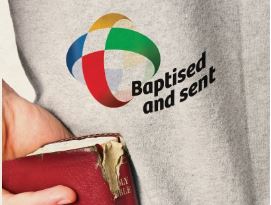 Congregation for the Evangelization of Peoples Pontifical Mission Societies
EXTRAORDINARY MISSIONARY MONTH October 2019
THE CHURCH OF CHRIST ON MISSION IN THE WORLD
During the Angelus Prayer on World Mission Sunday, October 22, 2017, Pope Francis publicly announced to the whole Church his intention to designate an Extraordinary Missionary Month for October 2019 (EMM OCT 2019) to celebrate the 100th anniversary Pope Benedict XV's Apostolic Letter Maximum Illud. On the same day, the Holy Father sent a letter to Cardinal Fernando Filoni, Prefect of the Congregation for the Evangelization of Peoples (CEP) and President of the Supreme Council of the Pontifical Mission Societies (PMS).
He entrusted him with "the work of preparing for this event, especially by raising awareness among the particular Churches, the Institutes of Consecrated Life and Societies of Apostolic Life, and among associations, movements, communities, and other ecclesial bodies". In order to reignite the baptismal awareness of the People of God in relation to the mission of the Church, Pope Francis provided the following theme for the Extraordinary Missionary Month:
"Baptized and sent: the Church of Christ on mission in the world".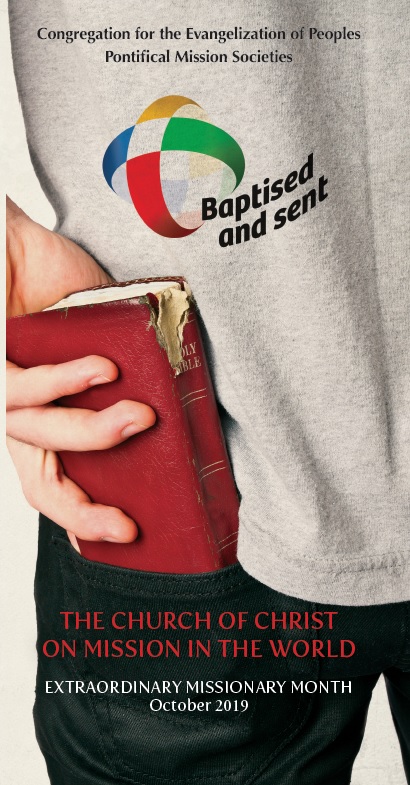 In fact, reawakening an awareness of the missio ad gentes, and reinvigorating the responsibility of proclaiming the Gospel with new enthusiasm, are themes that combine the pastoral concern of Pope Benedict XV in Maximum Illud with the missionary vitality expressed by Pope Francis in Evangelii Gaudium: "missionary outreach is paradigmatic for all the Church's activity" (EG 15).
It is about placing "the mission of Jesus at the heart of the Church, making it the criterion for measuring the effectiveness of her structures, the results of her labours, the fruitfulness of her ministers, and the joy they awaken. For without joy, we attract no one". (Meeting with CELAM Executive Committee, Bogotá, 7 September 2017).
The commitment to personal and communal conversion to Jesus Christ crucified, risen, and alive in his Church, will renew the ardour and passion for witnessing to the world the Gospel of life and Paschal joy (cf. Lk 24:46-49) through proclamation and Christian living.
There are four dimensions, specified by the Pope, to live more intensely the journey of preparation for and implementation of the Extraordinary Missionary Month – October 2019:
1. A personal encounter with Jesus Christ living in his Church: in the Eucharist, in the Word of God, and in personal and communal prayer.
2. Testimony: missionary saints, martyrs, and confessors of the faith as an expression of the Church scattered throughout the world.
3. Missionary formation: biblical, catechetical, spiritual, and theological.
4. Missionary charity.
You may download the brochure to help the universal Church join Pope Francis in this initiative by clicking here.