Hapag-Asa Feeding programme
The parish participates in this nationwide programme which provides food for malnourished children (6 months to 12 years of age). It is an amazing 'self-help' programme which, in 2012, saw 280 parish children receive a healthy, balanced diet for six months which led to a huge improvement in their overall health. Over the course of the six months 40 children dropped out, some of them because their shanty homes were demolished by landowners and they had to move away. The others left the parish area during the period as their parents searched for or found work elsewhere.
Our picture above, painted by th late Joey Velasco, uses the faces of real children who were fed by the programme, gathered around Christ who is preparing food for them.
The Hapag-Asa NEWS gives a case study: Mark, 12 years of age, weighed 22kgs and was 130cms in height at the start of the programme. After six months his weight had increased by 4kgs and he had grown 1cm in height. He also improved emotionally and socially, having made friends with his co-recipients in the programme. You can read more at www.hapagasafeeding.com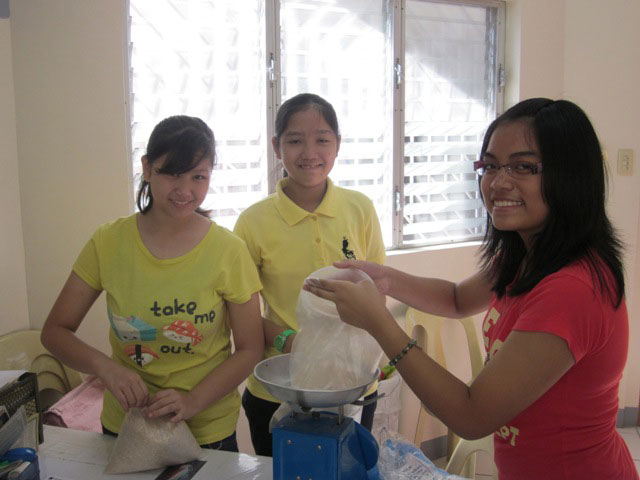 Some parish Hapag-Asa volunteers preparing bags of rice for the Feeding programme.
Part of the funds needed for Hapag Asa come through Pondo ng Pinoy. It is a very simple system: people take a small bottle (like a Coke or Fanta 330cl one) and put their spare coins into it. These in turn are brought to the parish which deposits all the money in the national Hapag-Asa account. In turn the parish then receives rice and other food for the children they have identified that are in need. Before the food is given the child is checked and treated for worms. Each programme runs for six months. But it is not a 'doling-out food' programme. The parents are involved in courses to help them learn about nutrition etc. as well as helping with the cooking and distribution of the food to the children. Each child is fed with a fortified rice (vitamins and minerals added) as well as, when available, some milk. Ten pesos is given each day for the parents to buy some additional food for the child.
Do you want to help feed some needy children in Manila? Click here and go to Hapag Asa on the Please choose a cause menu. All donations in full will go to the Good Shepherd parish to help their children.
In 2012 the Bishops Conference launched the FAST2FEED 40K programme which aimed to raise 40 million Pesos in the 40 days of Lent to feed 40,000 severely malnourished children. Donors undertake to fast from a meal or two during the 40 days and put the money they saved into their Pondo ng Pinoy bottles. It is important to remember that many of these people are themselves in need of better nutrition but, in a truly Christian sense, go without so that others might have a little.