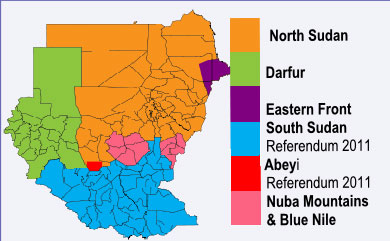 Overwhelming vote for independence in Southern Sudan
Despite the terrible violence of many years and the fears expressed in the runup to the Referendum on independence for Southeren Sudan the people have now decided that Southern Sudan will become an independent State.
The results from the referendum held from 9-15 January were published on 30 January.
Agenzia Fides reports: "The announcement was made from Juba, capital of the future State. Based on examination of 100% of votes, 98.83% of the nearly 4,000,000 voters wanted independence. At the same time in universities in the Sudanese capital of Khartoum, students staged protests against the regime of President Omar Hasan Ahmad al-Bashir.
"Almost exclusively university students participated in the demonstrations. The police intervened heavily on the demonstrators," a local source told Fides, who for security reasons does not wish to be named. "The protesters chose the date of yesterday, coinciding with the publication of the results of the referendum on Southern Sudan, to try to amplify its effect. Among the slogans that the demonstrators were shouting, as well as those against the President, were some which called for the Country's unity. "According to some press releases published on the websites of the demonstrations' organisers, a student died as a result of police beatings.
"For now, we have the impression that the protest will remain confined to universities. The regime also reacted with much force. It is true that ordinary people must cope with the rising cost of living, with the rising prices of basic necessities. Therefore an extension of the protest cannot be ruled out," concludes our source.
On the eve of the protest, 29 January, the daily online "Sudan Tribune" published an article announcing the demonstration. The newspaper said the protest was organised using various "social networks". The organisers spread via the Internet the slogans to be shouted and the logos to be posted on billboards, hats and shirts. Some of the slogans made direct reference to the demonstrations in Egypt. (Agenzia Fides 31/1/2011)