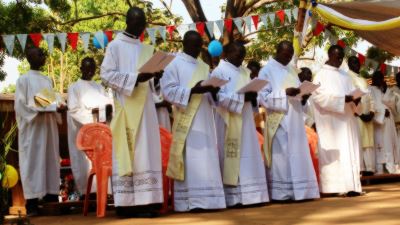 Sunday, 18 January 2015, at the Cathedral of Saint Anthony of Padua in Bossangoa, saw the closing celebration for the 50th anniversary of the creation of Bossangoa diocese. Fittingly, we celebrated with the ordination of Koffine Firmin Demasse to the diaconate and the ordination of Paterne Marius Danyboy Kiossett, Charles Dei, Brice Wenceslas Kadet and Juvénal Belvy Meazou to the priesthood. The diocese itself was established on January 14th, 1964.
With the latest ordinations, the diocese of Bossangoa now has one deacon and 45 diocesan priests. Six are in Europe (two in Italy and four in France) for Further Studies and missionary and pastoral exchange; five are serving in other dioceses within the country including three out of the four newly-ordained.
The celebration which took place in the cathedral grounds was well attended with representatives from other dioceses (Archdiocese of Bangui and M'Baïki and Alindao dioceses. Bishop Cyr Nestor Yapaupa led the group from Alindao diocese. Some people came from neighbouring Cameroon. All in all, we had about 3,000 faithful for the ceremony.

The diocese is running a minor seminary with forty-five students this year.