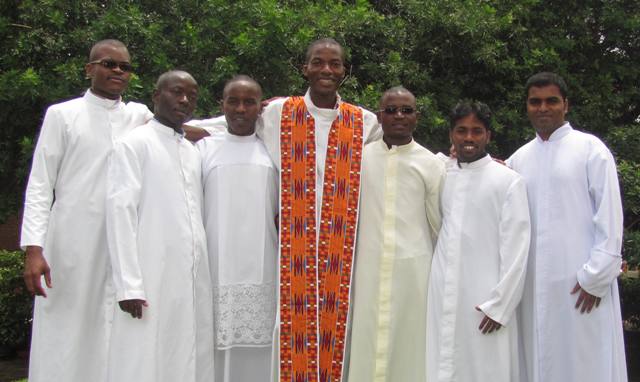 Following their admission to Permanent membership in the Society of African Missions six young men were ordained to the Diaconate by the Bishop-emeritus of Lodwar diocese, Rt Rev Patrick J Harrington SMA.
The ordinations took place in St Monica's parish, Kitengela where Fr Bernard Asuka SMA is the Parish Priest. Fr Bernard is also Deputy Regional Superior for Kenya. The call to Ordination was made by the Dean of the SMA House of Studies, Fr Moses Chileshe.
Our six new Deacons are, from left: Etienne N'Guessan (Ivory Coast), Polycarpe Guinimbele (Central African Republic), Samuel Mwangi (Kenya), Fr Moses Chileshe SMA, Apollinaire Kakhanda (DR Congo), Sebastian Jeyaprebu and Lawrence Amalraj (both from the Indian DF).
The Society has 35 young men, from 10 African countries as well as India and Poland, in the Nairobi House of Studies, from where they attend Philosophy and Theology lectures in nearby Colleges. The house was built under the supervision of Fr Ted Hayden SMA (American Province) and officially opened on 3 November 1994 by the late Cardinal Maurice Otunga.
At that time the formation staff was made up of American and Irish Province members: Fr John O'Mahony (RIP) was Superior, assisted by Fr Bill Foley (Dean of Students), Brother Paddy Dowd (Bursar) and the Spiritual Director was Fr Clark Yates (American Province). also living in the House at that time was the Vocations Director for East Africa: Fr Denis P O'Sullivan.
In attendance on that Opening Day was Fr Harrie vanHoof SMA (Dutch Province) who was Superior of the African Foundation at that time. This Foundation has now become three separate Districts-in-formation (DF):
Gulf of Guinea DF (Ghana, Ivory Coast, Liberia and Togo);
Bight of Benin DF (Benin Republic, Central African Republic, Niger and Nigeria);
Great Lakes DF (DR Congo, Kenya, South Africa, Tanzania and Zambia)
19 years later, there is a remarkable and happy change in the staff origin, a sign of God's blessing on our new SMA branches. There are now 4 SMA staff members: Fr Fabien Gbortsu (Ghana, Superior), Fr Moses Chileshe (Zambia, Dean of Students), Fr Emmanuel Andoh (Ghana, Bursar) and Fr Michael McCabe (Ireland, Spiritual Director).