"My role here today is not to talk about the past relationship between SMA and OLA so much as to look to the future. I'll begin by speaking a little about the notion of collaboration, then mention some difficulties with this proposal, and go on to name some areas of ways in which I believe we are challenged to collaborate today and in the future. However, because our past influences our present and future, I will of course also refer to it."
– Sr. Kathleen McGarvey OLA, Provincial Leader
Editor's Note: The following paper entitled "OLA-SMA Collaboration: Future Orientations" was delivered by the OLA Provincial, Sr. Kathleen McGarvey, at the SMA Provincial Assembly. Kathleen's paper is insightful, challenging, visionary, hope-filled and good humoured. 
Sr. Kathleen explores in some depth the meaning of collaboration, why it is difficult, why there is so much talk today of collaboration, why collaboration is difficult and finishes her presentation by examining six areas in which the OLAs and SMAs can explore collaboration. 
She concludes her paper thus:
"Collaboration is undoubtedly necessary today and it is a challenge for us all to find ways to make it happen. It is not easy; it demands humility, patience and openness on our part. To learn to collaborate as men and women, as clergy and laity, as clergy with religious and with laity, is a challenge for the whole Church, not just for the SMA and OLA.
May we be given the grace to live our mission in Communion and to witness to that which we preach."
The Irish Province of both the SMA and the OLA Sisters are facing similar challenges and ways of deeper collaboration must be explored and continue to be explored during the new mandate, following the 2019 Provincial Assembly.
The SMA Communications Centre has asked permission to reproduce Sr. Kathleen's paper for our general membership and readers, who we are certain will find it to be enlightening in its forthright and candid freshness.
———————————————————————– 
Introduction
sincere thanks to Fr Michael McCabe and the Team for having invited me here this morning to say a few words on OLA SMA Collaboration: Future Orientations. When I mentioned to a few Sisters in Ardfoyle that I was coming here to speak on this topic I got all kinds of reactions. The main thing said is that, on behalf of the OLAs, I should loudly thank the SMA for all you do for us and are to us: truly brothers, always ready to support and help us both in times of sorrow and of joy. We are sincerely grateful. The second loud message is that we have always 'collaborated': I was told many stories of times OLAs and SMAs helped and accompanied each other in Africa. I heard stories of doing one another's shopping whenever someone travelled to town from a rural area, of caring for SMA in our clinics and hospitals, of helping in SMA parishes, of receiving children from SMA schools and outstations, of working in SMA seminaries, of receiving pastoral care and practical help from SMA priests and brothers, and so on. I was also told of social events, such as the 'shared bathing' in Abeokuta and the many friendships formed, many of which led to happy marriages! Indeed, one elderly Sister told me that nowadays as Provincial I seem intent on bringing OLAs and SMAs together, whereas when she was Provincial, she was trying to keep them apart!
Tim Cullinane showed me the SMA Directory, which was approved by General Assembly 1952. On 'Relations with the Sisters', it says: "The missionaries shall provide for the spiritual needs of the Sisters of Our Lady of Apostles, and of other women religious established in our Missions." (n. 154). And then it says: "Apart from the exercise of the ministry, the missionaries should make no visits to the Sisters without the permission of the Superior of the station or the establishment… Both the missionaries and the Sisters have everything to gain by restricting the number of these visits to a minimum. On the Missions, as elsewhere, the Sisters, when they come on business, shall be received in the parlour, in the community room or on the veranda, never in one's room; and furthermore, 'sermo sit rarus, austerus et brevis' (n.155). Maybe there was reason for this kind of ruling! Vatican II has a lot to answer for!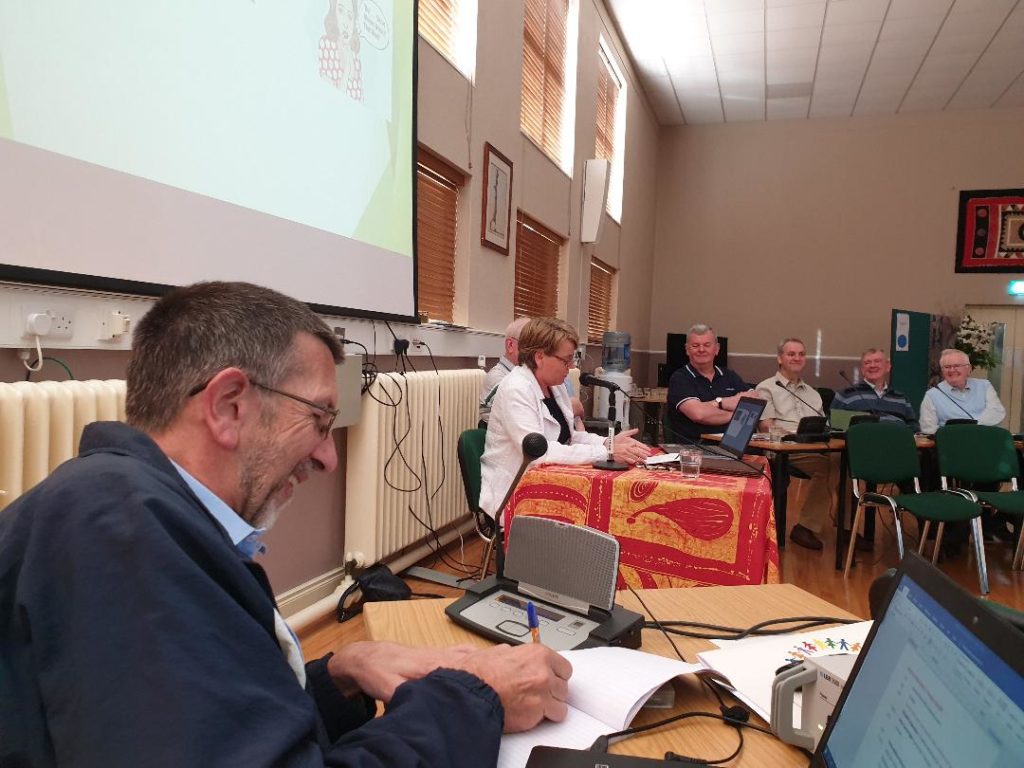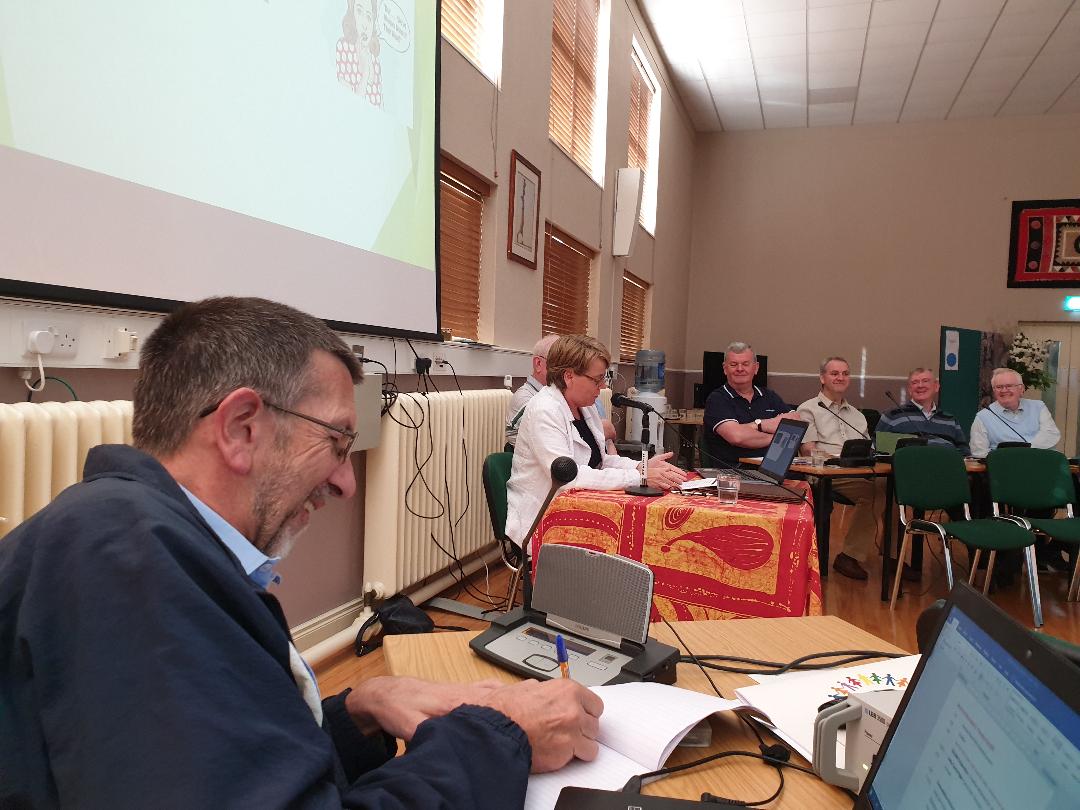 From our elderly Sisters, I also of course heard other stories, reflecting the fact that men and women had, and of course still have, different, clearly defined, 'roles' in the Church, and are not exactly equal partners. While we shared so much in common and cooperated on the mission field and in Ireland on many projects and events, there was seldom any planning of mission together, and of course, due to our hierarchical church structures, there are many stories of OLAs under the higher authority of SMA parish priests or chancellors or bishops.
The document from the OLA 2018 General Chapter, speaking of SMA-OLA Collaboration, states: "Our two institutes have a common history and we have always collaborated in one way or another. In recent years we feel the need to strengthen this collaboration, to be more effective in our mission and to respond together to the great challenges of the world today" (p. 21). I think we would all agree that our two institutes have a shared history: the history of the OLA cannot be told without reference to the SMA and vice versa. We also have our shared 'spiritual patrimony' in terms of charism and mission and founding documents and sources of inspiration. However, we each also trod our own paths as Institutes within the Church, and we have our own distinct story to tell. The SMA is a clerical society, traditionally its evangelization focused on parishes and establishment of the institutional church, and of course as clerics you are part of the Church hierarchy; the OLA are religious women, traditionally its evangelization focused on healthcare and education and the empowerment of women, with involvement also in assisting in parishes, and as religious the OLAs were and are 'on the margins of the church and society'. As men and women within our Church structures, we have always had quite distinct lives, ministries, opportunities, challenges, restrictions, possibilities. Hence to say we 'have always collaborated in one way or another' deserves some analysis.
My role here today is not to talk about the past relationship between SMA and OLA so much as to look to the future. I'll begin by speaking a little about the notion of collaboration, then mention some difficulties with this proposal, and go on to name some areas of ways in which I believe we are challenged to collaborate today and in the future. However, because our past influences our present and future, I will of course also refer to it.
What is collaboration?
At the Irish OLA Provincial Chapter 2018 we have a Statement which reads: "Collaboration: We recognise the value and necessity of collaborating with SMA and other relevant bodies in living our mission today… Every Sister, Community and the PLT are urged to find ways of making this a reality" (p.11)
Collaboration is a term that is very often used today, and many say it is overused and misrepresented. I think an understanding of the word Collaboration is necessary if we are to live it. The term is often used synonymously with cooperation or teamwork
Teamwork is when two or more people or groups join together to accomplish a task. Cooperation is where individuals or groups exchange relevant information and resources in support of each other's goals, rather than a shared goal.
When speaking of OLA and SMA we could say that Mons de Bresillac saw that if the mission to evangelize Africa was to be successful, the women of Africa would also need to be reached and, for this, women missionaries were necessary to help the SMA. As we know, it was Fr Planque who, faithful to the vision of de Bresillac, founded the OLA for this purpose. I think we might call that teamwork. This was two teams – one male and one female – very closely joined together, to accomplish this task. The two teams supported each other and cooperated in every way possible, but each team worked to achieve their own particular goals in view of that larger task, as men and as women, clergy and religious, within the parameters of their distinct roles and practices as defined by the Church.
However, collaboration is much more than cooperation or teamwork. A good definition of collaboration found online is "two or more people working together to create something new in support of their shared vision." The OLA and SMA somehow have a shared vision (evangelization, mission ad gentes ad extra, Africa). How can we create something new to support that shared vision today. It is said that three critical elements of building collaborative ministries are: identifying a shared purpose, defining and designing a shared process, and sincerely and with commitment carrying out a shared practice. When speaking of future orientations for our collaboration we might need to keep these three elements in mind.
Another definition of collaboration is "when two or more people (or groups) work together through idea sharing and thinking to accomplish a common goal. It is simply teamwork taken to a higher level." I think the distinctive feature of collaboration, and what makes it something of a 'higher level' than either teamwork or cooperation, is that it is two people or groups coming together, as equals while yet distinct, to think, share ideas, and create something new – and then together determining a process and together being committed to a practice of achieving their vision or purpose. With this definition of collaboration in mind, I think we can ask whether OLA and SMA 'collaborated' in the past and whether we do so today – and indeed whether and how we can, if we really want to.
Just a few other points on collaboration which I think are important to keep in mind:
a. Collaboration is a means to an end, not an end in itself. The end to which collaboration of SMA and OLA, or SMA or/and OLA and laity, is directed to is mission. Since Mission is Communion, a true living of collaboration witnesses to Communion and this witness of itself is invaluable. The desire to live Communion can be a driving force for authentic collaboration. However, no community and certainly no SMA or OLA community, exists for itself and hence this Communion, witnessed to through sincere collaboration continues to have as its primary purpose Mission which is the Communion of all people and all creation. A sincere collaboration is built on the recognition that through collaborating with each other we can better achieve our common purpose.
b. Collaboration involves an integrated whole and not merely an add-on: In order to achieve collaboration, who we consider strategic partners are often invited to be part of a project which has already been defined and scoped. The partners are invited to be involved to assist with the implementation of a project where their input is no longer really required. The partners are basically an add-on to an independently planned project and this is not a collaborative partnership. So, to invite the SMA or OLA or laity to assist in a project already planned is good, but is not really collaboration.
c. A partnered approach from beginning to end: Collaboration is when we meet our partners to explore together how we might jointly approach a common objective. Here something new can emerge: not constrained by the conditions and scope already laid down by one partner. From the starting point all partners share in shaping the common project that will be in response to their common objective. Then when it comes to implementation, responsibilities will be allocated and different roles assigned, and the only concern in allocating responsibility will be the achievement of a successful project rather than trying to find a role for this or that partner in the name of collaboration. Hence, to just look for an SMA or OLA or lay person to fill a place we have already decided for them is good, but is not really collaboration.
d. Challenges: A big challenge of collaboration is that it requires us to give up control in shaping a project. We might have our vision about what our response should be in achieving our objective, but we might be asked to give this up in the knowledge that others come to the table with experiences and attitudes which we may not recognise and of which we might be sceptical. It is an openness to accepting that ours is not the only experience that might be valuable to the project, and maybe recognising that our experience is narrowing our ability to see the bigger picture. If we can discipline ourselves to be truly collaborative, the true power of collaboration emerges, the power to imagine anew and develop an unforeseen approach to achieving our common goal.
e. Collaboration takes time and it can be frustrating. We might feel like we are wasting time in a talk-shop when we are not taking action but action without clear purpose is futile. Collaboration allows many minds to tease out an issue, and to analyse in ways that a single person or a single organization/institute wouldn't imagine to analyse.
f. Needs: Good collaboration needs to look upon all participants as equals and sees in the other somebody who knows something that I don't. Again, this is a great challenge for us as men and women, clery/religious/laity.
Why so much talk of collaboration today?
Many of our Sisters in Ardfoyle ask me why, since we have always been closely united in work and life as OLAs and SMAs, there is so much talk today about collaboration? Some might suggest that because of the dwindling numbers and rising age profile of our members we think we need to collaborate with each other and with others so as to be able to fulfil our tasks! However, I honestly don't think pragmatism is a justifiable reason for efforts at collaboration. If we want to continue doing as we have always done and simply want to join hands with other groups or maybe even employ people who share our goals so as to make it possible to achieve them, I think we are doomed to failure. However, on the other hand, I think the fact of dwindling numbers can be seen as a blessing in disguise since it has woken us out of our sense of being able to depend only on ourselves and has pushed us to recognize that we do need others to live this mission that God has called us to – and which God doesn't want us to live alone as though it were our own monopoly!
The world has changed, the church has or at least it needs to change, the notion of mission has changed, and we simply cannot do as we have always done or pretend to have the same goals as we always had. Nor can we continue to work alone, or to plan alone, or even to vision alone.
I believe the emphasis on collaboration today is because of the growing awareness of the need for dialogue, the recognition that others have something to offer, a different perspective, a different way of doing things. We are slowing recognising that as Church and as Institutes, we have been too closed in on ourselves. To know God and cooperate with God in God's mission (not our mission), we are slowly admitting that men need to hear the voice of women, clergy need to hear the voice of religious, clergy and religious need to hear the voice of the laity; Catholics need to hear the voices of people of other faiths and of none. In the Church it is generally the men (clergy) who speak and primarily their voice that is heard. We need to come out of our little closed secure boxes and enlarge our tents. Not just hear, and then take our own decisions and carry out the projects ourselves, but together share our faith experiences of God in our lives and what God is calling us to, share our visions and dreams, find a shared purpose, define a shared process and be committed to a shared practice. They say: if you want to go fast, go alone; if you want to go far, go together.
I think this is something we are coming to recognise as more and more essential in these critical times. But it demands change and change is not easy. It demands a change of mentality, of spirituality, of practice, and indeed, of structural change.
As men and women in the Church today, can we really 'collaborate'? The CDF, with Card Ratzinger as Prefect, produced a document in 2004 on the Collaboration of Men and Women in the Church. Here, as in documents before and even since then, we are told collaboration is necessary because men and women complement each other, women are somehow more caring, better at listening…!!! I admit I haven't found these documents too uplifting. I think to generalise in that way and to seek collaboration only for those reasons, one might be greatly disappointed. There is also a lot of discussion today about the collaboration of clergy and laity in the Church, very often just giving ecclesial roles to laity or to religious within the established structures. Much more of this discussion is needed; I know you as SMA Irish province have struggled a lot with this challenge, particularly collaboration with laity, which you desire to make real. Equally there is need for a lot more discussion on the collaboration of clergy and religious and of religious and laity, and of clergy, religious and laity together, ideally without either diluting or exaggerating the distinctions, and with a sincere readiness to change – because we know we need to.
Why collaboration is difficult
We see today that more collaboration in terms of dialogue, listening, visioning and planning together, is desirable and necessary. But this doesn't make it easy. As religious institutes or missionary societies, we are used to thinking, planning and working alone; change is difficult.
We have our Chapter; you have your Assembly. We are sent to the same context, we have the same mission, we face so many of the same challenges, but yet… at our separate Chapters and Assemblies we define our orientations. Then we set about seeking who to collaborate (or work together) with. Something doesn't quite seem right there. But how this can be changed I honestly don't know, but undoubtedly some structural changes are necessary if we are to be sincere in our wish to collaborate.
I hear some of my own OLA Sisters say that our day is past; we take pride in our glorious past in Africa but now that we are challenged, we decide that it is because our mission has been fulfilled! I imagine some SMAs have said the same. Instead of closing down, others talk of handing over. I believe to say our day is past and our mission is fulfilled reflects a very narrow notion, a proprietary notion of mission, that really suggests that we think mission belongs to us rather than to God, that it is our mission rather than God's mission in which we are called to cooperate at whatever stage and in whatever circumstances we find ourselves in. I believe to say we are handing over reflects a rejection of the challenge to change the way we do things, since it seems to imply that what we have done and the way we do it is fine, no change is required other than a change of personnel – maybe from ordained to lay – our mission to be continued by others, to do what we think should be done but which we no longer have the energies or skills to do. I believe that to say our mission is past/fulfilled, or to say our mission is to be handed over, also reflects a lack of faith in the God who is the source and end of mission, a lack of conviction in our call and our vocation, and above all a lack of openness to dialogue and change.
As I have said, one doesn't collaborate with oneself. Hence, we are not called to become one Institute. I know the SMA have looked at taking on lay Associates as members. Some female religious congregations have also tried to do this. Again, I think this is not collaboration per se but is an attempt at becoming One and the Same. That may be good and right for those called to it, but in the case of religious, such as OLA, they can't become SMA associate members – if we want to fulfil our mission together more united and more authentically, we have no other option but to seek collaboration.
Areas in which we could collaborate more:
1. Thinking and Sharing together
As OLAs and SMAs we exist for mission. Hence, I think we can safely say there is no area in which we can't collaborate. We know that the concept of mission has changed as also has our world, our church, our country. We are here in Ireland where we share a glorious history of mission in Africa, and also share today the pains of the past sins of our Church in Ireland, and the challenges of Irish society today. We also face similar challenges of GDPR, safeguarding, finances as well as the care of our elderly members and the challenges of our decreasing numbers. To reflect on our missionary past and lessons to be learnt from it, to reflect on our call today, to share as men and women of faith, and determine together what we might be called to and how we might respond to that call, I think is a primary orientation we should seek to make real. We are two international institutes, with many members of many nationalities and cultures, we have a great wealth of resources in terms of personnel and spiritual and material resources… How can we plan and be committed together to a shared process and practice?
Over the past few years we have sought as Provincial Teams to strengthen our collaboration and our friendship. We meet twice a year and this is always an opportunity to share our concerns and discuss common projects, especially in the area of publications, of justice and of child safeguarding and other financial and legal demands we are all faced with in leadership today. These meetings are of great support and strengthen our ties but even in these areas where we work together, I think we can improve our collaboration so that they better reflect a shared purpose, a shared process and a shared practice. I also believe we need to find ways to include more of our members and our lay collaborators, in these discussions.
2. Witnessing to a Dialogical-Synodal Church of Communion
Our history and indeed our present Church structures make collaboration difficult. Men and women are given very defined roles in the Church, just as are laity, religious and clergy. As I have said, documents are written trying to redefine these roles today but without any great change to the structures, and we might well say that the redefinitions and new spaces which are opened up to religious women and to lay men and women are little more than tokenism. The patriarchal hierarchical institutional sacramental church model continues strong. Unless we are prepared to challenge it we cannot pretend to collaborate as we believe we are called to do. I believe that therein lies the greatest challenge. I think that an area in which SMA-OLA collaboration, and SMA-OLA-Laity collaboration, can be instrumental is by witnessing to changed structures.
Witnessing to a Church of dialogue, a Church of Communion, a Church where together men and women, religious, clergy and lay, think, dream, plan and work together for God's Kingdom, because we value each other and because we know that collaboration reflects God's Communion which we feel called to promote and build. I think that we all have to find ways to make this happen but as men in the Church, the responsibility to make this change happen lies with you more so than with the religious or the laity. I give one simple example: at our OLA Chapter, we like to have Mass every day; hence we greatly appreciated having the SMA PLT present at our Opening and Closing Mass and to have many other SMA as well as other priests celebrate mass for us and preach. You don't need us to celebrate mass. Hence, can you find other ways to ensure equal voice is given to religious and laity at your Assemblies as you are given at those of religious or of laity? Inviting me here today is already a very big step and I thank you for it. Maybe other ways can also be sought.
3. Researching our spiritual patrimony to reread it in today's context
At Generalate level we are invited to continue deepening together in our common spiritual patrimony (our charism). We have already done some work on that here in Ireland. However, I think and hope we can be more committed to that project together and with our lay collaborators. Surely if we can work on rereading our charism together in these challenging times we will together see what we are called to today and how we might better respond together.
4. Collaborating with others who share our vision
At national level we are making efforts to improve the collaboration of all religious and missionary institutes, including religious and laity. The SMA and OLA have always been committed in the IMU and more recently in AMRI. We have been and are also actively engaged in the National Mission Council. I think if we sincerely believe that our mission is God's mission and not our own property, then we will see the relevance and value of giving time to the meetings and dialogues and efforts to collaborate more closely at this level also. It is a slow tedious time-consuming process, and undoubtedly it is easier and maybe more satisfying to plan ourselves and invite others to join us, but again I remind myself that to go far demands going together.
5. Strengthening collaboration in the areas of outreach in which we cooperate
Today in Ireland, the SMA and OLA are still very much joined together. We still share a common task rooted in our foundation which we could name as mission ad gentes ad extra (however we might then define it) and Africa.
To the OLA, the SMA are like brothers, sharing a sense of friendship and a caring responsibility towards us. Throughout the country the close relationship of SMA and OLA is well known. In fact, I usually have to explain OLA by saying we are the female counterparts of the SMA. As men in the Church, priests, and bishops, with the possibility of running parishes, offering mass card services, administering the sacraments, and so much else, undoubtedly it is more possible for you to be known and we appreciate that you also make our name known.
We still cooperate a lot: In Ardfoyle, we would be lost without your faithful and committed and generous pastoral presence. Here in the North, Dromantine and Rostrevor support each other. In Dublin, our two communities support each other; So too, in the West. The number of SMAs who concelebrate at our funerals, our Remembrance Day and our other occasions is truly remarkable and greatly appreciated. When the SMA or OLA decide that such and such is an area in which we need to be engaged in Ireland today, we invite OLAs (or SMAs) or lay people to help us achieve it. For example, the SMA very generously invite us to submit photos for the calendar; or to participate with the planning and realization of the Knock pilgrimage; or to submit an article for the newsletter; or to help with the thumbprint campaign or the Great Green Wall project; or to be part of Committees that have a set function and goal. The OLA have invited the SMA to be involved in our proposed project of ministry to Africans living in Ireland, or to have a mission and vocation promotion stand at the WMOF and at WYD, or to participate in some of our think-ins or committees. In terms of parish presence in Ireland, where we have personnel, we assist in SMA run parishes.
All of this is cooperation and it is important and good, and greatly appreciated. Undoubtedly, we see these efforts as corresponding to the goals we both seek. But, to what extent is it collaboration? I believe it is a form of collaboration, but in terms of definitions it might better be described as Teamwork or cooperation. Whatever we might call it, I think it is good to ask how might it be taken to that higher level which is defined as collaboration and do we see any need to take it to that higher level?
One concrete example is our efforts these past few years to collaborate in the area of Justice, Peace and Integrity of Creation. What started as the SMA Justice committee is now known as the SMA-OLA Justice committee. However, primarily it was a project planned and scoped and OLA were an add-on. We very much appreciate the invitation but undoubtedly it is an area that deserves more analyse to see how we might make it truly one of collaboration, keeping in mind some of the criteria I mentioned above under collaboration. I don't think it should come down to how many OLAs or SMAs or how many of our lay staff or volunteers can be involved, but rather the whole process involved in planning and scoping our objective and then seeing how we can carry it out, knowing we all, and all our members and collaborators, from our experience and insights, have something to add to the thinking. Sharing in our moments or methods of ongoing formation and consultation among our members on this and other areas, such as youth ministry or MVA or Communications or whatever, is one way of ensuring all participate and somehow share ideas together.
6. Missionary engagement in Ireland
Another area in which I believe we could look at more closely together is that of new evangelization, for want of a better term, in Ireland. Ireland today is certainly a place of mission. Young people have had little or no faith formation, there are so many missionary challenges in Irish society. At our last General Chapter, the Provincial Councils of Europe were mandated to intensify our discernment of new missionary calls in Europe today and to present these at the plenary council so that they can be discerned and hopefully we can open new international missionary communities here. At our Irish OLA Provincial Chapter, we committed ourselves to opening at least one new international and intercultural community embedded in a parish in Ireland. The PLT is presently engaged in dialogue with some bishops and priests in Ireland on the possible needs to which we might respond. We are also committed to receiving and welcoming Sisters into our communities from other OLA Provinces/Districts to join with us in ministering to our present and evolving calls/needs.
As you know, we have many members from the younger Churches who like us share the missionary charism. Africa is called to mission in Europe, including in Ireland, and it is up to us to admit that we have much to gain by opening our doors and facilitating this mission. Is it possible that OLA and SMA might consider some project wherein we work together in some of the new parishes in Ireland, now populated with so many immigrants, many of them African, and witness to international and intercultural pastoral engagement? In Italy and in France, SMAs and OLAs have opened new communities in similar realities, with members from Africa sent on mission to these communities. I believe this is an orientation for future collaboration in Ireland.
Conclusion
Collaboration is undoubtedly necessary today and it is a challenge for us all to find ways to make it happen. It is not easy; it demands humility, patience and openness on our part. To learn to collaborate as men and women, as clergy and laity, as clergy with religious and with laity, is a challenge for the whole Church, not just for the SMA and OLA.
May we be given the grace to live our mission in Communion and to witness to that which we preach.