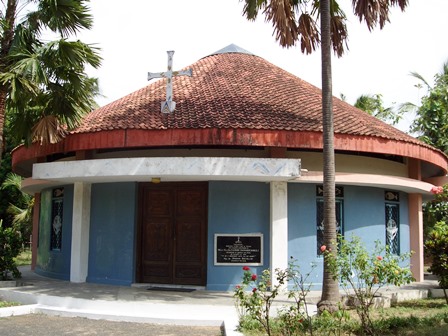 SMA seminary chapel in Mangadu, south India where Indian missionaries begin their training for service in Africa.
October is Mission month. The Irish Missionary Union (IMU) is the umbrella organisation for the many missionary groups based in Ireland – lay missionaries, religious sisters and brothers as well as many groups of missionary priests, including the SMA – Society of African Missions.
The IMU Executive Secretary is Fr Hugh McMahon, a member of the Columban Missionaries. There will be many events organised in different parishes throughout the country with a 'mission theme'. F Hugh wrote to tell us of four events which might be of interest and to which everyone, particularly members of the public, are welcome:
Celebration with Missionaries to Ireland. Date: 13 October @ 5pm. Venue: Spiritan Missionaries, Kimmage, Dublin.
Celebration for Returned Missionaries. Date: 19 October @ 6.30pm. Venue: St Andrew's Church, Westland Row, Dublin. We will join with the Vigil Mass and afterwards there will be light refreshments and a gathering in the parish hall beside the church. St Andrew's is just beside Pearse St Dart Station.
The 'Awards Ceremony' for long-term missionaries will be held in November. Further details later.
The RTE TV Mission Sunday Mass will be broadcast on 20 October at 11am. The Presentation Brothers in Cork will be responsible for this celebration. (October 20th) will be at 11.00 am. This year it will be presented by the Presentation Bothers in Cork. Due to space restrictions the attendance at this Mass is restricted.
Our pictue shows Fr Dominic Anthuvan, an Indian SMA, celebrating Mass for his congregation in Shafaci, Kontagora Vicariate, Nigeria.