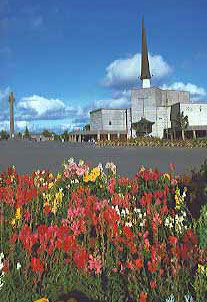 The annual Novena in honour of Our Lady begins this Friday, 15 May 2020, and ends with Mass on Saturday, 23 May.
Fr Malachy Flanagan, SMA Provincial Leader, will celebrate the Opening Mass and Fr Alphonse Sekongo SMA, the Parish Priest of our SMA Blackrock Road Parish, will celebrate the Closing Mass.
Normally the Novena concludes with the SMA / OLA Pilgrimage to Our Lady's Shrine at Knock, Co Mayo. But, as everyone knows, due to government restrictions, we are unable to have our traditional pilgrimage which brought together our mission supporters from all over the country and beyond.
This year, through the benefit of webcam, Mass will be celebrated each evening at 7.30pm at St Joseph's SMA Church, Blackrock Road, Cork. During the Mass we will recite the Novena prayers – for students, the Memorare and the Mission Prayer.
Please join us in praying for your own intentions and the intentions which have been sent in to us. 
To join us go to www.sma.ie and go to the Parish Webcams button on the Homepage and click on the Blackrock Road link.
Mass is streamed from our Blackrock Road [10am], Wilton [10am & 5.35pm] and Walthamstow [London] parishes each day. 
Each parish also has Exposition of the Blessed Sacrament at different times etc.
NOVENA PRAYERS

     
PRAYER FOR EXAM STUDENTS
Lord pour out your Spirit of Wisdom on these students. Help them remain calm, to attend carefully the questions asked, To think clearly, to remember accurately and to express themselves well.

We commend their studies to your powerful protection. We implore you to grant them a quick understanding, a safe judgement and a faithful memory. Grant that their performance in the examination will reflect the best of the work they have done and the best of the teaching they have received.

Accept their best efforts in these examinations and in the great test of life on earth. My your love be upon them, O Lord as they place all their trust in you.

We ask this through Christ our Lord.  Amen

       
MEMORARE
Remember, O most gracious Virgin Mary, that never was it known that anyone who fled to your protection, implored thy help, or sought your intercession was left unaided.

Inspired by this confidence, I fly unto you,
O Virgin of virgins, my mother; to you do I come, before you I stand, sinful and sorrowful. O Mother of the Word Incarnate, despise not my petitions, but in thy mercy hear and answer me.   Amen.

     
      MISSION PRAYER
Blessed are you Lord God of all creation. Blessed are you, Jesus Christ, The Way, the Truth and the Life. Blessed are you, O Holy Spirit, the source of all inspiration.

May your Kingdom of justice, Peace, love and forgiveness be established in every land. May your healing hand touch the sick, comfort the lonely and give new
life to all.

Be our companion on the road 
and help us to make your mission alive in our community and throughout the world.

Bless our missionaries. Awaken in the hearts and minds of our young people a desire to serve you and to be your witness at home and to he ends of the earth.

We make our prayer through Christ Our Lord. Amen