We are living in a time when, due to Covid-19, there are necessary restrictions on the level of close contact and participation we can have with each other and in community prayer and liturgies. The new "Resources and Messages for Covid-19 times" page provides links to live-stream liturgies from SMA Parishes and from other locations in Ireland and abroad.
In addition it contains links to other useful websites that provide material for reflection and prayer.  The new page also has video messages from SMA Fathers describing their current situations in the countries where the live and work and also offering words of hope and encouragement.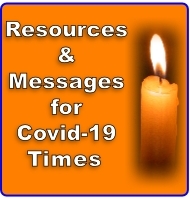 The new resource is accessible through a button that looks like the image here on the right and which is located on the top of this website's homepage.
The video message can be viewed here by clicking on the play button above.  Click on the expand icon – [ ] to enlarge the video.
Here is an example of one of the messages recorded by an SMA.  It was sent to us by Fr John Dunne.  He normally lives in Nairobi, Kenya but was temporarily working Calavi in the Republic of Benin at the outbreak of Covid-19.  Due to restrictions put in place because of the virus he was unable to return to Nairobi. In the coming days and weeks we will publish other recorded messages from Fr Fergus Tuohy, Fr Tom Casey and from other SMA missionaries. 
We plan to add new links and recources as time goes by. If you have found a source of information or spritiual support that was uplifting or inspirational in these times, please let us know so that it can be shared on this page – email: [email protected]
We hope these resources will help your journey through theses extraordinary times.