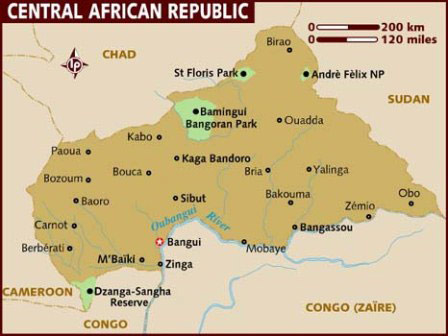 A Vatican News Agency – FIDES – is reporting that Archbishop Nzapalainga of Bangui, Central African Republic, has welcomed the election of President Samba-Panza to lead the country as it deals with a year-long uprising by Seleka rebels who overthrew the former President in March 2013. Their leader, Michel Djotodia, was himself forced to resign on 10 January last as he could not control his rebel force who had embarked on a reign of terror, pillaging and rape, particularly of the Christian population.
The Archbishop insisted on the fact that the new Head of State is faced with a daunting task because the state administration has fully collapsed. "Out of 36 ministries, only two work: defense and administration of the territory", he told AFP. "The State has failed. The administration with men and means needs to be rebuilt, in order for the country to be a State".
Along with the head of the Islamic faith in CAR, the two religious leaders are demanding that the African military mission currently deployed in the Country (MISCA) becomes part of a larger force under UN protection, in order to secure the whole Country. Currently there are 6,000 French soldiers in Central Africa.
Too few to control a country as vast as France and Luxembourg, said Archbishop Nzapalainga. (Agenzia Fides 23/01/2014).
The Society of African Missions (SMA) have a seminary in Bangui and most of our CAR priests are on mission elsewhere in Africa. One of them, Fr Justin Kette SMA, is a member of the Strasbourg District Council (France). As well as Bangassou having an SMA bishop, the diocese of Berberati is also headed by an SMA, Bishop Dennis Agbenyadzi (from Ghana).
Read the laterst (United Nations) IRIN News Agency report on the situation in Bossangoa diocese where SMA Bishop Nestor Nongo-Aziagbia is trying to deal with a massive number of IDPs. The estimates of how many IDPs there are in the town range from 36,000 to nearly 50,000.
Bossangoa is about 120 kms west of Bouca (see map above) and 266 kms north west of the capital, Bangui. The road infrastructure is very poor.
To help Bishop Nestor (pictured right) in caring for his IDPs please click our Online Donate link here.
Under the list Please Choose a Cause click on Central African Republic IDPs.
Your full donation will be sent to Bishop Nestor to help provide shelter, food and water for those living in his seminary compound. Many thanks for your support.