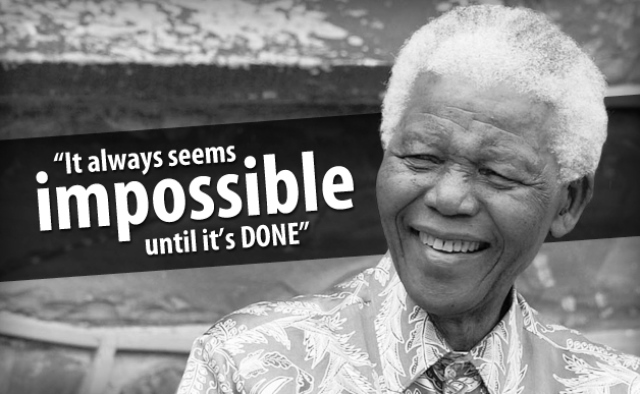 "In the end, I believe it is kindness and generous accommodation that are the catalyst for real change…" – Nelson Mandela
Mandela's vision for a better world
Tuesday 18th July 2017, International Nelson Mandela Day
The Elders, an international group of ex-world leaders founded by Nelson Mandela, releases a short documentary celebrating their ten years of work across the globe.
The film features never-before seen footage of Nelson Mandela, President Carter and Richard Branson meeting in 2007 to set the agenda of their work.
The film's launch coincides with both Nelson Mandela's birthday and International Nelson Mandela Day.
---
Tuesday 18th July 2017 marks a significant milestone for The Elders as they celebrate ten years since Nelson Mandela founded the group, brought together for peace, justice and human rights. The group will gather in Cape Town to celebrate a decade of accomplishments with a screening of the documentary, and to launch their latest campaign, Walk Together; which aims to show solidarity with those who are most downtrodden and vulnerable in today's world.
"We have nothing to lose, we have our careers behind us. So we should be free to raise our voices and steer people in the right direction." –Kofi Annan, former UN Secretary-General and Nobel Peace Laureate
The film begins with footage from The Elders' first meeting in 2007, and includes unseen footage of Nelson Mandela with accompanying interviews from President and Nobel Peace Laureate, Jimmy Carter; Co-Founder of The Elders, Graça Machel; and first female President of Ireland, Mary Robinson. The documentary celebrates their work across the world, providing insight into the delicate negotiations that have gone on to address conflicts and geopolitical tensions in Iran, the Korean Peninsula, Cyprus and Israel/Palestine, and the group's public advocacy on issues such as climate change, child marriage, equality for girls and women, and refugees and migration.
"We have all come a long way in the past decade, but our long walk to freedom, following in Madiba's footsteps, will continue." –Graça Machel
The Elders invite all viewers and supporters to join the Walk Together campaign to continue Nelson Mandela's walk to freedom and tackle faultlines of division. We encourage you to help The Elders celebrate the achievements of the past decade and to continue to give the citizens of our world hope for the next ten years.
You may access the 11 minute document by clicking here.