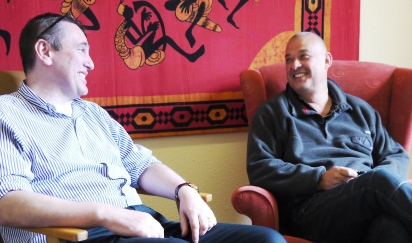 NADIM SADEK the Secret Millionaire visits Cois Tine
Last Feb Cois Tine was approached by a TV Company wanting to film a programme about a photo-journalist compiling a book about Voluntary Agencies working in the Cork area. At the time the information we received about the purpose of the programme was very vague and as a result we very nearly turned down the opportunity. We are glad that we did not.
The programme was "The Secret Millionaire" and it was only during the last scene, when Nadim Sadek revealed who he was and presented his donation of €5,000 that the true nature of the show became evident.
Having seen the completed show we are very happy with it. The main reason for this was summed up in a text message received after the programme was aired. It said: "Brilliant! – the programme captured the essence of what is happening in Cois Tine." Cois Tine is all about supporting and welcoming ordinary human beings who happen to be immigrants and Africans. We are very happy that this fact came across clearly in the programme and also because it highlighted the role of our staff and volunteers in making the service we provide possible.
During the programme Nadim admitted that initially he was sceptical about Cois Tine and to having "prejudice against the Church." However after spending time at Cois Tine and having met staff, volunteers and those who make use of our service he changed his mind. During the programme he said; "It's easy to be cynical but this group for me touched on the deepest issues of all."
We are delighted that "The Secret Millionaire" conveyed our work in a sensitive and positive way. The donation too is very welcome. Cois Tine receives less than €5,000 funding from the State annually and a similar amount from the Diocese of Cork and Ross. All other running costs have to be raised through a variety of means and sources. Funds are harder to come by these days we are glad that the Secret Millionaire has made it easier for us this year.
We are grateful to Nadim and to the production crew of the Secret Millionaire. We are also grateful to many others who made the programme possible. Cois Tine could not exist without its staff, volunteers or without other ogranisations such as NASC and Welcome English who add value to our efforts and who support asylum seekers and refugees in ways that are beyond our remit. To link to RTE Viewer and to see the programme Click here