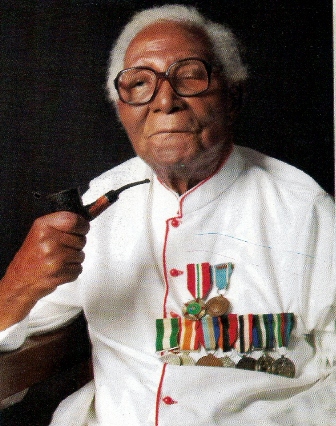 The death has taken place at his residence in Victoria Island, Lagos of Msgr. (Col.) Pedro Ayodele Martins.
Msgr. Pedro was born on 18 November 1910 and ordained a priest by Bishop P J Kelly, SMA, on 4 August, 1943. He said his first Mass at Holy Cross Cathedral, Lagos on 9 August, 1943.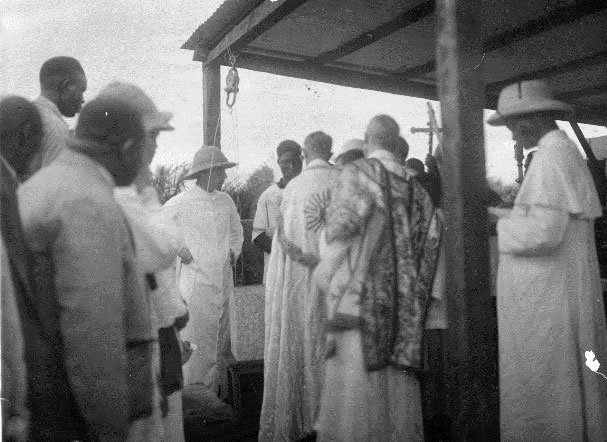 On 2 August 1936 he, as a young seminarian (facing camera), assisted Bishop Leo Hale Taylor at the laying of the foundation stone for St Patrick's Church in Asaba (now in the diocese of Issele-Uku, Nigeria). Included in our picture is the first Nigerian priest, Fr Paul Emecete as well as Fr Patrick J Kelly, later bishop of Benin City.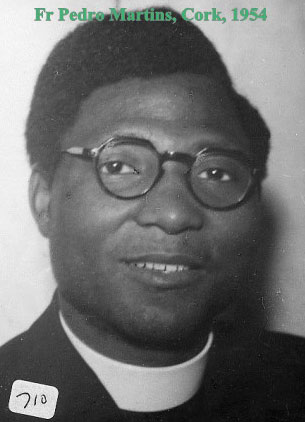 More than 50 years ago he paid his first visit to Cork to attend UCC where he graduated in 1952. During his years in Cork he carved out a reputation among the locals as quite a character as he cycled to and from College and the SMA Residence at Doughcloyne in the Cork suburbs.
After he acquired a BSA 350cc motorbike he became well-known to the members of An Garda Siochána (police) who weren't always enamoured of his Geoff Duke impressions along McCurtain Street.
On returning to Nigeria the young Fr Martins filled many positions of responsibility, teaching at St Gregory's College in Lagos as well as ministering in several parishes throughout the Archdiocese. He also served as Vicar General to the then Archbishop, now Cardinal, Okogie. In 1970 he was made Monsignor.
During his military career he served with the Nigerian Armed Forces rising to the position of Head Chaplain to the Armed Forces. He served in the Congo and with many Army Formations in Nigeria.
Our photo, taken in Blackrock Road in 1955, shows, from left to right in the front row: Fr Joseph Erameh (Benin City), Bishop Patrick J Kelly of Benin City diocese, Bishop Thomas Hughes of Ondo diocese and Fr Pedro Martins.
Back row: Fr Francis Buah (Ghana), Bernard Elaho (Nigeria), Anthony Sanusi (later first Bishop of Ijebu-Ode diocese, Nigeria), Fr Stephen Emurie (Benin City) and Fr Joseph Essuah, later Bishop of Sekondi-Takoradi, Ghana).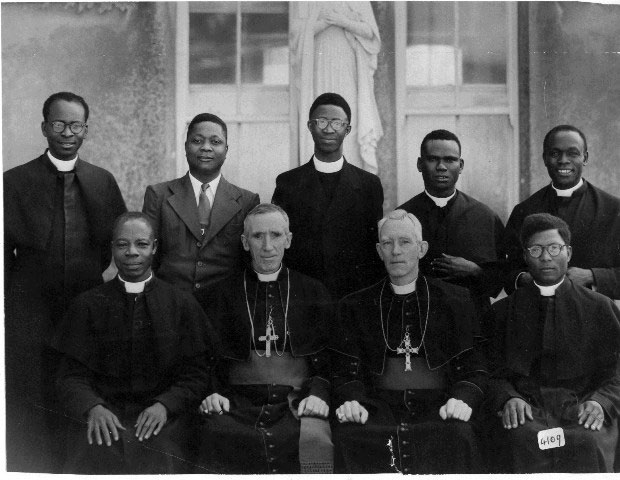 He paid his last visit to Ireland in October, 1994 where he spent a few weeks in Blackrock Road meeting up with many SMAs with whom he had worked in Lagos over the years.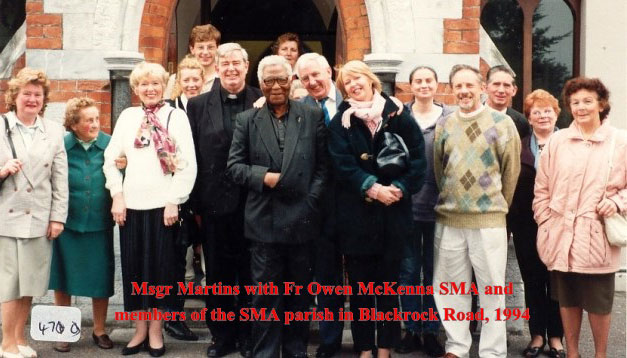 In 2010 later he celebrated his 100th birthday with a Thanksgiving Mass, led by Cardinal Okogie with several bishops and over 100 priests concelebrating. Afterwards there was a Reception during which many tributes were paid to the Centenarian. The Chairman for the events of the day was Chief Olusegun Obasanjo, former Military and later Civilian Head of State of the Federal Republic of Nigeria.
Our collage of photos include a young Fr Martins with Altar servers during his years in Cork, as well as in his military uniform, holding a baby after its baptism…
During that last visit in 1994 he wrote a special tribute to missionaries which we reproduce here.
The Feet of the Missionary
I know the feet of the missionary.
I recognise them as they fight their way
Thro' forest impenetrable.
I have seen them struggle and strain
To conquer the prostrate majesty of a fallen tree
Where their way seeks to hinder and impede.
I have seen them incessantly crash on to
Unscheduled landings on the tarmac of
Inhospitable bush, bramble and briars.
To them water is no threat.
I have seen them wade through and through
The mud treacle of death and disease.
Leaving it a mud sculpture of God's craftsmanship.
The feet, the noble apparatus that Christ employed
To raise the emblem of our salvation aloft.
Feet that went about doing good.
Those feet now rest at journey's end,
Awaiting the sick, tired feet
That walked the same road as they did.
To bind their bruises and heal their wounds.

Monsignor Pedro Ayodele Martins, Requiescat in Pace
with thanks to Fr Peter McCawille SMA for assisting in compiling this article.