Help us send out a strong message this St Patrick's Day:

that undocumented people matter, wherever they are.
Editor's Note: The Irish Times reported on Thursday, 15 March 2018, that Taoiseach Leo Varadkar would propose to US President Donald Trump, during the annual St. Patrick's Day visit to the White House, a scheme offering visas and residence rights to Americans who want to move to Ireland in exchange for protection for the undocumented Irish in the US. The Irish Taoiseach offered a reciprocal arrangement whereby Ireland would offer new work visas to Americans and protections to US citizens who want to retire to Ireland.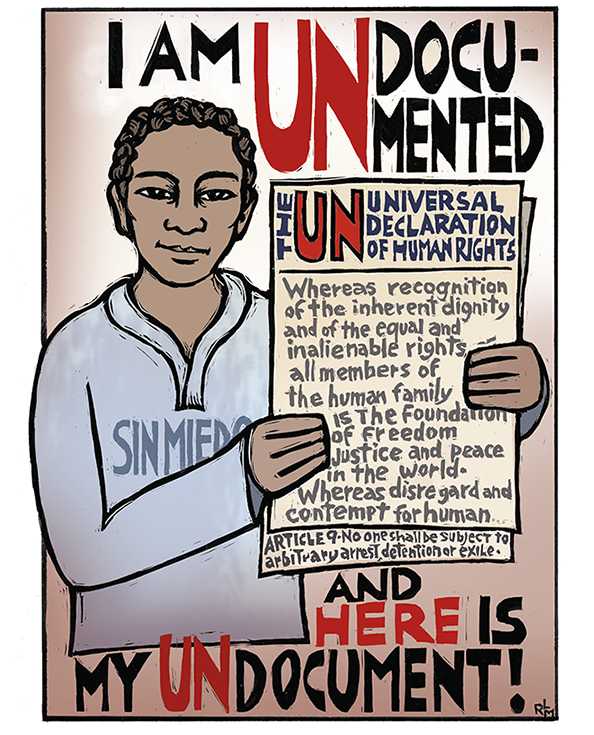 The welcome extended to a small country like Ireland in the mighty USA has its roots in the Great Hunger of 1845-1852 and the following decades when millions fled to America as economic and colonial refugees. Today, their offspring number some 40 million Irish-Americans. It is their political clout in the United States that ensures little Ireland enjoys a 'special relationship' in America that is the envy of many countries around the world.
The roots of our 'special relationship' should also remind Taoiseach Varadkar that the concern he articulates for the undocumented Irish migrants in the USA should also extend to concern for migrants and refugees in Ireland, including those without documents. 
In the light of St Patrick's Day, AMRI (Association of Leaders of Missionaries and Religious of Ireland) reminds us to remember all the undocumented people living and working in Ireland. AMRI is one of the endorsers for Justice for the Undocumented Campaign. The information below outlines the actions you can take tomorrow and Saturday to show your solidarity with undocumented people living and working in Ireland. Remember undocumented people contribute positively to Irish Society, just like so many of our undocumented Irish people do in the USA! Please forward this information to your members, families and friends.
We need your solidarity tomorrow!
St Patrick's Day is an important time of the year for the Justice for the Undocumented (JFU) campaign. As our politicians travel to Washington to highlight the situation of the undocumented Irish over there we like to remind them of the other undocumented Irish here!
This year our members from across the country have stepped up in an incredible way sharing brave and beautiful selfies and photos that clearly show Ireland is home.
Help us send a strong message from the undocumented here in Ireland.
#undocIRL #TheOtherUndocumentedIrish #StPatricksDay

This Friday on the hour every hour from 8am till 8pm, twelve beautiful stories will be shared on Twitter and Face Book. We need you to SHARE these posts.
And on Saturday, a Patrick's Day collage of images will go out from over 80 carers, chefs, childminders, mothers, fathers, young people, families.
Valued endorsers and supporters of this campaign: your voices from across the business community and civil society matter. People listen to you.
On Friday and Saturday step up and take action with JFU. Share one or all of our members' posts on Facebook and Twitter. Help us send out a strong message this St Patrick's Day: that undocumented people matter, wherever they are.
In solidarity and appreciation
Jayson (Founder member) Helen (MRCI)