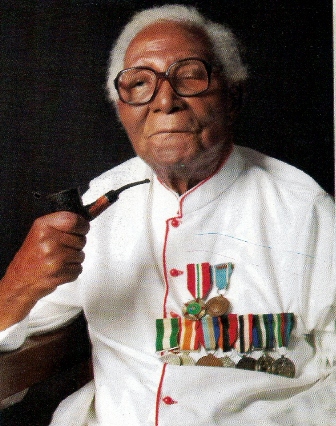 Monsignor Pedro Martins marks his 100th Birthday with Thanksgiving Mass and celebration
The Holy Cross Cathedral, Catholic Mission Street, Lagos, Nigeria was the scene for the Mass to celebrate the 100th Birthday of Rt Rev Monsignor (Colonel) Pedro Martins (pictured left). The principal celebrant was His Eminence Anthony Cardinal Okogie, assisted by Archbishop Felix Alaba Job (President of the Nigerian Episcopal Conference) and the first Bishop of Ekiti diocese, Bishop Michael Fagun who preached the homily. Many other bishops and over 100 priests gathered to mark this milestone, not only in the life of Monsignor Martins but in the life of the Catholic Church in Nigeria.
The presence of five SMA priests – Fathers Francis Barka-Nado (from Central Africa), Debres Trinkson (India), Romanus Onyekuru (Nigeria), Eamonn Finnegan and Noel O'Leary (Ireland) – showed the changing face of the Society of African Missions which Monsignor Martins has observed since his ordination by Bishop Patrick J Kelly SMA of Benin City on 8 August 1943.
After Ordination, the then Fr Martins studied at the University College, Cork where he was a familiar face to the people of Cork as he cycled to and from College and the SMA Residence at Doughcloyne in the Cork suburbs.
The Centenarian filled many positions of responsibility, teaching at St Gregory's College in Lagos as well as ministering in several parishes throughout the Archdiocese. He also served as Vicar General to the then Archbishop, now Cardinal, Okogie. In 1970 he was made Monsignor.
During his military career he served with the Nigerian Armed Forces rising to the position of Head Chaplain to the Armed Forces. He served in the Congo and with many Army Formations in Nigeria.

The Chairman for the events of the day was Chief Olusegun Obasanjo, former Military and later Civilian Head of State of the Federal Republic of Nigeria.
The Society of African Missions rejoices with Monsignor Pedro and wishes him continued health. May the Lord hold him in the palm of His hand.
Our collage of photos shows a young Fr Martins with Altar servers during his years in Cork.