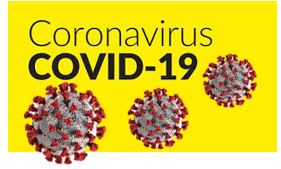 On a recent visit to the SMA International Spiritual Year Centre, Calavi, Republic of Benin, I was very conscious of how the Centre itself has developed over the last 33 years in terms of buildings, numbers attending the annual programme as well as the international composition of those coming to this important Centre of our SMA formation programme. In addition, there is the very visible development that has taken place all around our SMA Centre itself here in Calavi town.
First, the formation programme has developed. It is built on the guiding principles as set out in the SMA Charter of Formation which states that formation for missionary priesthood is built on human, intellectual, spiritual and psychological growth. The objective of Centre Brésillac is to prepare all SMA candidates to take their first commitment for one year in the SMA. For nine months, in the very international and intercultural community, each participant will work on his personal growth, deepening his relationship with God, growing in his understanding of the work and mission of the SMA, attuning himself with the charism and spirituality of the Society and the founder, Venerable Marion de Brésillac.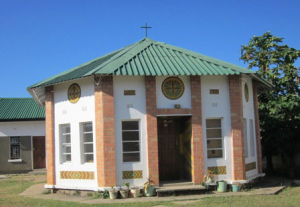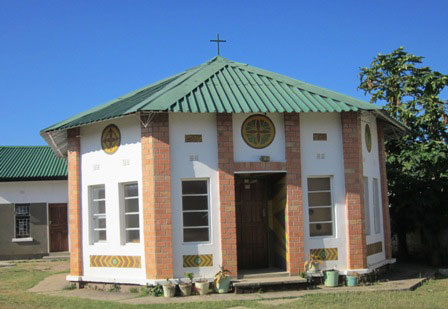 The first challenge is to ensure that all participants have a good grasp of both English and French as the various courses throughout the programme are presented in both of these languages, the two official languages of our international Society. All participants spend one month before the launching of the Spiritual Year Programme studying one of the languages. Those taking French are invited to live with welcoming families in and around Cotonou; those studying English reside in Calavi. Prior to arriving in Benin all students in our SMA formation houses are required to have ongoing tuition in French or English depending on which country they come from originally, so they do not arrive in Calavi as if starting language learning from scratch. They have already done some language practice during the years of their Philosophical studies. Then when all have arrived here in Calavi there are various activities, study and house programmes that are part of the life of the students and staff.
This present Spiritual year began on 1st October 2019 with 30 participants. They are from 12 different nationalities: Angola (2), Benin (5), Central African Republic (2), Cote d'Ivoire (2), Congo (3), Ghana (1), India (2), Kenya (2), Nigeria (6), Tanzania (2), Togo (2), Zambia (1). This variety of cultures and nationalities is in itself a very enriching and challenging part of the formation and training given the cultural and linguistic differences in the group. From the start there is a focus on building community among all members, staff and students alike. This is challenging task and takes much skill on behalf of the formation team to get the balance right between personal and community growth, between individual needs and community demands, and all with the aim of helping to prepare young men to live and work together later on in mission situations in Africa.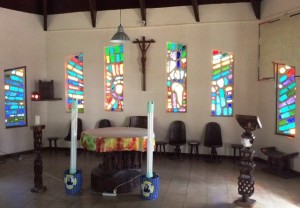 Secondly, the development of the place called Calavi, Abomey. The area, some 15 Km from Cotonou, was where the SMA "pitched its tent" when it was decided to have an international Centre for the SMA Spiritual Year Programme in the Republic of Benin. The dream of the Founder, Venerable Melchior de Marian Brésillac, was to open a mission in Benin. He did not himself reach Benin as he died in Freetown, Sierra Leone, just six weeks after arrival in Africa [1859]. The land was purchased in what was then just a large open area covered with a variety of trees and plants. The land was fenced off and building of the small but beautiful chapel, accommodation for staff and students as well as class rooms and dining room began. There were no roads; there was no electricity or running water then so these two important resources were installed so as to make the Centre a suitable place to welcome students.
Now as I look out beyond the boundary walls or drive around the area today I can see a phenomenal development of housing and other buildings; and the population has grown from a few people here and there to hundreds of thousands. One has to see it to believe it; but it is true. I had seen the SMA compound some 25 years ago on my fist visit and now again on a visit to the Centre for SMA formation this year. This change reminds me of other similar developments that have followed the arrival of missionaries in different parts of many countries where they worked. Development, progress and education are words that come to mind with the arrival of missionaries in any country.
Finally, the year 2020 will be remembered in Calavi as special and challenging because of the Covid- 19 pandemic. I had visited in mid January for some weeks and then came back again in early March to do some further workshops with students. Quickly and without much advance warning lockdown guidelines and restrictions were put in place. I could not travel and return to Kenya as planned. But I must comment on the prompt and creative response of the formation team in putting in place rules and regulations for the community to ensure the well-being and protection of all.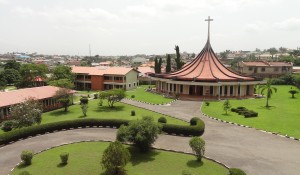 Cocooning was imposed on all and no visitors were allowed in from outside. This was difficult as some regular employees were asked to stay home, all who came regularly to worship on week days and Sundays were asked to stay away. Luckily the compound has ample space and buildings to ensure safe social distancing at all times while at the same time being able to continue to have community prayer and Mass. Regular classes were held as teaching was done through streaming and other computer programmes; and dining facilities were adjusted to ensure safety while allowing all to enjoy home cooking.
The response of the students I noted was very positive and while they could not leave the compound or have their regular sports activities they did not complain, but instead they found new and creative ways to exercise regularly. Hence the programme of the year could be completed and on 25 June this year, 20 young men took their first Oath of temporary commitment to SMA for one year. Travel is still restricted so many cannot travel as would normally be the practice. But hopefully in time they will be able to get to the countries where they are appointed for their Stage or experience of mission for another year. But that will be another story!
John Dunne SMA – 4 July 2020
If you would like to support the education of our seminarians please click here and follow the link to FVC – Training SMA priests in the list of causes you can support. At present, the SMA has more than 300 young men studying for the priesthood in several African countries as well as in India, Italy, Philippines and Poland. Pray for them that they will see clearly the vocation the Lord is calling them to.