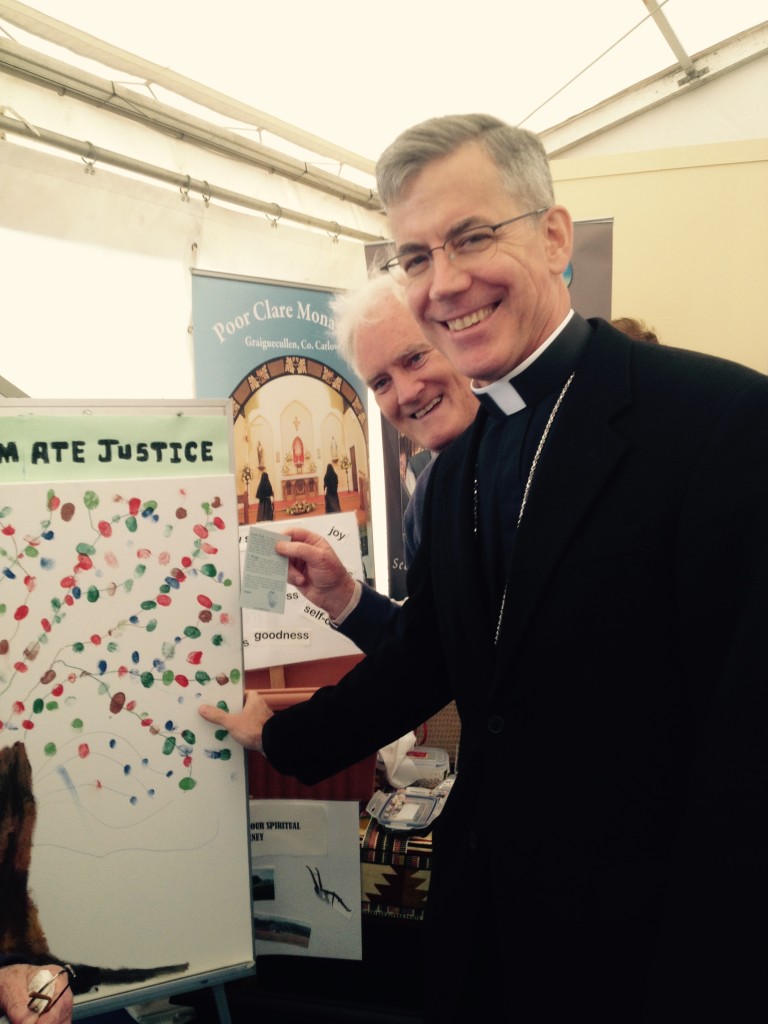 The 2015 National Ploughing Championships got underway on 22 September in Ratheniska, Co Laois.
The diocese of Kildare & Leighlin has one of 1,500+ stands spread over this massive site. Bishop Denis Nulty has made space available to the Irish Missionary Union [IMU] enabling the SMA and other missionary groups to spread the Good News.

The SMA Thumbprint Campaign was central to the activities on the Stand and with Vocations Ireland and other groups we presented various aspects of mission and outreach, both at home and throughout the world.
The Papal Nuncio, Archbishop Charles Brown called to the Stand [it can be found on Row 26, Stand 444] to make his mark on the Thumbprint Campaign where he met Mrs Dympna Mallon [the SMA Laity Coordinator] and Fr Maurice Henry SMA, Provincial Councillor, responsible for Promotion, Justice and Laity.
The Thumbprint Pledge is as follows:
Lord God, I pledge to take greater care of my environment, to do what I can in my own home and place. I promise to use your gifts wisely and carefully, mindful that what I do today is affecting our world, the lives of others far away and generations yet to be born.
I place my thumbprint here as a sign of this pledge and I ask you for the strength to put it into action in my life and in the example that I give to others. I make this prayer through Christ Our Lord. Amen
Want to know more about the Thumbprint Campaign? Click here.
All welcome – Row 26, Stand 444.