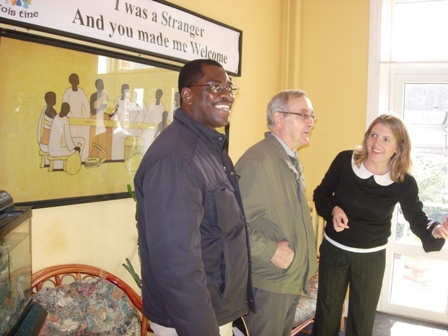 Members of the SMA General Council Visit Cois Tine.
On the 25th of October 2011 Cois Tine was honoured with a visit from the Superior General Jean-Marie Guillaume SMA and Fr Paul Ennin General Council Member. They were accompanied by Fr John O'Keeffe SMA, Wilton. The visitors were welcomed to Cois Tine by the Centre Manager, Sadie Dennehy and staff member Tedla Desta. The occasion took place on a normal busy day a Cois Tine. Meetings and a session in our on-going Intercultural Training Programme were taking place and also many of those who regularly drop-in to use Cois Tine's Computer/Internet facilities were present.
After a tour of the premises and an overview of the work of Cois Tine given by the Director, Fr Angelo Lafferty SMA the visitors and all present in the building were treated to a shared meal of Jollof Rice, Groundnut Stew and Roast Chicken prepared by members of the Cork African Women's Group.
During words of welcome given by the leaders of the African Women's Group and the Cois Tine Men's Group the speakers referred to Cois Tine as: "An important place …that has helped us through the difficult time after we arrived in Ireland and still helps us as we try to make Ireland a home for us and our children." The second speaker said: "Since coming here I have made many friends, I have learned much and I have been happy. Cois Tine is open to all Christians, Muslims, people of all languages. For us it is like a bridge that helps us to cross from where we come from to living here in Ireland."
The occasion ended in a traditional African manner with each visitor being presented with a token gift of their visit. (For the full text of the Words of Welcome click here)