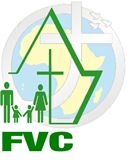 On Saturday, September 7th, at 6pm the SMA are holding a Mass at the SMA church in Wilton to be followed by a concert in the Parish Centre for all the Sponsors who are being invited to mark the occasion of the 60th Anniversary of the Family Vocations Community.
The Mass will be celebrated by SMA priests who served the crucial work undertaken by the FVC over the years.
FVC Sponsors and friends who might like to attend but are unable can view the Mass by logging onto the SMA Wilton Parish website at www.smawilton.ie and clicking LIVE on the screen.