The Irish comedian Hal Roach tells a humourous story about Knock. He says that during a lunch-break in a New York building site the topic of religion came up for discussion among some of the workers.
There were workers from many nationalities and a French man began to hold forth about the apparition of the Blessed Virgin at Lourdes.   After listening to this boasting for some time one Irish man from the West of Ireland felt the need to have his say.
"You talk about Lourdes and the appearance of Our Lady in France," he said. "But when she wanted to visit Ireland she brought her whole family along".
There is of course a nugget of truth in that statement which makes the apparition at Knock unique in the history of Marian apparitions for Mary is accompanied by her husband Joseph and her Son, Jesus, and her adopted son, John.  
St. Joseph, just as Mary had done at the annunciation, listened to the voice of an angel and in faith took Mary home as his wife. He accepted the responsibility of a father and cared for the special child Mary was carrying.  It is true that Jesus felt a close intimate relationship with his heavenly Father whom he addressed as Abba.  This familiarity is, I believe, surely rooted in his affectionate relations with Joseph.  
Joseph is vitally important in the life of Jesus and is greatly honoured by the Church as patron of workers, patron of families, patron of the dying and patron of the universal church.
It is entirely appropriate that John the Evangelist appears in this family scene for he is the son bequeathed to Mary by Jesus himself. But there may also be another reason for his presence.  The Evangelist pulls back the veil and opens us up to the real birth of Jesus. That birth of the true Son of God is in eternity as the Son and image of the Father.  He opens his Gospel with those amazing words: 'In the beginning was the Word and the Word was with God. And the Word was God.  This is the Word who became flesh and lived among us.'
I feel that it is significant, and not a chance happening either, that the apparition at Knock should appear on a gable wall of a church built to honour John the Baptist. It was John who was the very first to point out to the waiting world that Jesus is the Lamb of God who takes away the sins of the world by becoming the sacrifice on the altar and the cross. The angels complete the scene by reminding us of their presence at the birth of Jesus and now in adoration before the throne of the Lamb.
The apparition at Knock is the last in a line of Marian appearances of the 19th century. The appearances began in 1830 in Paris, followed by La Salette in 1846, then Lourdes in 1858, Portmain in 1871 and finally Knock in 1879.  This was the century described by Pope Pius XII as the 'century of Marian predilection.' We know that behind all Mary's visitations there is a purpose.
When Mary consented to become the mother of Jesus, she described herself as the handmaid of the Lord. God first sent her on a missionary journey of love and support for her cousin Elizabeth. It is this same Mary who recognized the particular needs of the young married couple at Cana, who also recognized the needs of the people of Ireland.
In very dark days she came with a message of consolation for a suffering nation. Good harvests [of potatoes, the staple diet of the poor] had been few and far between during much of the 19th century.  At least a million and a half people died of starvation or the effects of starvation in those years. There was also a deeper hunger, a hunger for freedom.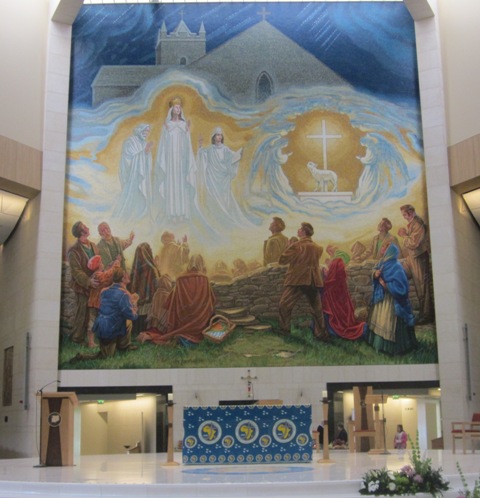 Historians tell us there was also serious discrimination against Catholics in the 19th century. There were questions asked at that time by those who felt insecure in their faith. Their question was, 'Where is your God in all this suffering' and that question is still around today.  Mary's presence at Knock is the answer for her visit sustained Irish hope and determination.  It succeeded then in strengthening and deepening the faith and it still continues to be a light for our lives today
As with all heavenly interventions in human history the presence of Mary at Knock has significance for our times. Yes, Mary and her family appeared to comfort and console the suffering people  of Ireland  and thank God starvation has long ceased to haunt Irish homes, but its deadly drama is played out every day in other homes and on other continents—  situations that are not all that different to 19th century Ireland. So we can never be complacent
 If I look at Africa today— and this  is the context of the SMA and OLA missionary work, encouraged by the prayers and sacrifices of our great supporters— millions of people are at risk of starvation because of  greed, corruption, climate change and intractable civil wars. 
In another generation the people with the broken hearts were our people and our ancestors out of which our lives today were crafted. Our experience confers on us a responsibility to do all we can to help others in need and lead them to a new and better day.  The fullest potential of God's dream for the world will remain elusive until we have consigned famine and war and disunity to history.  As long as there is division within the human family there can be no lasting peace.  So today we come to our Lady's shrine to pray for the global human family.
Some people ask why we pray to Mary at all for Jesus is the only mediator between God and His creatures. Bishop Fulton Sheen tells the following story about the time he was asked the same question at a High School in his diocese, while taking a class for confirmation.  In response he told the class of a dream he had. 
He said he heard God complain to St. Peter that there were too many people being allowed to come into heaven without passports. As Peter had the keys of the gate God questioned him and complained about his efficiency.  Peter replied 'Father, you should talk to your Mother about this. I look after the Gate and I vet everyone who comes in by me but when I refuse they go to the window and your mother lets them in'.  Let's hope she will be at the window to welcome all of us when we reach Heaven's Gate.
Now I would like to end this reflection by asking you to join me in honouring the BVM with a well-loved prayer.
It was the special prayer of Fr. Patrick Peyton, the Rosary priest (who was born in Attymas just 20 miles or so north of here) and also much loved by Mother Teresa of Calcutta who always asked her sisters to say the prayer whenever she had to make serious choices.  Mother Teresa stated that Our Lady never failed her. We call that prayer the 'Memorare'  and I invite you to pray it together for our own needs and the needs of those who have asked us to pray for them here at Knock:
Remember, O most gracious Virgin Mary, that never was it known that anyone who fled to thy protection, implored thy help or sought thy intercession was left unaided. Inspired with this confidence I fly unto thee, O Virgin of Virgins, my mother.  To thee do I come, before thee I stand, sinful and sorrowful.  O Mother of the Word Incarnate, despise not my petitions but in thy mercy hear and answer me.  Amen.
May our pilgrimage to Mary's shrine bring us to a deeper appreciation of our faith and give us strength to publicly witness to it in the choices we make in our lives. May God and Our blessed Mother, Queen of Ireland, bless us and hear our prayers.
Fr Dan Cashman SMA