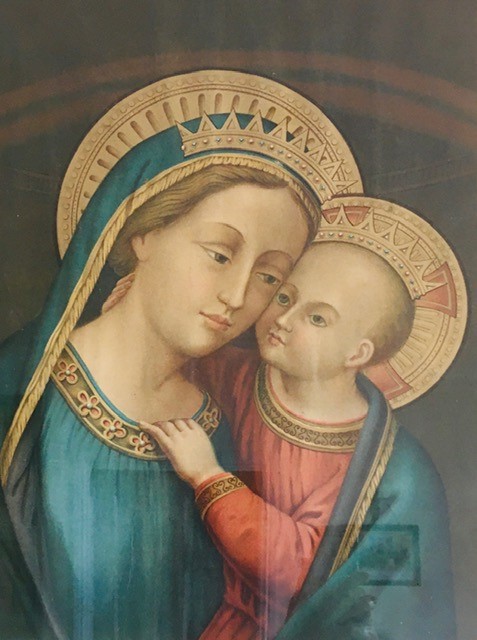 There's a familiar painting in my room which I'm learning to appreciate more and more in these Covid-19 days. It is the famous icon of Our Lady of Good Counsel, found originally in an Augustinian Church in Genazzano, Italy, in the 15th century. It depicts our Lady gently holding her Son but with her gaze half turned towards the viewer. There is something exquisitely tender about this image of mother and child. When I ask myself what advice or counsel she is offering me at this anxious and uncertain time, the words that spring to mind are the words of a song made famous by the Beatles many years ago, "Let it be". The refrain goes like this:
When I find myself in times of trouble
Mother Mary comes to me
speaking words of wisdom, let it be.
And in my hour of darkness
she is standing right in front of me
speaking words of wisdom, let it be.
Let it be, let it be, let it be, let it be.
Whisper words of wisdom, let it be.
New Video Messages this week.
Fr Brian O Kane SMA – Wed 27th May. Fr Julius Temuyi SMA – Fri 29th. to view these and messages from other SMA's  Click here 
The words 'let it be' echo the response of the Virgin Mary to the angel Gabriel when he informs her that the Lord has chosen her to be the mother of his Son (Luke 1:26-38). Her "let it be done unto me according to your word" (v. 38) was a decisive moment in bringing God's plan for our salvation to fulfilment.
The Second Vatican Council, in its Dogmatic Constitution on the Church [Lumen Gentium], underlines the importance of Mary's 'yes' to God: The Virgin Mary, when the angel brought the news, welcomed the Word of God in her heart, and in her body brought life into the world…. Embracing God's saving will with a full heart and impeded by no sin, she devoted herself totally as a handmaid of the Lord to the person and work of her Son. [Lumen Gentium, n. 56] 
Mary's 'let it be' was probably the greatest act of faith a human being has ever made.  When assured that it was by God's Spirit that she would become the mother of Christ, she responded with the total gift of herself: "I am the Lord's servant. Let it be done unto me according to your word" (Luke 1:38).  Her obedient 'yes' to the Lord stands in stark contrast to the disobedience of the first Eve and constitutes her as the new Eve, the mother of all those who will be born again through Jesus. Mary anticipates the response of Jesus in the Garden of Gethsemane, when, after expressing his human fear and desire to escape the suffering and death he foresaw, he went on to say "Let  your will be done, not mine" (Luke 22: 43). Mary is the one "who hears the Word of God and keeps it" (Luke 11:28)
Mary's 'let it be'  to God's word in her life was a response she had to make many times in her life, as the implications of her initial 'let it be' became clear to her. She must surely have wondered what God was doing when, at an advanced stage of her pregnancy, Joseph and herself had to make the difficult journey to Bethlehem to be registered in a census of the people. And then, on arriving in Bethlehem, it must have been deeply distressing not to have been able to find a suitable place in which to have her baby. Why was God who had shown her such great favour now asking her to endure such hardship and difficulty?  Of course we don't know what Mary thought. We can only put ourselves in her place and imagine her feelings, concerns and questions. Luke presents Mary as a silent, reflective person during these difficult moments. When her baby is born and the shepherds come to the stable to worship him, we are told by Luke that Mary "treasured all these things and pondered them in her heart" (Luke 2:19). She was repeating and deepening her initial 'let it be'.
Again, when Mary and Joseph present Jesus in the temple, in accordance with Jewish custom, they are left wondering at the things that are being said about Jesus by Simeon. As Luke tells us:  "The child's father and mother were wondering at the things that were being said about him" (Luke 2:35). What Simeon was saying about the child was that he would be "a light to the Gentiles and the glory of Israel". But he also said that he would be "a sign of contradiction" and that "a sword will pierce" Mary's own soul, too (Luke 2:34-35). Another moment for Mary to ponder and reflect on a prophecy that must have troubled her deeply and wrung from her heart another trusting "let it be". 
There is a third reference in Luke's Gospel to Mary's pondering on the implications of her response to the original fiat to the message of the Angel. It comes at the end of Chapter Two, after the Mary and Joseph return from their pilgrimage to Jerusalem on the occasion of Jesus' twelfth birthday. On that occasion, Jesus leaves them and remains behind in the Temple to converse and dispute with the doctors of the Jewish Law. After searching for him everywhere for three days, his parents eventually find him. On this occasion Mary, in her extreme anguish of her heart, does speak, and speak very sternly, to her Son: "Why have you done this to us; see how worried your father and I have been, looking for you" (Luke 2:48).  Jesus' enigmatic reply can only have deepened her anguish: "Why were you looking for me? Did you not know that I must be in my Father's house?" (Luke 2:49). Luke tells us simply that Mary and Joseph "did not understand what he meant" (Luke 2:50).  What is striking is how Mary deals with her puzzlement at what her Son has done: "Mary stored up all these things in her heart" (Luke 2: 51). Perhaps it was this moment that prepared her for her most profound and heart-rending 'let it be' moment' of all, as she stood at the foot of the Cross as her Son lay dying, sharing his pain and suffering: "Standing by the Cross of Jesus were his mother, and his mother's sister, Mary the wife of Clopas, and Mary Magdalene" (John 19:25).
I believe Mother Mary's words of wisdom to us during this Covid-dominated time of fear, anxiety and uncertainty is 'Let it be'. Not a passive, indifferent 'let it be' but a positive willing embrace of the mystery of what is happening and what God may be saying to us during this strange and unplanned time, this unexpected sabbatical.
For this is as much a time of opportunity as of crisis: a time of respite for nature and for ourselves; a time to let go of our illusion of control and mastery of the earth and of our lives; a time of healing for the earth and for our restless hearts; a time to realise what is really important in life; a time for us to live in the present and, like Mary, to say 'let it be' to the Lord of our lives. and 'to store up in our hearts' what we do not understand now, or perhaps ever will. I will end this reflection with a prayer:
Lord, my Creator, My Redeemer, My Lover,
You invite me to embrace moment of promise and threat.
Teach me how to respond with a generous 'let it be'.
Help me to echo Mother Mary's 'let it be'
To this mysterious time in my life.
Michael McCabe SMA