It is springtime again. All of nature is waking up from its Winter slumber. This is one of the signals to us that we too must "put a spring in our step", push ahead and live to the full the life the Lord has so graciously given to us. Key to doing this for all Christians is a renewal or deepening of our faith in Jesus Christ – the Way, the Truth and the Life.
To assist us in our efforts, it is clear that we will need all the help we can get. One person who is waiting and ready to assist us is Mary, the Mother of Jesus. You are invited to join us in prayer as, from Thursday 3rd to Friday 11th February 2022, we join in a Novena  of Prayer to her, under the title of Our Lady of Lourdes. During these days, we will pray to her and with her. We extend a special invitation to those who are sick at this time and their loved ones who are so concerned for them.
Each morning the 10am Holy Mass will be celebrated in our St Joseph's SMA Parish Church at Wilton, Cork. You can join us by going to www.smawilton.ie or www.sma.ie and click on the Webcam links there. On each of the seven days, the reflection / homily at Mass will be given by a different SMA priest.
The special Novena prayers will be recited after the Homily. Prayer Leaflets are available in the church, as well as "petition envelopes". Already many of our parishioners, supporters and friends have received them. For those who can't attend in person, see the prayers below so you can join from your home, nursing home, hospital or wherever you find yourself, particularly those who are ill.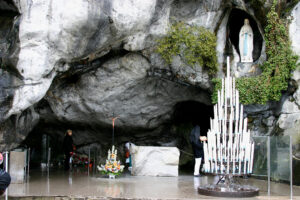 On the final day, 11th February – Feast of Our Lady of Lourdes – emphasis will be placed on Healing. This is something that is so necessary in our day. Mother Earth needs healing. International, national, church, family, personal lives and relationships urgently need healing.
You are invited to join us in this Novena as we pray for the various Intentions people have asked us to remember. As well as praying for those Intentions, we will also remember those who care for the sick, the 'frontline' staff in hospitals, nursing homes and hospices. May the Lord keep them and their families safe.
During the nine days, "Make room for Mary in our families. She is a Mother! She is there – attentive and concerned". (Pope Francis).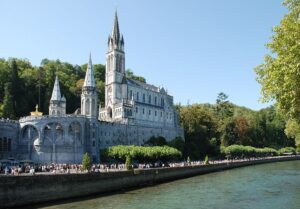 Prayers of the Novena
Mary crowned with living light, 
Temple of the Lord
Place of peace and holiness,
Shelter of the Word.
Mystery of sinless life,
in our fallen race,
Free from shadows you reflect
Plenitude of grace.
Virgin Mother of our God,
Lift us when we fall,
Who was named upon the Cross
Mother of us all.
Father, Son and Holy Spirit,
Heaven sings your praise,
Mary, we magnify your name
Through eternal days.
Glory be to the Father, and to the Son and to the Holy Spirit. As it was in the beginning, is now, and ever shall be, world without end. Amen".
We then recite a Decade of the Rosary followed by this Litany
Our Lady of Lourdes, pray for us.
Saint Bernadette, pray for us.
Mary our Mother, pray for us.
Mary full of grace, pray for us.
Mary, cause of our joy, pray for us.
Mary, health of the sick, pray for us.
Mary, Queen of all saints, pray for us.
Mary, Queen of peace, pray for us.
The Memorare
"Remember, O most gracious Virgin Mary, that never was it known that anyone who fled to thy protection, implored thy help or sought thy intercession was left unaided. Inspired with this confidence, I fly to you, O Virgin of Virgins, my Mother. To thee I come. Before thee I stand, sinful and sorrowful.  O Mother of the Word incarnate, despise not my petitions, but in thy clemency, hear and answer me. Amen." 
Concluding Rite    
"O God, who through the Immaculate Conception of the Blessed Virgin Mary, prepared a fit dwelling for your Son; we humbly ask you to grant us, who celebrate the apparition of the Virgin Mary, health of soul and body. Through Jesus Christ, Our Lord: Amen."  
"O Mary conceived without sin, pray for us who have recourse to thee".  (Three times)