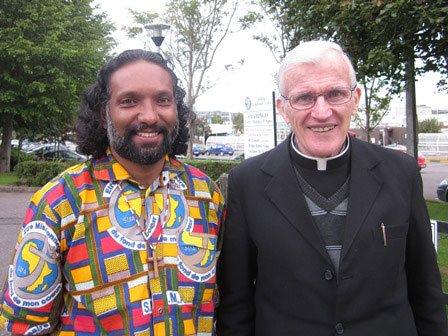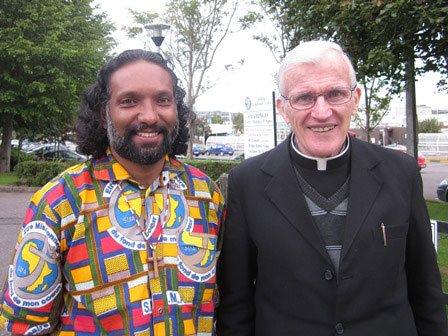 Bishop Tim Carroll SMA, bishop-emeritus of Kontagora (Nigeria), preached at the concluding Mass of the 2014 SMA / OLA National Pilgrimage to Knock on Saturday, 24 May. As all of us had come to Our Lady's Shrine on pilgrimage, Bishop Tim shared some thoughts on the idea of pilgrimage, particularly the pilgrimage back to our Father's House.
Bishop Carroll is pictured with Fr Donbosco Mawdsley SMA who has just completed a License in Canon Law from the Gregorian University in Rome.

"We have all come here today to the Shrine of Mary on pilgrimage. All of us, we are also on another pilgrimage, a very important one. It's the journey, or pilgrimage back to our Father's house in heaven.
We are only passing through, as St. Paul says in Philippines 3:20, "our true homeland is in heaven."
An African proverb also says, "life is a market day, heaven is our home."
The young swallows that hatched out under our eves or outhouses must make a long journey back to Africa in Autumn. Like the swallows we too are on a long journey, the journey back to our Father's house in heaven.
We can easily be sidetracked from our pilgrim journey. Unfortunately, there are sign posts on the road of life, with wrong directions on them. The journey won't all be easy. There will be some tough climbs and foggy days, but there will be good days of sunshine as well. If you climb a mountain, you must keep your eye on the mountain top, and take the appropriate path. We too must keep our eye on the mountain of God.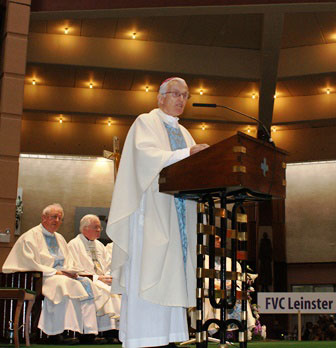 Many people ask, "what is the best route for ourselves and our families, on this journey back home to God's house?"
Let us look at the lives of the Holy Family at Nazareth. What route did they take? What did they do?
The public life of Christ was three short years. For thirty long years he worked as a carpenter. What of Mary? She rose early, lit the fire, boiled the kettle for breakfast. Jesus and Joseph came down, ate the breakfast and started into another day in the carpenter's shed, with timber to be cut and planed. Mary took her bucket and went to the village well for water. She swept the floor, cut the vegetables and started into the dinner. She called Joseph and her Son, when dinner was ready. They all put their legs under the table and ate together.
Does this sound familiar? These are the things that our families do every day.
Mary worked no miracles, but she said "yes" to God every day. She found God among the pots and pans of her kitchen. It is true to say that Mary's way to heaven, as wife and mother, was through the kitchen. Mary's home was her chapel, her house of prayer.
It must be our house of prayer too, where we pray with our families.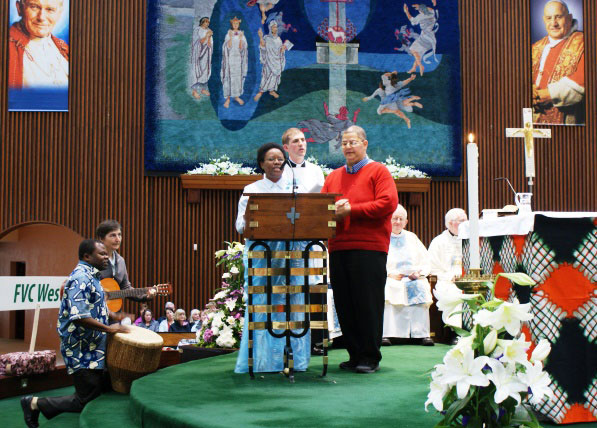 In today's Gospel it was in her parents' home at Nazareth, that the angel Gabriel appeared to Mary, not in the Temple in Jerusalem. We go to Church to pray and meet God, it is good. But we do not live in the Church, we don't eat there, or sleep there. We live out our lives in our homes and in our places of work. And it is in these places, but above all in the home with our families, that we must find God, and talk to him everyday. Like the Holy Family, we must offer to God, the ordinary things we do every day, and ask God to bless them and make them holy.
Our picture shows some of the Loreto Formation Course group who brought the Gospel to the Altar accompanied by dancing and song.
Doing the ordinary things of every day was also the route that St. Therese of the Child Jesus took. She called it her little way, her short cut to heaven. It can be our short cut too. Praying to Mary, St. Theresa said:
"I know that at Nazareth, O Virgin full of grace, you lived poorly, no miracles, nothing but the loving carrying out of daily duties."
Note, "the loving carrying out of daily duties".
We say we will do big things for God, we wait and wait, but the big things seldom come, and time passes us by. The road from Knock to Dublin, is tarred with small chips or stones. One small stone does not go far. But if you have enough of them, you can make roads across continents. Small things, like the chips on the tar road, when added up become big things. Let us ask God to bless our ordinary everyday work, so that our actions become holy things, sacred things.
If you put a few drops of blackcurrant juice into water, it will colour it and change it. We too must colour our days with the colouring of God, with the flavour of God. Let the dye of God run in the fabric of every day in all that we do.
I remember, when I was young, if a neighbour came into our house, they would say, "God bless all here." Or if someone met us working they would say, "God bless the work." Like the blackcurrant juice, they were putting the colouring of God on the home and on the work. I sometimes wonder if this beautiful Irish custom is still there.
Let me conclude, by wishing you all a safe journey home to your families this evening. And on the longer journey to heaven, to our Father's house, please take the right road, the road that goes through our kitchens, our homes, our offices and our fields. It's the Sacred Way, the road of Mary, and the best road.
When finally we all reach God's house, may no one from our families be missing.
Safe journey."