Below is the first in what we hope will be a series of profiles on African countires.
New peace & re
conciliation initiative to be launched on November 29.
With Liberia's run-off elections laid to rest re-elected President Ellen Johnson Sirleaf announced that fellow Nobel Peace prize winner Laureate Leymah Gbowee would lead reconciliation efforts to heal divisions left in the wake of the election.
President Ellen Johnson Sirleaf was first elected in Liberia's post-war election in 2005. In October 2011, she won the Nobel Peace Prize for helping to end Liberia's 14-year-civil war and since her re-election she said that for her part, said she would pursue a policy of reconciliation.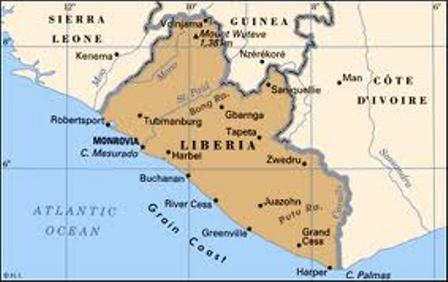 Liberia – "land of the free"
Liberia is Africa's oldest republic, declaring independence in 1847. The Republic of Liberia began as a place where freed African-American slaves could be sent by the American Colonization Society (ACS), which was supported by such politicians as Henry Clay and then President of the USA, James Monroe. These freed slaves became known as American-Liberians (Liberia stands for liberty) and established a nation which was closely modelled on that of the USA, even the capital, Monrovia, was named after President Monroe.
The seeds of discontent were planted around this time as the freed slaves returning from the US seemed not to integrate themselves with the local populations of indigenous ethnic groups who had occupied these lands for centuries; rather they regarded themselves as American and were seen as such by local ethnic groups. This set the scene for ethnic tensions from as far back as the 1820's. The greatest examples of this are the fact that indigenous Africans were excluded from citizenship, excluded from participating in the new government and were not allowed vote. In addition they were subjected to forced labour under inhuman conditions. The American-Liberian True Whig Party had a complete monopoly of political power from which indigenous people were excluded.
Throughout the 20th century, the American-Liberians further consolidated power at the expense of the indigenous population. As the American-Liberians expanded their communities, this saw many indigenous Liberians lose their homes and land. A law called the Hut Tax Law was implemented which required indigenous Liberians to pay tax on any property they owned, a law which only fuelled ethnic tensions.
Beginning of a brutal civil war
Tensions came to a head in Liberia in 1979, as the government announced plans to raise the price of rice from $22 per bag to $30. This was met with fierce opposition as the majority of indigenous Liberians could no longer afford the new price. The Progressive Alliance of Liberians organised a rally to voice their opposition. On the 14th April 1979, around two thousand Liberians took to the streets of Monrovia. Police shot into the crowds of demonstrators killing 40 students and leaving a further 400 injured. Thirty three organizers were arrested and tried for treason but were later granted general amnesty. This incident was to mark the beginning of the final show down between American-Liberians and the indigenous population.
On April 12th 1980, The People's Revolutionary Council (PRC) attacked the President's mansion, killing him and members of his cabinet. The PRC was led by Master Sergeant Samuel K. Doe, who along with the 17 members of his council was made up of all indigenous Liberians; most of them were from the Krahn ethnic group. This marked the end of 132 years of American-Liberian rule and marked the beginning of indigenous rule.
The new regime in Liberia was headed by Master Sergeant Doe, who vowed to fight corruption and come to the aid of the poor. He also vowed to build a new society where justice, human dignity, equal opportunities and fair treatment were to be the pillars of this utopian vision.
This, however, did not materialise. Doe became what he rallied against overseeing a new wave of oppression – this time the oppressed being the American-Liberians while also appointing members of this own indigenous group to key government positions. Corruption too seemed to escalate during the time of his regime; reports claim that by the end of his regime some $300 million had been stolen by him and his friends. Political parties, student organisations and demonstrations were all banned. Opponents of his ideology were arrested, beaten, tortured and even killed, many of whom consisted of students and lecturers from the University of Liberia. On the 22nd of August 1984, Doe ordered the Armed Forces of Liberia to raid the University resulting in systematic beatings, killings and even cases of rape of female students. Freedom of speech no longer existed.
On December 24th 1989, some 15,000 troops calling themselves the National Patriotic Front of Liberia (NPFL) entered Liberian soil from neighbouring Cote d'Ivoire. These rebels were led by Charles Taylor, who was of American-Liberian decent. Taylor had served as Director –General of the General Services Agency (GSA) but fled the country in 1984 as he was accused of embezzling $1 million of government funds.
The main objective of the NPFL was to remove Doe from power citing the suffering of the majority of the population as a just reason. Upon entering Liberia from neighbouring Cote d'Ivoire, the NPFL found it very easy to recruit members of differing ethnic groups. Some of the first ethnic groups to join were the Gio and Manu. The main reason behind this was as a result of the atrocities these groups suffered under Doe's regime. Attacks from both the rebels of the NPFL and government forces escalated and atrocities were common place from both sides. Reports of brutal murdering of men, women and children were reported as well as whole villages being set ablaze. Even more shocking were reports of babies being thrown down wells to drown, after their parents had been murdered. These atrocities were committed on behalf of the Doe regime, who contrary to international criticism claimed that such atrocities would continue as long as the NPFL did not surrender to government forces.
By June 1990, the NPFL was laying siege top Monrovia but by this time the NPFL had began to splinter. The Independent National Patriotic Front (INPFL) was established by Prince Yormie Johnson, who split after Taylor had some of his men executed for their defeat by government forces in Ganta.
1090 saw the 16-member Economic Community of West African States (ECOWAS) deploy forces in Liberia with the intention of achieving a cease fire until an interim government could be set up. ECOWAS set up its headquarters in the Free Port of Monrovia. Doe visited these headquarters on the 9th of Sept 1990. Using this opportunity INPFL forces surrounded the compound and this resulted in the capture, torture and execution of Doe.
Members of ECOWAS then created the Economic Community Monitoring Group (ECOMOG) to restore order. In November 1990, ECOWAS invited the main players of the conflict to meet in Gambia in the hope of setting up the Interim Government of National Unity. However, Taylor refused to attend which resulted in hostilities resuming soon after.
In 1995, a ceasefire was reached along with a timetable to demobilize and disarm but heavy fighting broke out again in April 1996. By August, these battles were ended due to the Abuja Accord and disarmament began as planned in November 1996. This was a slow process but successful. Elections were held on the 23rd of July 1997. Charles Taylor and his National Patriotic Party won a majority, resulting in him becoming the 22nd president of Liberia.
The 1989-1996 Liberian civil war claimed the lives of over 200,000 people, displacing a million more in refugee camps in neighbouring countries. The war claimed the lives of 1 in 17 people and left the country in economic ruin.
However this was not the end of the bloodshed as a second civil war erupted in 1999 ending in 2003 as a result of US and UN intervention. This saw Charles Taylor exiled to Nigeria until he was arrested and taken to The Hague in 2006 to be tried. The closing arguments of the trial ended in March 2011 and the world awaits the verdict of the trial. The result of this conflict has had disastrous consequences for the people of Liberia.
Rebuilding Liberia is relatively slow
The UN World Human Development Index which measures health and living conditions ranks Liberia 174 out of 175 countries. With two-thirds of the population unemployed and infrastructure needing to be improved, continuing issues affecting Liberia include; peace and security, economic revitalization, governance/rule of law
Claims of voting irregularities were dismissed by observers of ECOWAS, the African Union, European Union and the Carter Centre after tensions reached boiling point during the recent elections. Opposition leaders claimed that there was fraud and electoral irregularity. President Sirleaf pledges that she will pursue a policy of reconciliation after this highly divisive election process.
The future of Liberia is in the hands of its people and President Ellen Johnson Sirleaf faces a big challenge.
"She must now act quickly to show Liberians she can deliver on their expectations – The trauma of the war is still palpable and the reconciliation process will not be completed without an economic boost. Mrs Sirleaf will have to show her critics she deserved the Nobel Peace prize – the Truth and Reconciliation Commission's recommendations must be implemented and corruption tackled." Thomas Fessy, BBC News, Monrovia