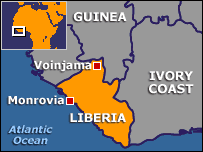 Liberia : A village comes back to life
NYEWOLIHUN, 25 May 2010 (IRIN) – The inhabitants of Nyewolihun village in northern Liberia almost escaped the civil war unscathed, but as the conflict entered its final phase, their village was attacked.
Terrified, they fled into the bush. When they returned days later they found 16 bodies among the ruins of their village. They fled again.
It was in 2001 that the remote village in Lofa County, near the Sierra Leone and Guinea borders, was abandoned.
But today Nyewolihun is gradually coming back to life. Many of the villagers have returned and they have told IRIN how they worked to rebuild their homes, their village school, their town hall, and farms – all without outside help.