"There is a season for everything, a time for every occupation under heaven: a time for giving birth, a time for dying …" (Ecclesiastes 3:1-2).
At the XVI Irish Provincial Assembly (July 2013) a serious evaluation of our reality was undertaken. It is clear that we have fewer active members; fewer members assigned to Africa; the ageing of both our members and benefactors. Despite this, we are committed to face the future with trust and hope in the conviction that the SMA charism and mission, to and for Africans and the most abandoned in our world, will remain as relevant today as they ever were, albeit in a new way. We accept the challenge, enunciated by Pope Francis, that "it is not a bad thing that reality itself forces us to 'put out into the deep'."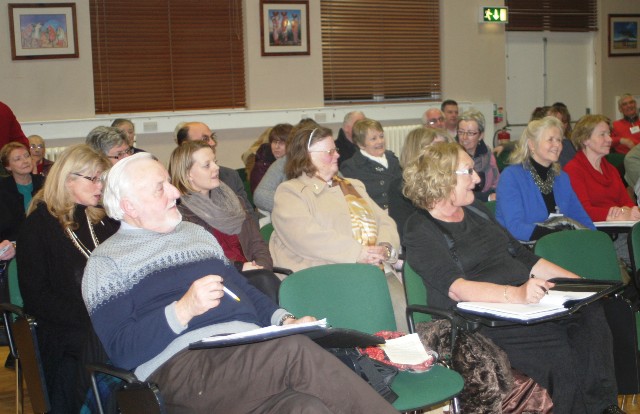 Participants at the Dromantine Theology course enjoying a lighter moment during a lecture!
Echoing the message of the Second Vatican Council, that "the laity share in the priestly, prophetic and royal office of Christ" (cf. Apostolicam Actuositatem §§ 1-4), we affirm their missionary vocation and valuable contribution to the SMA family and mission. The SMA Irish Province is committed to real and active participation by lay women and men in our work and we will strive to empower them for it through dialogue and listening, formation and training.
With our SMA Laity Coordinator, Ms Dympna Mallon, we have identified the importance of communication, the centrality of justice and the need for truly participative, dialogical and meaningful involvement by lay women and men in SMA mission.
Our Society has been blessed with a huge body of sponsors and benefactors who have supported us since Fr Francois Devoucoux became the first SMA to set foot in Ireland in 1877. One of our strengths is the capacity to meet people where they are at – and in Ireland today lay people are thirsting for spiritual meaning and solidarity in community.
By inviting our supporters to become engaged with SMA rather than simply involved with SMA, we believe we can help to quench that spiritual thirst and sustain them in meaningful communities, through engaging with the SMA in evangelizing, community building and working for justice together on issues relevant to the SMA and its mission.
We invite you to consider becoming part of that group, deepening your engagement with us…
The following articles give you information on some of the ways in which people are already involved with the SMA. However, over the coming months, we hope to explore new ways of engagement so that together, our lay people, SMA priests and brothers, can become more effective witnesses to the Good News entrusted to us all through our Baptism.
Click on the African Link Newsletter to read about the different happenings and developments in the area of Laity and the SMA.
Dromantine Theology programme      FOA – Friends of Africa      FVC – Family Vocations Crusade      MAC – Missionary Association Cards
SMALA – SMA Lay Associates (text in preparation)