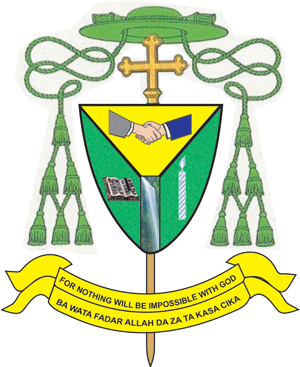 New Bishop for Kontagora Vicariate
For nothing will be impossible with God
The new Bishop of the Apostolic Vicariate of Kontagora, Bishop Bulus Dauwa Yohanna hails from Vuroro in Agwara Local Govt. area of Niger State, at that time part of the Diocese of Ilorin. He was born on 15th December, 1970 and is the first child of the late Mallam Yohanna Jerega and Mallama Esther Kawuya Yohanna.
He can see the finger of God at work in his life from an early age as he recalls the circumstances that led to him being sent to school. For one to be sent to school among his people is not a right but a privilege. His father and his uncle took the bold decision to send one of their children to school. At this time Bishop Bulus was herding cattle in the bush and, since he was the first child of his parents, he never thought he would be sent to school. He received his elementary education at the local primary school (1978-1983) and completed his secondary education in 1988.
During his primary and secondary education he lived in the Catholic Mission compound at Agwara with the SMA priests. He admitted that he learnt a lot from them, especially their simplicity, dedication, hard work, openness and friendship.
He remembers in particular Bishop Timothy Carroll, SMA whom he has now succeeded as Bishop. Monsignor Carroll was installed on 16th March, 1996 as the Prefect-Apostolic of the Apostolic Prefecture of Kontagora, which was committed to the care of the SMA with the co-operation of priests of St. Patrick's Society, popularly referred to as the Kiltegan Fathers. On 17th August 2002 the Prefecture was raised to the status of an Apostolic Vicariate and on that day Monsignor Carroll was ordained Bishop and installed as the Vicar-Apostolic of the Apostolic Vicariate of Kontagora. In 2010 Bishop Carroll began to experience ill-health which resulted in his resignation and return to Ireland for medical treatment in April 2010. Care of the Vicariate was entrusted to Fr. Daniel McCauley SMA who was appointed by the Holy See as Apostolic Administrator until the appointment of Fr. Bulus as the new Bishop.
On completing his secondary education the new Bishop wondered what he would do with his life. Knowing where he came from he was aware that his people needed liberation from all forms of oppression. Through the Catholic priesthood which requires an act of total self-giving to God and humanity he thought he would be in the best position to bring them the freedom and liberation that comes from the Good News of Christ.
Initially, he thought of joining the SMA Fathers but he discovered that the SMA Fathers as missionaries have to leave their homeland and to other countries to bring them the liberating Good News of the Gospel message. Subsequently, he decided to become a diocesan priest, mindful of the admonition of Pope Paul VI in Kampala, Uganda in 1969, at the closing session of the Symposium of African Bishops, that 'it was now time for Africans to become missionaries to themselves'.
In October 1989 he began seminary life when he joined the Spiritual Year programme at St. John of the Cross Seminary, Ekpoma, Edo State. In October, 1990 he proceeded to Ss. Peter and Paul Major Seminary, Ibadan where he studied philosophy and theology until 1997. In 1996 the Prefecture of Kontagora was created and Bishop Bulus automatically transferred from the Ilorin Diocese to the new Prefecture. He was ordained a deacon on 5th January 1997 and was ordained a priest by Bishop Ayo-Maria Atoyebi, OP, Bishop of Ilorin Diocese, on 10th January 1998 at St. Joseph's Church, Agwara.
After ordination he ministered at St. Michael's Cathedral, Kontagora (1998-2002) and was the first parish priest at St. Mark's Church, Nsanji Nkoso (2003-2008). In 2008 he was sent to the Catholic Institute of West Africa (CIWA) in Port Harcourt for his post-graduate studies and in 2011 he obtained a licentiate degree in Pastoral Theology with his thesis, entitled 'A self-reliant Church – a pastoral study in Kontagora Vicariate.
On 2nd February, 2012, the Feast of the Presentation, Pope Benedict XVI appointed Monsignor Bulus Dauwa Yohanna as Titular Bishop of Scebatiana and Vicar Apostolic of Kontagora Vicariate. He was ordained Bishop at St. Michael's Cathedral, Kontagora on Thursday, 1st. May, 2012 by His Excellency, Archbishop Augustine Kasujja, Apostolic Nuncio to Nigeria. The Co-Consecrators were Archbishop Matthew Man'Oso Ndagoso, the Metropolitan Archbishop of Kaduna and Bishop Ayo-Maria Atoyebi, OP, the Bishop of Ilorin diocese. The preacher was Bishop Matthew Hassan Kukah, Bishop of Sokoto. Over one hundred priests joined in the con-celebration.
Fr. Peter McCawille, SMA
St. Andrew's Church
Benin City