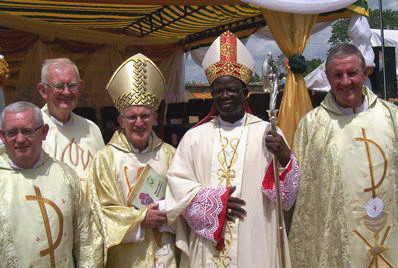 Homily at Kontagora Episcopal Ordination
Bishop Matthew Hassan Kukah is the Bishop of Sokoto diocese, Nigeria. He is well known throughout Nigeria for his contribution to inter-religious and civil reconciliation. His wide pastoral and administrative experience before his appointment as Bishop of Sokoto made him an ideal choice for leadership in the Church. Read more about Bishop Kukah here.
We give here excerpts from the Homily Bishop Kukah preached at the Episcopal Ordination of the 2nd Vicar Apostolic of Kontagora, Rt Rev Bulus Dauwa Yohanna on Thursday, 3 May 2012 at St Michael's Cathedral, Kontagora.
We give thanks and praise to God, the Father of Our Lord and Saviour Jesus Christ for His love for us without end.
We are gathered here to mark a historic event in the life of one of our brothers, Msgr. Bulus Yohanna, soon to be ordained the new Bishop of the Vicariate of Kontagora. Today is a special day for him as a priest of God, his immediate family, his community, the entire people of the Vicariate of Kontagora and the Catholic Church in Nigeria. Like all other days, but in a particular way today, 'this is the day the Lord has made, let us rejoice and be glad in it'. (Ps. 118:24)……….
This historic day is being celebrated well beyond those of us who are present here. There are celebrants in heaven, namely, those gallant Irish missionaries of the Society of African Missions, SMA, who laboured here and have gone before us marked with the sign of faith. Secondly, there are celebrations across the seas by those many missionaries who laboured here and now unable to be here with us physically. Today is a befitting day for us to pay tribute to the SMA Fathers, and other men like the Archbishop of Abuja, His Grace, Archbishop John Onaiyekan, and the late Bishop Christopher Abba (Minna and Yola) of blessed memory who contributed immensely to the realization of the vision we are celebrating today. May the Lord of the harvest bless those still in the vineyard and grant peace to those who have gone before us……..
But for those great SMA Fathers of the Irish Province, and their collaborators, the Sisters of Our Lady of Apostles, who still doing good work here, people like myself would not be standing or sitting here today. I stand as a proud testimony of gratitude and acknowledgement of a sacrificial life of selflessness that is both a lesson and also a source of inspiration for us today.
I know that the fate of minority ethnic groups that make up Kontagora Vicariate are tied to those of millions of other minority ethnic groups in other parts of the Middle Belt and the entire North of Nigeria. It is, therefore, fitting to remind ourselves that what we are celebrating today is a coming to being, a coming to fruition of the dreams and the vision of men and women who truly answered the call of Jesus Christ and committed their lives to serving others………
This is neither the time nor the place for us to go into details about the great work of the missionaries such as the SMA and the OLA. However, one has to pause and think, making a mental trip also trying hard to place oneself in the shoes of these young men and women who set out to lands that were unknown, lands that were unmarked, lands that spelt death. What is it that drove young men and women, mainly in their mid-twenties, to embark on a journey from which there was no certainty of return? What made these young men and women set out on a journey to a people they did not know, a people who had been enslaved by Arabs and Europeans, people who had been designated the wretched of the earth, people allegedly without souls, people said to be without a history or a culture, people who were thought to be cannibals and subhuman? What inspired these young people to come to a land that had been marked the white man's grave, a continent that had been consigned the Dark Continent, the heart of darkness, a continent whose only attraction to some of their kith and kin had been the riches in its womb?
Today this great work is being continued and that is what were are celebrating here. We are celebrating a transition, a change of baton, a coming to fruition, the growth of a seamless faith that has been handed over to us. The challenge now is for us to continue the good work that has been entrusted to us. Here, we have to pause to pay tribute to our friend and brother, Bishop Timothy Carroll, the first Vicar Apostolic Apostolic along with Fr. Dan McCauley, Apostolic Administrator, and those others who have held this fort for all these years. Bishop Tim, may the good Lord grant you a peaceful retirement…….
Our picture shows, from left, SMA Fathers Malachy Flanagan SMA, Tim Cullinane, Bishop Tim Carroll SMA, Bishop Yohanna and Billy Sheridan.
In many ways, these times are the best of times for us as a new world lies before us, opportunities which those who went before us would never have dreamt were possible. We think of how many weeks or days it must have taken Fr. and later Archbishop McCarthy to ride a bicycle from Kaduna to Argungu. We think of the opportunities we have now, the highways, the aeroplane, the exotic cars, the internet, the telephone, the human and material resources and other forms of communication which should make the work of the Gospel much easier and a happy engagement for us……..
Today the Church must tell our country that it is daybreak. People like you and I have nothing to be afraid of. Before us lie vast territories to be converted to truth, but with us, are tested men and women who have shown the way. You are young and fresh, be ready to learn. You have in this Catholic Bishops Conference, fathers, uncles, brothers and friends who love you. I know they will support you. You are in a family that cares.
Again, congratulations to you and the good people of Kontagora, the home of hospitality. The future is in your hands. Do not ever be afraid. The Lord is with you.
Nigeria, say with St. Paul, 'the night is nearly over, the day is almost here, so let us put aside the deeds of darkness and put on the armour of light' (Rom 13:12).