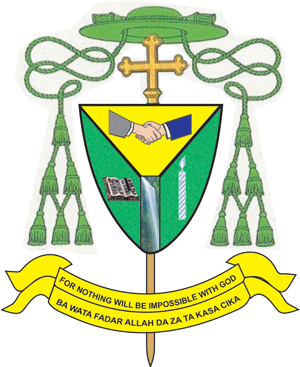 Kontagora celebrates its new Bishop

Since the early 1880's there have been SMA priests and brothers working in Nigeria.
Fr Tim Carroll was appointed as Prefect Apostolic of Kontagora on 15 December 1995. A little over 6 years later he was ordained as its first Vicar Apostolic. Due to ill health, Bishop Tim (from Millstreet, Co Cork) resigned on 30 April 2010. This Thursday, 3 May 2012, his successor – Msgr Bulus Yohanna – will be ordained in St Michael's Cathedral, Kontagora. Bishop-elect Yohanna was the first priest from the Kamberi people in Nigeria.
After the appointment was announced, Fr Toni Porcellato SMA (from the Italian Province) interviewed both men. Here is an edited version of those interviews.
Bishop Carroll, you were among the first missionaries to the Kamberi people, then the first bishop for Kontagora. What are your feelings now that a Kamberi has been appointed to succeed you as Vicar Apostolic of Kontagora?
I am delighted, because I know Mgr. Bulus Yohanna very well. Since his Baptism, he has been involved with the SMA. After his Ordination (in 1998) he was appointed to work in an area of Primary Evangelisation (announcing the Gospel to people who have never heard the Good News of Christ before) with great success. To that end he opened the new parish of Nsanji Nkoso among the Eastern Kamberi, a number of years ago. It was our first Catholic Mission in that vast area East of Kainji Lake in North West Nigeria. Now it has over 50 Catholic outstations.
I am happy because I know Primary Evangelisation will continue to be a top priority with Bishop Yohanna. He knows the Vicariate very well and will continue to put priests and catechists at the frontiers of Primary Evangelisation. I pray that the SMA Fathers will continue to support the Vicariate of Kontagora into the future and support Bishop Yohanna.
Bishop de Brésillac, Founder of the SMA, used to say: "To make priests, to make bishops, to establish real churches, this is the apostle's true mission." How are SMA missionaries implementing this thinking of their Founder today?
I am proud of the work of the SMA Fathers in Africa, especially in Nigeria, over the years. From Warri, on the shores of the Atlantic in the South, to Kano, on the fringes of the Sahara desert, in the North, it was the SMA Fathers who brought the Catholic faith to Nigeria, with the exception of Eastern Nigeria. The founding bishops in this vast area were SMA, French and Irish. We established the local clergy, handed over the local Church to them and moved on, like St. Paul, to new areas of Primary Evangelisation.
SMA missionaries, priests and brothers, have indeed carried out the dream and vision of our Founder.
I pray that the new Districts-in-formation will continue to fulfil this vision of our Founder, and that they will continue to be found at the frontiers of Primary Evangelisation. "Do you not have a saying, 'four months and then the harvest.' But I say to you, look around you, and see how the fields are ripe for harvesting." (John 4:35)
May God bless the seeds of the Gospel being planted in the Vicariate of Kontagora. May He walk with Bishop Yohanna, its priests, Sisters, catechists and people across the coming years.
Bishop Yohanna, what are your feelings about succeeding Bishop Carroll, as Vicar Apostolic Kontagora, the land of which you are a son?
First of all, I was shocked looking at the magnitude of the responsibility attached to the office of the Bishop. The first question that came to my mind was, where am I going to start from? All the while I have been an expectator so say. And you know the best wresteler is the expector. Everything looks easy watching from outside, but when you get in one discovers that reality and appearance are two different things. After reflecting on the situation facing me, I realised that I have been part and parcel of the work of evagelisation in this area since my youth and over the years I have learnt a lot from the SMA Fathers who have worked here ever before I was born. I see it as a big challenge entrusted to me by the Holy Father. I also see it as an opportunity to put into practice what I have learnt, counting on the support and co-operation of my collaborators in the ministry of leadership.
My big consolation is drawn from the popular adage that says: "When the Lord sends you on a rocky ground He provides strong shoes". To step into the shoes of Bishop Carroll is not an easy task. But with God all things are possible.
Bishop Yohanna, what points from the Gospel would you most like to highlight for the people entrusted to your care?
The point of the Gospel that I would like to stress most is the one I have chosen for my Episcopal Motto: "For nothing will be impossible with God" (Luke 1:37). Looking at the particular nature of the Vicariate, the situation we find ourselves in demands a lot of faith, courage and trust in the Lord. We must look beyond the physical challenges and surrender totally into the Hands of God who know all things. After all, God does not lead anyone where His grace cannot save them.
While I would encourage everyone in the Vicariate to play his / her role to the best of their ability for the sake of Vicariate and the Kingdom of God and not for any personal gain, I pray God to bless and unite us together as children of one family where love and peace will be at home.
Bishop Yohanna, we hear of conflicts between Christians and Muslims in Nigeria. How is this affecting the Vicariate entrusted to your care? What can we do for that?
In a society where justice and peace are neglected such a society puts her future in danger. It is really difficult to work in a society that is full of tension and uncertainity. One cannot concetrate fully because of the unforseen events that may erupt anytime. The Vicariate of Kontagora that is situated in the North – East of Nigeria often we experience violent attacks from our Muslims brothers and sisters. These attacks affects the Vicariate because we are part and parcel of the environment. People are living in fear and as such the atmosphere does not allow people to concentrate and give their best. Security is very vital in any given society and as such where people are not sure of their security it affects their level of concentration and commitment. It is even more difficult where the faith is not yet strong enough to face violent persecution.
What we can do in such a situation first of all is to initiate and encourage dialogue between the conflicting parties. The root causes of these conflicts must be traced so as to find a lasting solution to the problem. All hands must be on deck to address these conflicts, that is both government and stake holders must be fully involved. And above all we continue to pray and entrust everything into the hands of God who knows and can do all things.
Please pray for Bishop Yohanna in his new responsibilities. May God grant him the gifts he needs to be a gentle Shepherd and a wise and faithful Teacher. If you would like to support the different projects in Kontagora Vicariate (well-digging, adult literacy, primary health care, primary and secondary education…) send your donation to the SMA Development Office, African Missions, Blackrock Road, Cork indicating that it is for Kontagora Vicariate. Many thanks!