BEAUTY WILL SAVE THE WORLD
– Dostoevsky
Editor's Note: Fyodor Dostoevsky proclaimed 'BEAUTY WILL SAVE THE WORLD'. And now and again there comes along a story that offers a window that allows us to crack open the possible meaning of his proclamation. A story that can, literally, take one's breath away. And this is one such story. The story of children in one of the world's poorest and most deprived settings, whose spirits are elevated and soaring, encouraged by visionaries, and who awaken us to the endless potential of all humanity – when given a chance.
Ballet is one of the most beautiful art forms that demands discipline, focus and the ability to break through the pain barrier in pursuit of perfection. When children who are already battling the odds take on the challenge and pursue such perfection, then the whole world needs to stop and take note. 
Let us be inspired by this beautiful article published by National Geographic, written by Sarah Stacke, based on the stunning photography of Fredrik Lerneryd. Here they introduce us to an inspirational miracle of hope in the slums of Nairobi, Kenya, that gives life and light to Dostoevsky's outrageously magnificent assertion.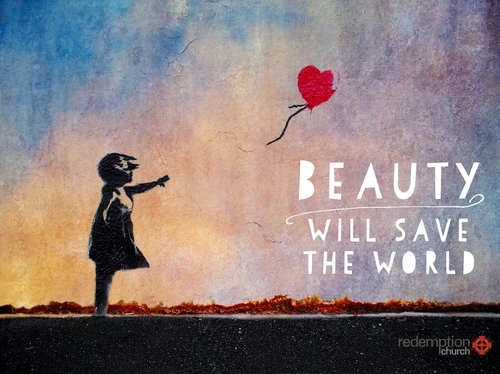 —————————————————————————–
February 26, 2018 – On Wednesday afternoons, after the final bell of the day, a cement-walled classroom in the impoverished Nairobi neighborhood of Kibera is transformed into a ballet studio. The room is cleared of its benches and desks. The dust and dirt on the floor is swept away. A group of about 20 girls wearing blue, pink and purple ballet clothes wait for Mike Wamaya, their instructor, to arrive with his boom box and good-natured personality. Then, with classical music in the air, the girls begin to dance.
Over the past 18 months Swedish photographer Fredrik Lerneryd, who is based in Nairobi, has joined Waymaya and the girls for about two dozen of their Wednesday ballet lessons.
The classroom where the ballet class is held is very small, so to give the students chance to practice more advanced moves, they go one by one. Before class begins, students clear the room, sweep the floor, and change into their colorful leotards.
For many of the children, ballet is a chance to express themselves, strengthen their self-confidence, and dream of something bigger.
At first the girls were shy, says 31-year-old Lerneryd, but, "eventually they got used to me hanging around and taking pictures."
Lerneryd is drawn to the story because of the contrasts it presents. "First of all," he says, "ballet is viewed, at least for me, as an upper class kind of dance. I didn't expect to find it in a settlement like Kibera." Visually, the leotards, tights, and tutus bring splashes of color into the dark classroom. And, Lerneryd emphasizes, "it's a story about the dream, the hope, of achieving something bigger than the ordinary life" they would have in Kibera.
The young women Lerneryd photographs are supported by One Fine Day and Anno's Africa, children's arts charities. Lerneryd helps when he can, too. He and his housemates in Nairobi invited the girls over for lunch and supplied enough pizza dough and toppings for each guest to make her own pie. Another time, Lerneryd treated a dancer named Wendy and her family to ice cream. "It just feels natural to provide a little," he says. "Our situations are so different," Lerneryd adds, referring to the disparity in access to resources, between himself and the people of Kibera.
Pamela Adhiambo, a 16-year-old student, saw ballet on television when she was child. It stuck with her and when, years later, Anno's Africa reached Spurgeon's Academy, she tried on a pair of pointe shoes and fell in love. With plans to be a professional dancer, she's well on her way. Funded by Artists for Africa, an organization that partners with Anno's Africa, Pamela lives in a boarding school in Nairobi where she trains five days a week at Dance Centre Kenya, a professional dance studio.
"Through dance, Pamela has managed to dramatically change her life," Lerneryd says admiringly, and she's an inspiration to others. During breaks from training Pamela returns to Kibera and practices in her backyard. A child who is under Mike's tutelage came to watch. "She wants to take the journey Pamela has," says Lerneryd.
In the time Lerneryd has spent with the dancers, he's seen their confidence increase as they learn to express themselves through dance. One image shows six pairs of bare feet rising above the ground as the girls jump into the air during practice, a visual metaphor for the way they are striving to move beyond the circumscribed universe of Kibera.
"The dreams of kids growing up there are just the same as anywhere else in the world."
To view the National Geographic article, click here.
You can see more of Fredrik Lerneyrd's stunning and important work on his website and follow him on Instagram.
Women's UN Report Network:
http://wunrn.com/