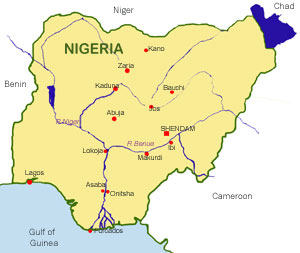 Jos situation still gives cause for concern
Nineteen people (including women and children) are believed to have been killed in a further outbreak of violence in the greater Jos area of Plateau State, Nigeria. Jos itself has been the scene of ongoing tensions and several outbreaks of violence during 2010.
Kuru Station (about 30 kilometers from Jos), Wareng and Fagawon (80 kms from the State capital), all mainly Christian villages, were attacked at night by armed men who forced them to flee their homes, before attacking them with machetes and setting some homes alight.
In what seems to have been a retaliatory attack, Barkin Ladi village was attacked
One of the local Government leaders, Simon Mwaekwom, claimed that the ID cards of two military personnel were found in the debris in Kuru Station the following morning, leading to the belief that they were involved in the attacks. This has been denied by the military authorities. But the villagers insisted that their pleas for help from those in a nearby Military Outpost fell on deaf ears.
On the other hand, Police State Commissioner stated that the spark for this particular outbreak was when a Muslim group returning from a wedding was attacked. Prior to last week's violence, Jos experienced four bomb explosions on Christmas Eve, when, according to the BBC, more than 80 people were killed. The number could be much higher.
Violence broke out in the area last year over issues of ownership of land. Such tensions go back for generations and involve an on-going clash between those indigenous to the region – the Berom people, and, for the most part, nomadic Fulani cattle-rearers who have settled in the area. Their claim to the land is rejected by the local Berom people. The Beroms are mainly Christian and the Fulanis almost entirely Muslim. Almost inevitably it has developed into a broader Christian-Muslim conflict affecting Hausa Muslims as well as Fulanis and Christians of other tribes. Unfortunately, religion has been hi-jacked as the reason for the violence but in truth, it has much more to do with the dispute over who is an indigene with rights to land and who is a "settler".
As if this was not enough, the situation is now exacerbated by a political dimension since Nigeria is preparing for General Elections in April. Politicians of all parties are not averse to instigating violence in order to whip up support for their candidacy and so take advantage of the mutual fears of the divided communities to draw voters to their camp.
One group of Elders in the State has called on the State Governor, Jonah David Jang, to take a greater interest in the matter in order to avoid further bloodshed. According to a former State Government Secretary, Ezekiel Gomos, "the unending crises are traceable to deep-seated grievances that have economic, political, historical and social dimensions." He also stated that long-term solutions are needed and these must be evolved by the people of Jos with the State and Federal authorities taking direct leadership roles.
The situation in Jos cannot be wished away by endless condemnations and appeals for calm by traditional and religious leaders.