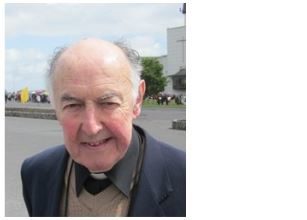 Kindly be seated for a few moments as I want to share with you some words of introduction.
I am Fr Malachy Flanagan, the Provincial of the SMA Irish Province and I know that while we are here in this practically empty church for this funeral of Fr John Clancy – we do so as we follow the guidelines and best practice for funerals with regards to Covid-19.
And I want to warmly welcome you to St Joseph's SMA Parish Church, Wilton, Cork, especially all who are joining us by our Church Webcam for this Funeral Mass. He died peacefully on Saturday evening in St Theresa's Nursing Unit, Blackrock Road, Cork at the age of 88. We are grateful to God for the life of Fr John – a missionary priest for almost 66 years.
On behalf of the SMA, I extend our sincere sympathies, prayerful wishes and condolences to the members of Fr. John's family:
His brother Patrick and his sister-in-law Noreen, his nieces Therese, Grace & Marina, his nephew Diarmuid, his grandniece and grandnephews, and all his extended family, friends and all those joining us by Webcam.
I am conscious that Fr John's brother Patrick and his sister-in-law Noreen cannot be here today – our prayers and thoughts and sympathies are especially with you at this sad time. We pray that God will console and strengthen all of you in the strange and unusual circumstances in which you say goodbye to a dear family member.
And so, we gather here physically and by Webcam to say farewell to our dear brother priest and friend Fr John and to pray him home to God.
Today I would like us to remember in prayer the deceased members of Fr John's family – especially his deceased parents, John & Agnes, his sister Philomena, his brothers Martin and Tom, his cousin Fr PJ Killeen SMA and the deceased members of his Ordination Class of June 1954. Now that Fr John is re-united with them, may they all enjoy the fullness of eternal life in heaven.
And now I invite Fr Eamonn Finnegan who will explain some symbols on the sanctuary which represents the life of Fr John
click here to return to Homily