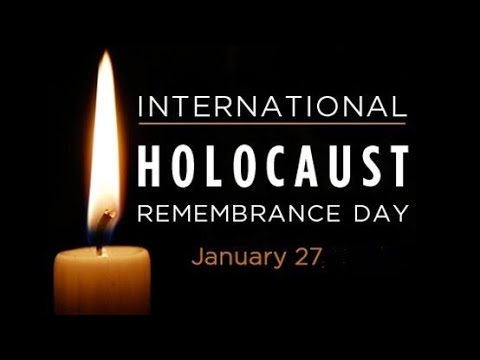 A prayer for Holocaust Memorial Day

Loving God, we come to you with heavy hearts, remembering the six million Jewish souls murdered during the Holocaust.
In the horrors of that history, when so many groups were targeted because of their identity, and in genocides which followed, we recognise destructive prejudices that drive people apart.
Forgive us when we give space to fear, negativity and hatred of others, simply because they are different from us.
In the light of God, we see everyone as equally precious manifestations of the Divine, and can know the courage to face the darkness.
Through our prayers and actions, help us to stand together with those who are suffering, so that light may banish all darkness, love will prevail over hate and good will triumph over evil.
Amen
– Composed by
Chief Rabbi, Ephraim Mirvis; Archbishop of Canterbury, Justin Welby;
and Senior Imam, Qari Asim
Editor's Note: On January 27 we marked the 75th anniversary of the liberation of the Nazi death camp, Auschwitz-Birkenau, where an estimated one million of the six million Jewish people murdered during the holocaust were put to death. 
It also marked International Holocaust Remembrance Day during which we recall all genocides including the Rwandan Genocide of 1994 when an estimated one million Tutsi people were murdered by their Hutu neighbours over a 100 day period. We also remember the Congolese genocide, where an estimated seven million people were murdered by Belgian colonialists serving the interests of King Leopold II in the later decades of the 19th century and early 20th century. 
The majority murdered by Nazi Germany in Hitler's 'Final Solution' were Jewish. But the death toll also included Poles, Russians, trade unionists, gypsies, homosexuals, resistors, the mentally and physically disabled, such as Anna Lehnkering, pastors and priests such as Saint Maximillian Kolbe, Jehovah's Witnesses and non-Jewish spouses who refused to divorce. 
To mark Holocaust Memorial Day, calling us to a deeper humanity, we publish below two reflections written by the SMA Communications Officer, Don Mullan, following visits to Germany's Dachau Concentration Camp in 1982 and Poland's Auschwitz-Birkenau in 2005:
At Dachau Concentration Camp
Silence choked my words.
Words were not adequate.
Silence was best.
Amid lush pastures,
Green and tidy,
Hell and History could be sensed.
Did it really happen?
Did innocent human beings really suffer and die
Because others thought they should?
Did inhumanity cruelly crucify humanity?
It was difficult to believe.
Just eleven years before I was born,
The place where I now stood
Was
For tens of thousands of my brothers and sisters,
A living Hades.
Lining the museum
Framed faces
Captured bewildered moments.
The condemned and murdered
Glared across the decades
With haunting eyes
That sigh in the depth of my soul.
Bodies racked with pain…
Throngs broken and dejected…
Multitudes with nothing to live for
But images of a precious past
And perhaps… tomorrow!
How many nights did they search
The freedom of the stars?
Across the Cosmos
Their tortured spirits
Follow the echo
Of their shrill plaint
For mercy and justice.
Here is the power of evil…
Where love is lost
Distorted minds twist truth
And desecrate God's image.
When man becomes a god
God protect his fellow man.
In memory of my six million brothers and sisters who perished…
In memory of the graves "of many thousands unknown"…
In memory of the gas chambers and crematoria…
In memory of Auschwitz, Bergen-Belsen, Ravensbruck and their sister camps…
In memory of those who coped and those who cracked…
In memory of the sacrilegious medical experiments and tests…
In memory of the countless and unheard of Viktor Frankl's, Fr. Kolbe's and
Ann Franks'…
In memory of Hiroshima and Nagasaki, Poverty, Hunger and the Arms Race…
At Dachau Concentration Camp
I sat down
And wept!
– Don Mullan
10 March 1982
Rainbow over Auschwitz
If the soul is Spirit
Why is ours so heavy?
Steps taken in Silence
Thoughts that Traumatise.
Anguish at Auschwitz
Breathless at Birkenau:
The gates of 'Freedom' and Death, high voltage fences, watch towers, gas chambers, crematoria, well worn Hoesch railway tracks, Mengele's sterilization laboratories, execution wall and gallows and starvation cells and neat rows of vacant overcrowded wooden barracks that housed the Holocaust:
Rooms filled with empty shoes and pots and pans and brushes and combs and spindles and thread spools and artificial limbs and empty carefully packed suitcases and opened canisters of Zyklon B and tempestuous waves of blonde and black and brown and silver shaven human hair…
An exhibition table with infant clothing, broken soothers and baby booties add to the overwhelming weight.
Portraits of the condemned and treasured snapshots of happier times
are all that survive
and green patches of flowering earth and a pond where their ashes were strewn.
A red rose, with bowed head, weeps onto a burning candle.
All is emptiness and nothingness…
————————————————————-
Atop the memorial on the far side of death
a wind blows through reborn foliage that protests our despair.
Close to the railroad spur
larks sing early evening songs that are not laments.
In the west, the sun casts magnificent rays from behind heavy clouds.
And as we turn east to exit
we see a rainbow over Auschwitz.
(Written on the return journey to Krakow, 28th April 2005).