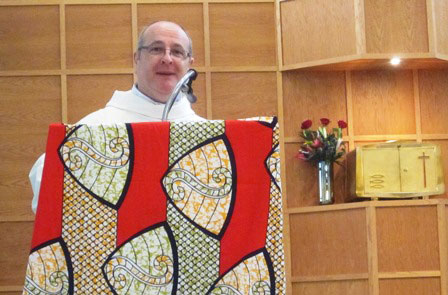 It was with a mixture of pride and envy that I left the 15th anniversary celebrations of the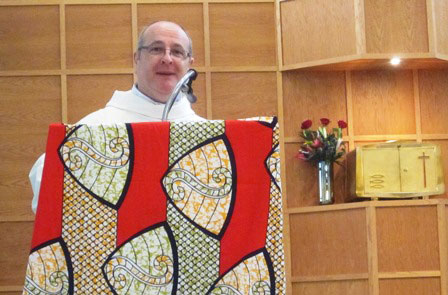 Friends of Africa which was held at the African Missions Retreat & Conference Centre, Dromantine on Saturday, 11 October.
Despite a bomb scare on the road between Lisburn and Banbridge most of the attendance arrived in time for the Thanksgiving Mass celebrated by the FOA Chaplain, Fr Kevin Mulhern SMA. Joining him to concelebrate the Mass were Fr Mossie Kelleher (SMALA Director, Dromantine), Deacon Brian Fitzpatrick and the author of this article, Fr Martin Kavanagh SMA (SMA Communications Director and Development Coordinator).
At the beginning of Mass several symbols were brought to the Altar depicting aspects of FOA:
Constitutions (which outlines the values which underpin the FOA);
a Scroll with the names of all who have volunteered over the last 15 years;
some photos to evoke memories of different projects in Africa;
Missionary Rosary beads, symbolising one of the principal reasons for FOA – to bring Christ's Message to the less fortunate;
a copy of the Gospels, the central importance of the Word of God in our lives as FOA members;
2013 FOA jersey was carried by a volunteer recently returned from Africa represeted the journey we have made over these past 15 years;
Finally, Tony McCloskey, one of the founding members, brought a Candle to the Altar reminding us that the "light" which he, along with Quintin, Phelim and Brian lit in 1998 still burns brightly. He presented the Candle to the current FOA Chairperson, Anne O'Hare. May that light continue to shine into the future.
"FOA Founding Fathers" – from left: Quintin O'Kane, Phelim Gormley, Tony McCloskey and Rev Brian Fitzpatrick (deacon of the diocese of Dromore). After Mass they explained some of the reasons why they founded the FOA. But before that there was time for a quick cuppa before we adjourned to the deBrésillac Hall for different presentations by FOA members on their work in Zambia, South Africa and Tanzania.
Tony explained the idea behind their wanting to get involved in mission, but not to be missionary priests. As young lay men they wanted to make a difference and, inspired by the SMA priests they met in Dromantine, particularly during the SMA Holiday Camp, they wanted to be part of the missionary work of the Church. And they did not feel called to a celibate life. And even though that was their intention back in 1998, one among them – Brian – will be ordained a priest for Dromore diocese next year. So it may have taken Brian a little while longer to discern God's path for him! Mindful of the first reading at the Mass – Ecclesiastes – there is a time for every happening under heaven.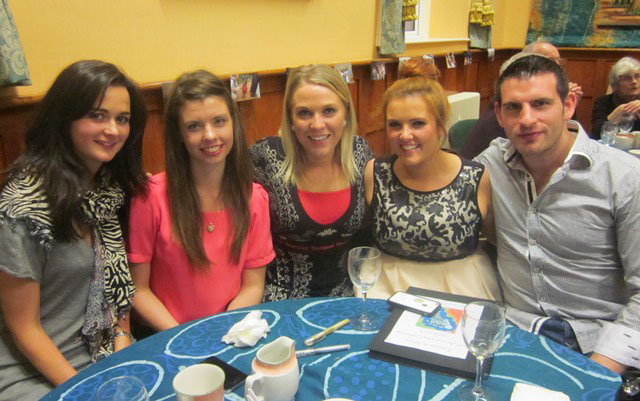 Since its foundation more than 220 short-term volunteers (a six weeks programme in Africa) and 20 long term volunteers (working on projects in Zambia for 1 – 2 years and South Africa) have travelled to different missions in Africa where they get involved with different projects under the aegis of the SMA.
I knew all four of the founding group as young boys attending the SMA Holiday Camp in the 1980's and 90's. I was very proud to see that our efforts during the Camp to make it not just a 'holiday filled with sports and craic' but also present the challenge of mission life had borne fruit. At 16 years of age they moved into the SMA Seniors and helped organize and run the Camp for the younger boys. And wanting to make a difference they, along with Fr Anthony Kelly SMA, founded the FOA in 1998. As well as feeling proud of what we had helped to start I was also a little envious of their continuing enthusiasm to continue to do as much as they could to make a difference. And now, 15 years on, there are many more young adults wanting to take small steps together for the benefit of Africa and its wonderful people.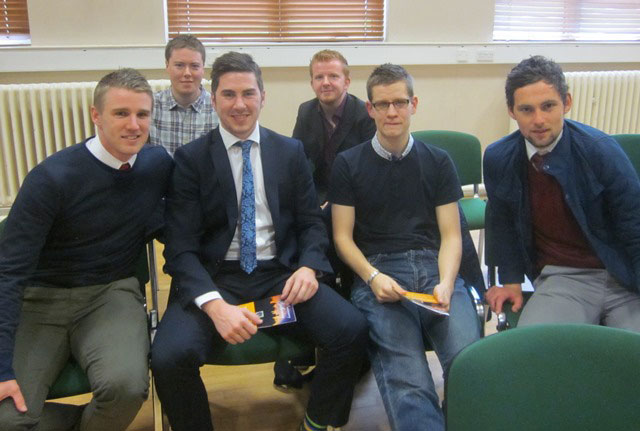 Anne O'Hare used two quotes which symbolise what FOA was, is and will be about:
Do small things with great love – Mother Teresa of Calcutta
How wonderful it is that nobody need wait a single moment before beginning to improve the world – Anne Frank
And to that I would add, the words of our Lord and Saviour, Jesus Christ:
I came that you may have life, and have it in all its fullness.
Check out FOA on Facebook
A Report on the three Presentations and more pics available Thursday!