Fr Michael McCabe, SMA Provincial Leader, was the Principal Celebrant at the Funeral Mass for the late Fr Vincent Glennon SMA which took place at 2pm in St Joseph's SMA Church, Wilton, Cork on Wednesday, 28 June 2017.
He was assisted by Bishop John Kirby, Bishop of Clonfert, SMA Fathers Michael Nohilly [a classmate of Fr Vincent], Gus O'Driscoll [who worked with him in Ghana] and Maurice Henry [Provincial Councillor].
After the Readings from the Prophet Isaiah, St Paul to the Romans and St Matthew, Fr McCabe preached the following homily:
"The spirit of the Lord is upon me, because the Lord has anointed me; he has sent me to bring good news to the oppressed, to bind up the broken-hearted, to proclaim liberty to the captives, and release to the prisoners; to proclaim the Lord's favour… and comfort all who mourn."
"Nothing can come between us and the love of Christ"
"Come, you whom my Father has blessed, take for your heritage the kingdom prepared for you since the foundation of the world."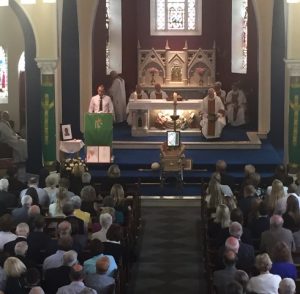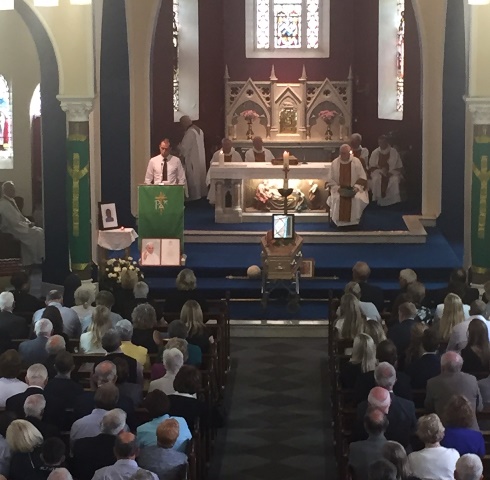 Vincent was anointed by the Lord to bring the Good News of Christ to those who are still waiting to hear it. Like our Founder, Bishop de Brésillac, he was a devoted and zealous apostle of Christ – a missionary from the bottom of his heart. He gave himself completely in the service of the people of Ghana, where he ministered for 44 years: mostly in poor rural communities – areas of primary evangelisation; building churches, schools and clinics; initiating, establishing and developing numerous projects for the benefit of the local people; building up Christian communities, and involving the people themselves in the life and liturgy of the Church. As the Church began to grow and vocations to priesthood and religious life flourished, Vincent undertook to initiate a number of young Ghanaian priests into pastoral ministry. When the SMA decided to accept Africans into the Society, Vincent engaged himself in a practical way in their selection and preparation for missionary life – handing on the torch to a new generation of SMA missionaries
The sterling quality of Vincent's faith and Christian commitment was forged in the crucible of his early experiences of life in his home in Taughmaconnell, Ballinasloe, where he was born on 5 April 1947. He was one of a family of 10 (8 brothers and 2 sisters). He was educated at Tavanagh National School, Bridewell, Athlone, and at St Joseph's College, Garbally Park, Ballinasloe. Following his Leaving Cert, Vincent did a course in Agricultural Science at UCD. While I'm sure he would have made an excellent farmer [he certainly had the constitution for it], Vincent felt called to serve the Lord as a missionary priest. So, in September 1966, he entered the SMA Novitiate at Cloughballymore, Co Galway. He took his first oath of membership of the Society in June the following year.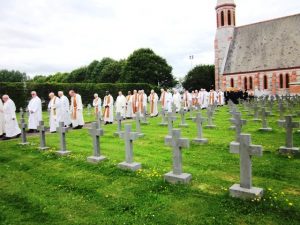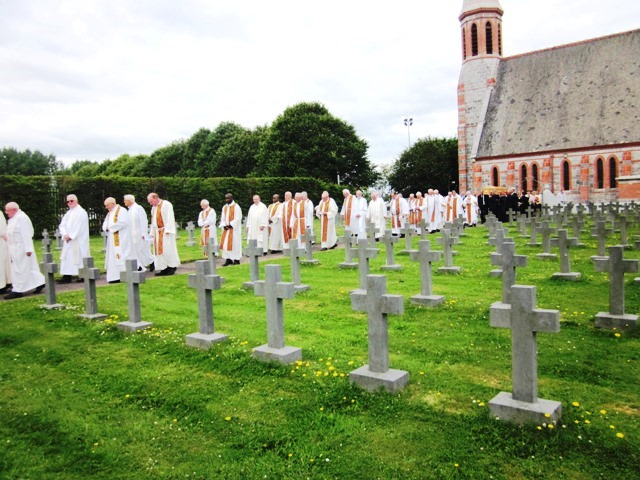 After his Novitiate, Vincent moved on to the Major Seminary of the Irish Province, in Dromantine, Newry, where he continued his preparation for priesthood, studying Philosophy and Theology, among other subjects, from 1967-73.  He became a permanent member of the Society on 10 June 1972 and, a year later, on 12 June 1973, was ordained to the priesthood by Bishop Joseph Burnini [of Jackson Diocese, USA] in his home parish of St Michael's, Ballinasloe. He was one of a class of 8 SMA members ordained that year – the first class to be ordained from SMA Formation House Maynooth, which had been opened in 1970. [Two of his classmates are here today: Michael Nohilly and James Fegan].
Following ordination, Vincent was appointed to the Region of Ghana where he was to minister for the rest of his life: the first 25 years in the Diocese of Sunyani from 1973 – '98 and then, following his one and only sabbatical break [in the Renewal Programme run by the Redemptorists at Marianella], in Obuasi from 1999 – 2017. In addition to his pastoral work, Vincent also exercised a leadership role within the Society. He was elected Society Superior in 1983 for a three year period, and then re-elected in 1986 for a further term of three years – an indication of the esteem in which he was held by this confreres working with him in Ghana. He also represented the members of the Irish province working in Ghana at the Extraordinary Provincial Council (EPC) meeting of 1988.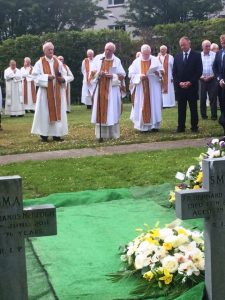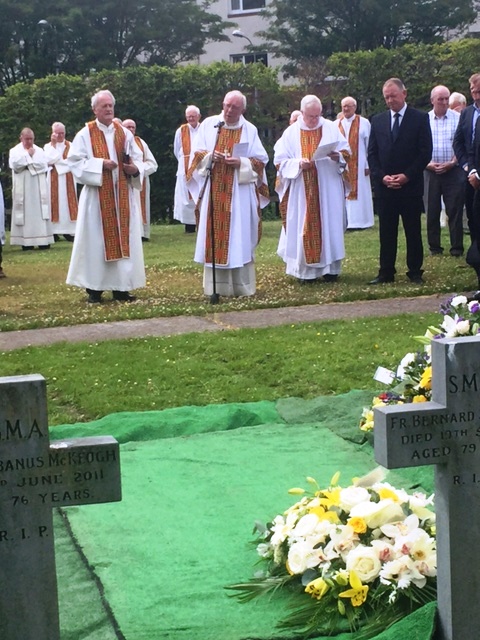 Vincent's 44 years of missionary service coincided with a period of extraordinary growth and flourishing of the Church in Ghana, and indeed throughout Africa. After years of patient sowing by several generations of missionaries, the Church planted through a lot of pain, anxiety, struggle and immense sacrifice, experienced an era of extraordinary growth just at the time when it began to decline in the West [In 1900, the whole of Africa had just a couple of million Catholics, but that number grew to 130 million by the end of the century, and today it approaches 200 million]. It was an era of great excitement and promise with huge numbers entering the Church (bigger and better churches being filled to overflowing as soon as they were built) and a dramatic rise in vocations to Priesthood and religious life. Vincent was privileged to have played a vitally important part of this great harvesting, though surely at considerable cost to himself and his health. Among the many tributes paid to him and his contribution to the great success story that is Catholic Mission, I received the following tribute from the SMA Regional Superior in Ghana, Fr James Owusu-Yeboah,
"Greetings and condolences to all confreres of the Irish Province on the sudden death of our dear Brother and friend, Fr Vincent Glennon. Father worked tirelessly in the Diocese of Sunyani and Obuasi for the past forty-four years. The numerous projects on education and Church establishment, as well as building the faith of the Christian population, can never be measured. We shall indeed miss him! He was a gift to humanity. … May his humble soul rest in Perfect Peace."
Vincent was indeed a humble, self-less missionary, who gave his all in an eminently practical, down to earth way – in keeping with his character – to the pursuit of a dream [dreamed in the heart of God] of a better future for a people far from his homeland, a people among whom he made his home, and a people who took him to their hearts. Something of the spirit that captivated the heart of Vincent is reflected in a beautiful little sonnet by the Irish Soldier poet, Thomas Kettle (who died in the battle of the Somme, 1916), to his 3 year old daughter, Betty, when he knew he would never see her again:
You'll ask why I abandoned you, my own,
And the dear heart that was your baby throne,
To dice with death. And oh! they'll give you rhyme
And reason: some will call the thing sublime,
And some decry it in a knowing tone.
So here, while the mad guns curse overhead,
And tired men sigh with mud for couch and floor,
Know that we fools, now with the foolish dead,
Died not for flag, nor King, nor Emperor,
But for a dream, born in a herdsman's shed,
And for the secret Scripture of the poor."
Indeed, Vincent gave his life "for a dream, born in a herdsman's shed / And for the secret Scripture of the poor".
Right up to the time the doctors told him that they would not be able to operate – Vincent entertained the hope of returning to his last mission, Keniago parish (which I had the privilege to visit just over a year ago) to complete a number of projects he had initiated there. Sadly, it was not to be, as the Lord has other plans and "his ways are so often not ours. What we can be sure of is that the people of Keniago, and of the many places he served now have a powerful intercessor in heaven.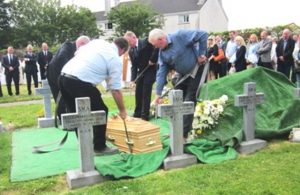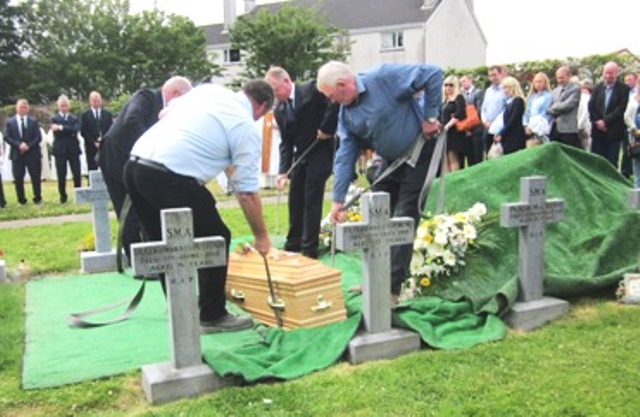 The last months of Vincent's life in St Theresa's unit, SMA Blackrock Road, and the Bon Secours and Cork University hospitals, were painful ones as Vincent's body broke down under the onslaught of an aggressive cancer. I wish to express my gratitude to the nurses and Staff of St Theresa's, as well as the doctors and nurses of the Bon Secours and Cork University hospital, for the care they took of Vincent during those months. A very strong and robust man (in his early days he was an outstanding rugby and football player) Vincent fought the cancer with every fibre of his being until the very end. An unusually healthy man all his life, he was at times impatient with the unfamiliar dependency his illness entailed, but he bore his suffering with courage and humour, and finally let go when he knew the Lord was calling him home. As he is now united with the One he served so generously, may we who are still on the way draw strength and inspiration from the example of his life.
"Ar dheis Dé go raibh a anam dilis"