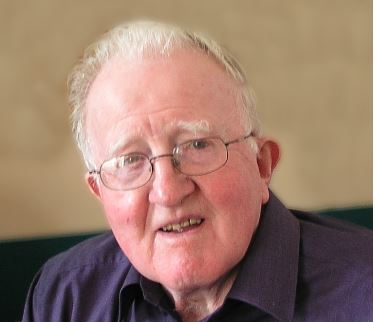 We are gathered here today to say farewell to our dear brother priest, a missionary, a brother, an uncle and friend – Fr Paddy Mackle whom God called home to himself last Thursday. Yes, we've come to pray Fr Paddy home to God. Our prayers and sympathies go out to his family whom he leaves behind – to his brother Dan, sisters in law, nieces and nephews, extended family, relatives, friends, and the family of the SMA and those in the parishes of Ardboe and Bellaghy. Fr Paddy was a priest for 69 years – he died on the eve of his 69th anniversary of his ordination – and so today we remember him dearly and we give thanks to God for him – for his long life of 94 years and for his life as a great missionary priest and friend.
The first reading today tells us that:
"Length of days is not what makes age honourable, nor the number of years the true measure of life: … He has sought to please God, so God has loved him; … and grace and mercy await the chosen of the Lord".
So it's not how long you live but how you live that matters. Fr Paddy's long years of 94 can be rightly described as a ripe old age – of one who was granted the grace of a long and full life. Fr Paddy gave his life to God many years ago when he first answered the call to be a priest – following in the footsteps of his brother Fr John who also joined the SMA some years earlier. That was over 75 years ago and he never looked back. We heard the reading say that he sought to please God and God loved him. His long life has been a blessing to all of us who knew him. He put himself at the service of God, and at the service of the SMA both in Africa and in Ireland and at the service of the local church in the Archdiocese of Armagh. We now believe that his soul is in the hands of God where grace and mercy await His chosen ones. Fr Paddy spent the last two weeks with his niece Maura Doherty after coming out of hospital and we know that some neighbours from Mooretown were among those who were praying the rosary as he died.
The second reading today tells us that "God does not have favourites, but anybody of any nationality who fears God and does what is right is acceptable to him". And it goes on to say that "Jesus is Lord of all people and that God has appointed him to judge everyone, alive or dead". These words would have motivated Fr Paddy very strongly – for over 26 years he worked as a missionary priest in Northern Nigeria in the area of education and at weekends he celebrated the sacraments in outstation villages in the areas where he taught. For Fr Paddy, it was so important to reach out to those who were poor and needed help – those neglected by different governments. They were all God's children and it was through the means of education that they would be enlightened in the faith, come to know Jesus and have a firm training for life. Even from his years in Ireland, his concern for the poor continued and he found ways of reaching out to them.
Fr Paddy Mackle was born on the 18th March 1925 in Castledawson, Co. Derry. He was one of a family of 7 children born to Hugh and Ellen Mackle (nee Keenan). He received his primary education in Castledawson and his secondary education in Magherafelt. During his philosophical studies, he attended both UCC and UCG and was an NUI graduate. His older brother, Fr John was already an SMA priest and so it was natural that this would have been an influential factor when Fr Paddy was discerning priesthood as to which way he would go. After completing his training for the priesthood with the SMA, he was ordained a priest on the 14th June, 1950 at Newry Cathedral – being one of eleven ordained in that class on that day.
Shortly after ordination, ill health was to play an important part in his life and because of that, he was asked to help out in some ministries on the home front – one of them being a member of the formation team at our Novitiate in Cloughballymore, Co. Galway. In 1954 his wish to go on the Missions came through and he was appointed to Northern Nigeria, to the Archdiocese of Kaduna where he was to work for the next 26 years in the field of education in famous schools such at St John's Kaduna, St. Thomas' Kano and St Mary's College, Fadan Kaje in southern Zaria – where he was one of the 3 founding teachers there. Ill health returned again especially with the dust laden air of the dry arid climate of Northern Nigeria which was demanding on his respiratory system and so he returned to Ireland in 1980. After some time he regained his health and he requested to try his hand at parish ministry where he would spend the next twenty two years in the Archdiocese of Armagh – serving most of that time in Mooretown in the parish of Ardboe – a place he loved and enjoyed immensely and had a great rapport with the parishioners. Fr Paddy was a gentle and comforting presence to families suffering as a result of violence and death.
By 2003, at the age of 78, he decided to retire to his home in Castledawson where he was to spend the last 16 years there. He was happy and contented there and among his interests was tending to his garden and doing the daily crossword in the Irish News. Even though retired, Fr Paddy continued to help out in the parish of Bellagy – Ballyscullion and in other neighbouring parishes whenever the need arose.
In today's gospel, we heard Jesus say: "Come to me, all you who labour and are overburdened, and I will give you rest". Throughout the long missionary life of Fr Paddy, he would have pondered over these words many times and he would have offered them to many in the parishes that he served. As a priest, he would have offered a healing and supportive presence in times of pain and grief. His concern for the poor and those less well-off continued right up to the end. Many times he spoke to me about his wish to help the poor in Africa and he did so by providing assistance to needy families there for school fees, medical bills, educational books and so.
We are sad now because death has claimed the life of our loved one – Fr Paddy. But we should not let it get the better of us. What sustains us now is our faith and our hope in Jesus – who is the resurrection and the life. Death is not the end but just the entrance into life eternal. Jesus is our hope. Jesus, who is Lord, both of the living and the dead welcomes Fr Paddy home and he will sustain us too at his sad time.
Fr Paddy has accepted the invitation from the Lord to come to Him. He had given 69 years of service as a priest. Loyal and generous service to the SMA both in Africa and Ireland and to the Irish Church in the Archdiocese of Armagh. It was service given often in difficult situations and when his health was not always so robust.
As scripture tells us that God will bring with Jesus those who have died believing in him. Fr Paddy has gone home now to God. He is at peace. He is now at rest – the rest promised by Jesus. He is re-united with his parents, and all his family members, relatives, friends, his parishioners in Nigeria and Ireland and his SMA confreres that have gone before him.
May he enjoy the fullness of eternal life and receive the reward that awaits this good and faithful servant of the Lord.
Ar dheis Dé go raibh a anam dílis.