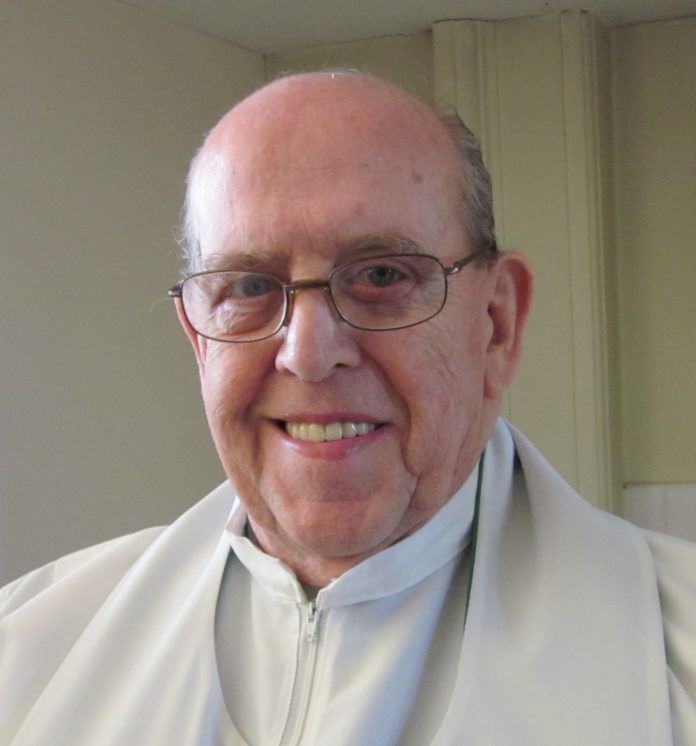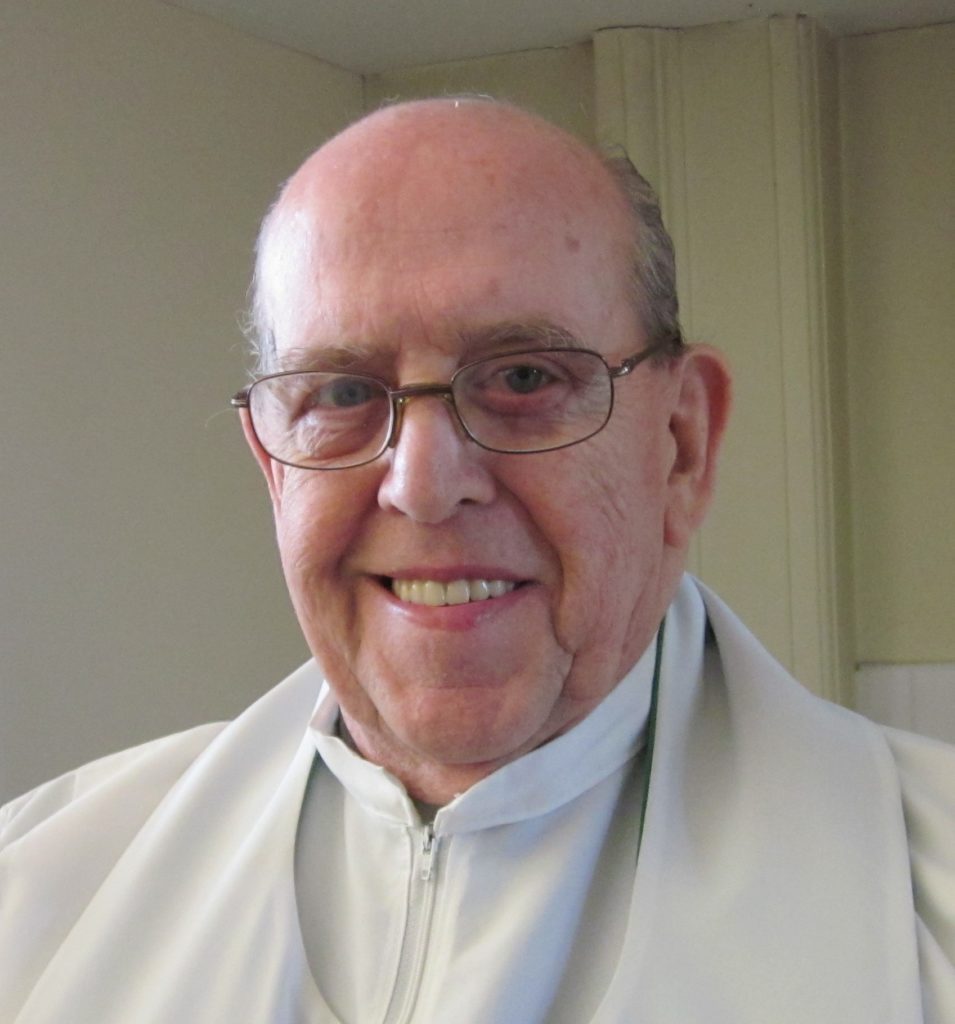 Fr Terry Gunn died peacefully on 10 February 2020 in the Cork University Hospital. He was 84 years old. He was ordained in 1960 and ministered in Lagos Archdiocese and Ijebu-Ode diocese, Nigeria, before returning to Ireland where he served in the SMA Houses in Blackrock Road and Wilton, Cork.
Fr Terry's Funeral Mass was celebrated by the SMA Provincial Leader, Fr Malachy Flanagan, assisted by two of Fr Terry's classmates, Fr Eddie Deeney SMA and Fr Hugh Harkin SMA. Thirty-four other SMA and diocesan clergy concelebrated the Mass which took place on Thursday, 13 February 2020, at St Joseph's SMA Church, Wilton, Cork.
Many of Fr Terry's nephews, nieces and a grand-niece participated in the funeral liturgy. Among the symbols brought to the Altar during the Mass was Fr Terry's Breviary (Prayer book) symbolising his life as a priest. His missionary career was remembers with a photo of him taken in Ijebu-Ode diocese when he was conferred with a Chieftaincy title by the community in recognition of his many years of service, particularly in the foundation years of the diocese of Ijebu-Ode. Fr Terry was a gifted painter and his grandniece, Alice, brought a painting he had made of her recently. The fourth symbol was a fishing rod, reminding us all of Fr Terry's love of fishing. Before the Final Prayers and Commendation, Fr Terry's only surviving sibling, Patrick, spoke of their early family life in Barrack Street and the great esteem in which Fr Terry was held by all the family. He touched the lives of them all and was a support to them at various moments in their lives. Immediately after Mass, Fr Terry was buried in the adjacent SMA community cemetery.
Fr Eddie Deeney SMA was the Homilist at the Funeral Mass. The following is an edited version of Fr Eddie's homily.
"Every day we hear about death in the papers, the Radio, and TV. But it is only when it knocks at our own door that we feel the pain of parting with one whom we have loved. The poet Kahlil Gibran said that "love knows not its own depth until the hour of parting". And so we extend our sympathy to Fr Terry's brother Patrick, his wife Carmel and all the members of the family.
We are gathered here today to give thanks to God for the gift of Fr Terry's life and for all that he has meant to the many people he has met and helped in his journey in life as he now makes his final journey home to his Heavenly Father. His own family will have their own special reasons for giving thanks. As his brothers in the SMA, we too have our own special reasons for gratitude. And we say our goodbye and express our thanks to God in the Eucharist which is the great act of thanksgiving left to us by Jesus the night before he died. Terry answered God's call "Come follow me" at a very young age when he left his native Cork City to go to the SMA Sacred Heart Apostolic School, in Ballinafad, Co Mayo. That was followed by studies in SMA Novitiate in Kilcolgan, Co. Galway, St Joseph's College, Wilton, and finally our Major Seminary in Dromantine, Newry, Co Down where he completed his theology studies before ordination to the priesthood on 21 December 1960.
In 1961, he arrived in the Archdiocese of Lagos, Nigeria. Eight years later, he was a foundation member of the newly-created diocese of Ijebu-Ode, which was carved out of the Archdiocese. He remained in Ijebu-Ode diocese until he returned home in 1974. During his time there he served in the parishes of Ibonwon, Esure and in the cathedral parish of Ijebu-Ode. After a sabbatical he helped out in Knock for some months. He was then appointed to the SMA House in Blackrock Road. He served there from 1975 until 2003. At different times he served as Rector in St Joseph's SMA church and then as Superior in the house. That was a long period of service to the local community, the SMA community and to the many visitors who came and went to the house.  Fr Terry was specially noted for visiting the sick.
In 2003 he moved to Wilton and served as Vice Superior and Bursar, retiring in 2012. These few lines sums up the various positions Fr Terry held during his lifetime but they take no account of the many kind acts and support as he reached out to the many he met on his journey.                                                                                                   
We know that at the time of a death of a family member or friend, how much we appreciate the kind words of those who have known the deceased person. While we value their words, it is the words that God speaks to us that really gives us that deeper hope and consolation. And reminds us that death is not the end of our story.  In the first Reading from the Book of Wisdom (3:1-0) we read:
"Those who are faithful will live with him in love". 
"The souls of the virtuous are in the hands of God."
The Book of Wisdom was written in Alexandria in Egypt for the Jews of the diaspora who had to live among a culture very alien to the faith of the Jewish people. They were being reminded that they were a people of faith and if they remained faithful to the God who had revealed himself to them they would live with him in love for all eternity. God assures them that grace and mercy await those he has chosen. In baptism we too have become members of God's family today. God is reminding us today that if we remain faithful, we too will live with him in love
In the Gospel, Martha says to Jesus, "If you had been here my brother would not have died." Jesus replies, "your brother will rise again." Martha said, "I know he will rise again at the resurrection on the last Day." Jesus assures her that he is "the resurrection and the life. If anyone believes in Me he will never die. Do you believe this?" And Martha makes her profession of faith, "Yes Lord I believe that you are the Christ, the Son of God the one who was to come into this world."
In a way this story really sums up the Good News of the Gospel. The Good News is that we were created and loved by a loving God and that our destiny is to be with God for all eternity and with all those that we have loved and lost. Fr Terry had the same faith as Martha and he brought that faith to Nigeria and shared it with the people in Lagos and Ijebu-Ode. We are living in a world that is getting more secular by the day. For many, death is the end but, for us, as people of faith death is really the beginning. Some people speak of death as a door closing but for us, people of faith, it is door opening into the home that the Lord has prepared for us. Our SMA priests, OLA Sisters and many other missionary congregations have been privileged to share the Good News of the Gospel in Africa. And we have seen how the people of Africa have welcomed it and what a change it has made to their lives.
The mustard seed that was sown by the early missionaries has grown into a great tree. And Fr Terry has played his part in the building up of that vibrant church that is there today. Fr Terry brought the gift of faith that he received from his parents, neighbours and parishioners here in Cork City and he shared it especially with the people in the diocese of Ijebu-Ode and mainly in the villages of Ibonwon, Esure and the large town of Ijebu-Ode itself. I was ordained with Fr Terry on 21 December 1960 but I was delayed on my way to the missions. But Terry and I met up in 1966 when he was appointed Parish Priest of Ijebu-Ode and I was appointed his humble curate. Because he did not have too many hairs on top, the people thought he was a very old man. I got great pleasure at times telling him, that somebody wanted to see "the old Father". By living with Terry you also had to learn to live with a number of animals as well. Number one was a monkey. It was brought to the mission by somebody that found it abandoned. Fr Terry reared it until it was a fine sturdy animal. Every morning the dog sat patiently while the monkey gave him a thorough examination for ticks! Terry named the monkey, Doctor Jeremiah or Doctor Jer for short. Some photos were taken at the time and one was sent to Barrack Street that showed Terry reading the Cork Examiner and Doctor Jeremiah reading The Derry Journal.
I am told, on good authority, that there is a publication circulating at the moment, with a photo that shows "yours truly" reading the Derry Journal and the monkey reading the Cork examiner. Being Parish Priest also meant being in charge of more than twenty outstations, each with its own Catholic school. That involved the appointment of teachers and payment of salaries. And I can assure you it caused Fr Terry many headaches. Things didn't always go to plan in the running of the parish either. Back in the 1960's the annual Corpus Christi procession was always held in May or June, which coincided with the wet season. On one occasion Fr Terry had the congregation praying for weeks that the day would be fine. On the day, the sun shone from morning to evening. All went well, and he thanked the people for their prayers. Some days later, he was not amused, to say the least, when he discovered that some of his Parish Council had gone to the rainmaker to do something about the weather! Fr Terry gave sixteen years of dedicated service to the diocese of Ijebu-Ode and only the Lord knows how many people's lives he touched. I feel there is one little man he will be looking forward to meeting. He came to the mission every morning, and every morning he made the same appeal:
I come from Akoka today
I am very sick for my house
I get no Fadda and no Mudda
And I will bring another banana tomorrow.
Every day he went home with enough to keep him going till the next day. He was just one of the many he helped.
In the Second Reading, St John tells us that "what we are to be in the future has not yet been revealed." I am sure the Lord will not mind if we made a request that part of Fr Terry's hundredfold would include fishing and painting.
Fr Terry, the Lord has seen the good work that you have done in your sixty years of dedicated missionary service in his vineyard. No doubt you will hear his welcoming words "Well done good and faithful servant, enter into the joy of the Lord".
May your kindly soul rest in peace. O da abo.