"Michael always worked in what we call areas of primary evangelization. In those areas you plant seeds. Somebody else may see the fruit. Michael never gave up and he remained committed to mission at its most basic.
His emphasis was on the training of lay leaders in every village and church community. In keeping with our SMA tradition, he was totally committed to building up a Diocesan clergy. In the words of our Founder, Bishop de Marion Brésillac, Michael was a true missionary 'with all his heart' – holding nothing of himself in reserve."
– Fr. Michael McCabe SMA

20th February 2019
Introduction
We are gathered here as a community of faith around the table of the Lord to bid farewell to our brother, Fr Michael, and to accompany him with our prayers on his final journey to the home of his Master. We pray that the Lord of mercy and compassion will welcome Michael into the blessed in heaven and comfort the bereaved members of his family, relatives, friends, classmates and SMA confreres.
On behalf of the SMA, I extend my sympathy to the members of the Fr Michael's Family: his brothers, Thomas and Bernard, their wives, Charlotte and Ruth; nieces and nephews – Rose, Michael, Anita, Bernard, John and Tommy; his SMA brothers and OLA sisters, especially those close to him, and his many friends.
Fr Paddy Gilligan has called me to express his sympathy to the SMA Fathers and to the Brady family. Fr Paddy was in school with Fr Michael's brother, Tom; Archbishop Michael Neary phoned me last night to express his regret that he could not be here for the Funeral Mass, and to extend his sympathies to Fr Michael's family and the SMA. Archbishop Michael's sister, Helen, is here. Sympathy has also been extended from Fr Vincent Brennan, SMA Irish Representative in South Africa; and from Fr Peter McCawille SMA, Irish Representative in Nigeria. And, indeed, from many Irish and African SMA priests.
On behalf of the SMA I welcome all, especially those who have travelled a long distance to be here. Those who were close to him and could not be here are in our thoughts and prayers.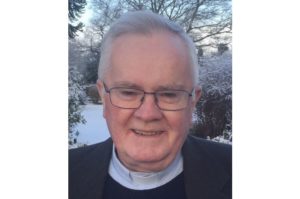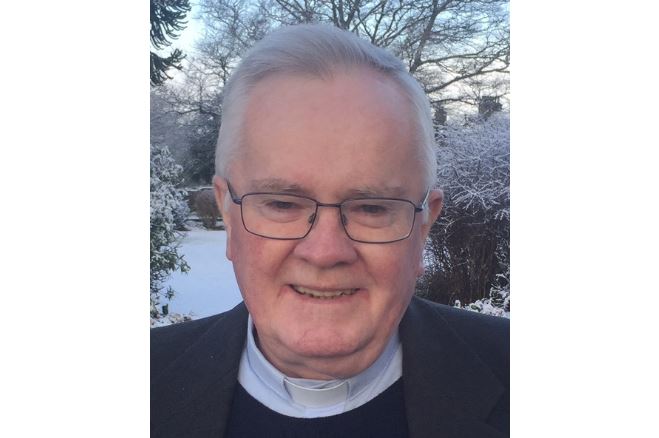 Celebrating with me at the Altar are three of Michael's classmates, Bishop Noel O'Regan and Frs Des Corrigan and Paraic Kelly.
We remember in today's Eucharist Michael's deceased parents, Thomas and Mary, his brothers, Gerard and Pat, deceased relatives and friends, and the deceased members of his class (John Hannon, Benny Raymond, Mick Walker and Andy O'Donovan).
With trust in the Lord's mercy, we humbly acknowledge our sins and failings and express our need of his forgiveness.
Homily
"The Lord has anointed me; he has sent me to bring good news to the oppressed; to bind up the broken-hearted, to proclaim liberty to captives and release to the prisoners."
– Luke 4:18
"I have fought the good fight to the end; I have run the race to the finish; I have kept the faith." 
– 2 Timothy 4: 6-7

"I was a stranger and you made me welcome; naked and you clothed me, sick and you visited me, in prison and you came to see me."
– Matthew 24: 36-37

These quotations from the readings you have just heard reflect the very core of Fr Michael's missionary service. He spent his entire life reaching out to people in need. He was a totally committed missionary who sought to communicate, by word and example, the Gospel of hope and joy with every fibre of his being. His ministry was a beacon of hope for all whom he served – bringing Good News to the poor, brightening so many lives, visiting and consoling the sick and infirm, and warming the hearts of everyone he met with his quick wit and easy banter.
Michael's life was 'poured out like a libation' in loving service of others. He endured more than his fair share of suffering but 'fought the good fight to the end, ran the course to the finish, and above all kept the faith'. He now goes to meet his Lord and Master who says to him: Welcome, Michael, 'you who my Father has blessed, take for your heritage the kingdom prepared for you since the foundation of the world.'
Let us recall some of the key moments of his life.
Born in Castlebar, Co Mayo, on 7 May 1942, Michael was the eldest in a family of five sons of Thomas Barry and Mary McHugh. The Brady family were staunch Catholics and Michael received a firm grounding in the Catholic faith from his earliest years. His early education was at St Paul's Primary School, Islandeady, and St Geralds's College, Castlebar. Following his Leaving Cert he worked alongside his Dad, a building Contractor, for a year. In September 1961, at the age of 19, responding to the call to become a missionary priest, Michael entered the SMA Spiritual Year programme at Cloughballymore, Kilcolgan, Co Galway, and took his First Oath of membership in the Society in June the following year.
From Cloughballymore, Fr Michael continued his studies and preparation for the Priesthood at the major seminary of the African Missions in Dromantine, Newry, Co. Down. He became a permanent member of the Society on 10 September1967, and was ordained to the Priesthood by Bishop Eugene O'Doherty in Newry Cathedral on 18 December 1967 along with his ten classmates – three of whom are present here to today, Noel, Des and Paraic. Two more are with us in spirit (Frank and Eddie)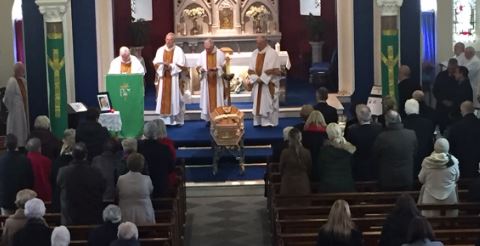 Following Ordination, Fr Michael was appointed to the diocese of Benin City where he served from 1968 to 1971. During these years, he laboured in the missions of Ogwashi-uku, Agbor and Uromi. This was the post Vatican II era when there was new vision or Church with a renewed emphasis on the role of the laity, and Michael devoted much of his time and energy to the training of lay leaders and catechists in these missions.
Unfortunately, this was also the time of the Nigerian Civil War (1967 –'70), wreaking havoc and devastation, not only on the people of Biafra, but extending to the people of mid-West Nigeria, the area where Michael worked. Fr Jimmy Higgins – SMA missionary and historian – tells us that it was in the midst of the turmoil, confusion and disaster created by the war 'that our SMA missionaries who remained in the area had to live and endure as best they could, their presence and their daily Masses being the only symbols of sanity in a devastated world' (Kindling the Fire, p. 115).
Sadly in 1971, ill health – which was to be Michael's constant companion for most of his life – cut short his sojourn in Nigeria and forced his return to Ireland. Following a lengthy period of convalescence, Michael was appointed to promotion ministry in Ireland. Gifted with a warm outgoing personality and enormous interest in people and events, Michael had a natural talent for this kind of ministry and it would be his apostolate for the next 12 years.
From 1974-'76 he was Director of Family Vocations Crusade (FVC – today known as the Family Vocations' Community) in Dublin; then, from 1976-'86, in the West of Ireland, , where he is rightly honoured as founder of the FVC, extending the profile of the SMA beyond the traditional strongholds of Ballinafad and Kilcolgan. The seeds Michael sowed during those years – driving thousands of miles, visiting the sick, attending funerals, and visiting sponsors all over the West – have borne abundant fruit for the SMA mission and the growth of God's reign in Africa. From 1978, he was also Superior of Ballinafad until the SMA left the property in 1982. Moving to a new House in Claremorris, Michael was a welcoming presence to both SMA members and visitors.
After a sabbatical at the Redemptorists' Centre at Marianella, Michael, along with the late Fr Colum McKeogh, undertook a new challenge: pioneering the SMA return to South Africa over 100 years after the French SMAs left the Cape Province. His willingness to take on this new venture is especially admirable as he was already suffering from Diabetes at the time.
Apart from a sabbatical break from 1997 – 1998 – when he did the Development Studies Course at the Kimmage Mission Institute, Dublin, Michael would spend the next 26 years in Rustenburg diocese. This as you know was a time of momentous political change for the people of that beautiful land, and Michael was privileged to witness at first hand the emergence of a post-apartheid independent South Africa.
Despite bouts of ill-health he gave of himself unstintingly to the people he served in several missions: After language study, Michael became the first resident priest at Silverkraans. His emphasis was on the training of lay leaders and catechists. He went to every small village on a rotational basis. Even though there was little human satisfaction in the work, he never gave up. Then he went to Zeerust, a huge area bordering Botswana. Again, he had to travel great distances in spite of his poor health. While there, he trained catechetical teams in every village and built several churches with the financial support he received from his friends in Ireland. While there, he was also Vocations Director for the diocese of Rustenburg and was Diocesan Chaplain to the men and women of the Sacred Heart Sodality.
From Zeerust Michael moved to Swartklip, a parish of scattered villages and mining communities. Always the missionary and pioneer, he established a new mission at Northam. He was the first resident priest there and it was there he was diagnosed with cancer. As he celebrated Mass with his SMA brothers before he left he said: "I had hoped for a few more years." But this was not to be.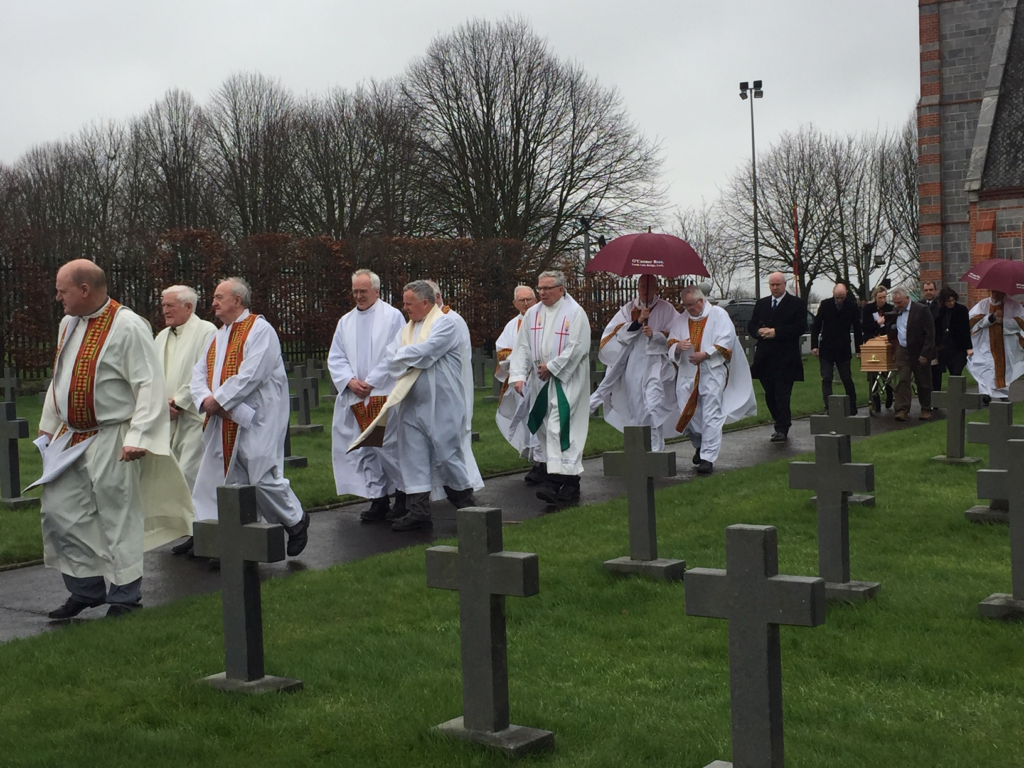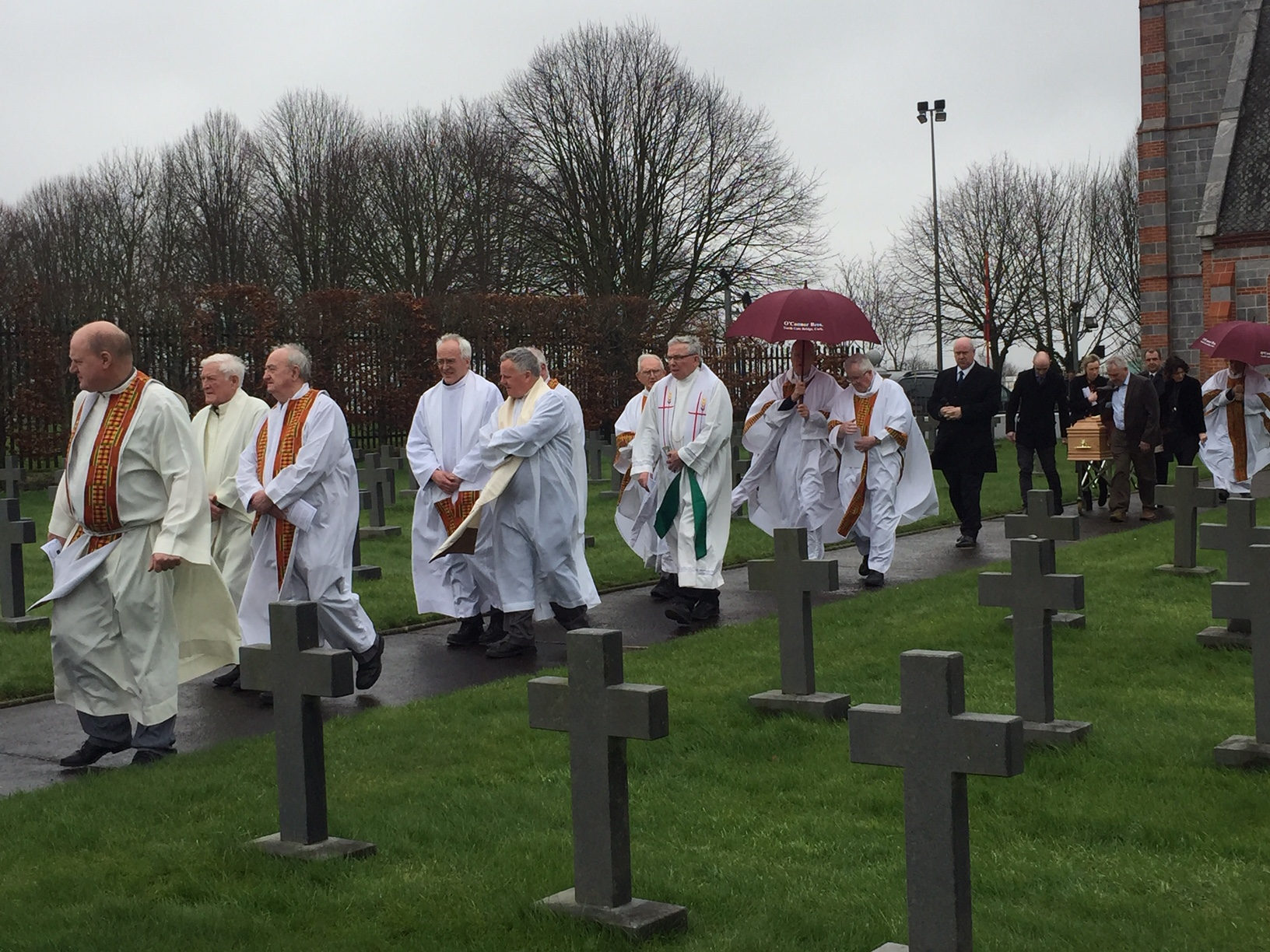 Michael always worked in what we call areas of primary evangelization. In those areas you plant seeds. Somebody else may see the fruit. Michael never gave up and he remained committed to mission at its most basic. His emphasis was on the training of lay leaders in every village and church community. In keeping with our SMA tradition, he was totally committed to building up a Diocesan clergy. In the words of our Founder, Bishop de Marion Brésillac, Michael was a true missionary 'with all his heart' – holding nothing of himself in reserve.
On his return to Ireland in 2012, Michael joined the Blackrock Road House, where he participated fully in all the activities of the community. He also read widely and maintained his contact with an ever increasing cohort of friends. Even after he suffered a debilitating stroke in 2016, Michael's spirit was not broken. When he returned from the Bons Secours hospital and moved to St Theresa's nursing unit, he was well cared for by the nurses and staff there, all of whom loved and admired his resilient spirit.
Michael continued to maintain a lively interest in all SMA matters, both in Ireland and Africa. I often felt that he was better informed about what was happening in the Society than I was. He never lost his interest in people and events around him – and further afield. Nor did he lose his lifelong interest in sport. He battled his suffering every step of the way and took all the treatment offered to him. He wanted to live life as fully as he could right up to the end.
The road of suffering can be long and winding, as it certainly was for Michael. Michael, I'm sure, had to walk parts of that road alone, as we all must do when our time comes. All the time he was sustained by the love and constant outreach of his closest and dearest friends. Many of you are present here today. Thank you for your love for Michael. We know that the love of friends was something Michael needed and valued all during his life and especially at the end.
Michael inspired all of us by his indomitable spirit, and something of that spirit will live on in all who were privileged to know him, until we join Michael in the long sleep of death and finally in the bright peace of God's eternal day.
I will end with a few lines from a poem by Mary Oliver entitled 'When Death Comes' – lines which capture the spirit in which Michael lived and died:
"When death comes
like an iceberg between the shoulder blades,
I want to step through the door full of curiosity, wondering:
What is it going to be like, that cottage of darkness?
And therefore I look upon everything
as a brotherhood and a sisterhood,
and I look upon time as no more than an idea,
and I consider eternity as another possibility…
When it's over, I don't want to wonder
if I have made of my life something particular, and real.
I don't want to find myself sighing and frightened,
or full of argument.
I don't want to end up simply having visited this world."
Michael did not just visit this world. He embraced it fully and right to the end, and he left us all the richer for his presence with us. Now he passes through the door of death still full of curiosity to embrace "what no eye has seen, nor ear heard., nor mind conceived what God has prepared for those who love him" (1 Cor 2:9).
Ar dheis Dé go raibh a anam dilis!