We are gathered here today to say farewell to our dear brother priest, a brother, an uncle and friend, Fr Willie Cusack whom God called to himself last Saturday morning. In a real sense, we've come to pray Fr Willie home to God. Our hearts go out to his family whom he leaves behind – to his sisters and brother, nieces and nephews, extended family, relatives, friends, and the family of the SMA. Fr Willie was a priest for over 54 years and so today we remember him dearly and we give thanks to God for him as we celebrate his life as a great missionary and friend.
The first reading today tells us that:
"The souls of the virtuous are in the hands of God… grace and mercy await those he has chosen"
These words today offer us great support and consolation especially when we are faced with the death of a loved one. As we try to come to terms with Fr Willie's death – we tend to reach out and clutch at something that gives us hope and guidance during these sad days. His going from us was sudden. And yet knowing Fr Willie he would not have wanted it any other way. When it was obvious that his health was going down and his independence got less and less – he would not have wanted to linger. We believe he was ready to answer the final call home last Saturday.
Fr Willie can be described as a loyal and faithful servant. Ever faithful to his calling from God to be a missionary priest – he put himself at the service of God and at the service of the SMA both in Africa and in Ireland.
We firmly believe now that Fr Willie's soul is in the hands of God where grace and mercy awaits him. We believe too that he has heard those words from the God he loved and served all his life: "Well done, good and faithful servant – welcome home Willie!"
The second reading today is very much an Easter Season reading because it speaks to us about Jesus and his life which he offered up for our salvation. Fr Willie was a missionary true and true. It was in his blood and he spent his life preaching that message of Jesus – that Jesus has come to save us, to lift us out of our sinful ways and lead us back to God. Fr Willie's 54 years of missionary work in Nigeria, Zambia and Ireland were marked by the fact that he was a man of faith, a man of prayer and he believed in what he was doing.
But all was not easy for Fr Willie. He encountered his own fair share of troubles throughout his life. Sickness played a part in his life and visits home from Africa were often spent in getting medical treatment and once he had recovered – he was pawing the ground to get back to his work in Africa. He lived through the Civil War in Nigeria which also was to take its toll on him. But Fr Willie remained with his people and supported them in very difficult situations. Security issues continued to be a part of his life in Africa and he often shared with us stories of how he came face to face with arm robbers and the effect this had on his health later.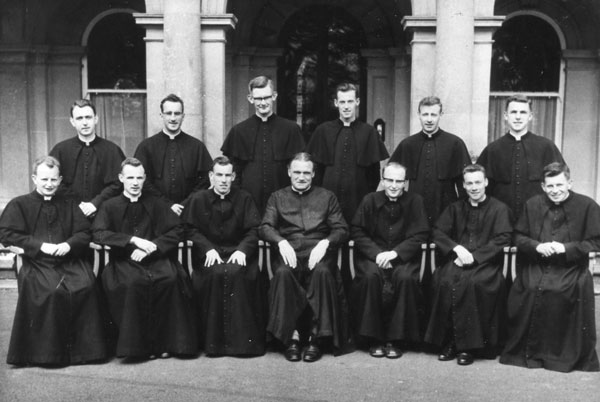 Fr Willie Cusack was born on the 20th July 1940 in Carrick-on-Suir, Co. Tipperary. He was one of a family of 7 children born to Richard and Mary (Nee Ward). The family moved to Dublin when he was young and his primary schooling was in St Canic's CBS, Dublin and for his secondary schooling he attended O'Connell Schools, North Richmond Street, also in Dublin. From an early age he showed interest in becoming a missionary priest and in 1958 he attended the SMA College at Cloughballymore, Co. Galway for his novitiate and then in 1959 proceeded to Dromantine, Co. Down for his philosophical and theological studies. He was ordained a priest on the 16th December, 1964 at Newry Cathedral – being one of 12 ordained in that class.
After ordination, Fr. Willie was appointed to the then Diocese of Benin City in Mid West Nigeria where he was to spend the next 21 years in that area. For most of those years, he served in several parishes – namely Agbor, Emi-ora, Uzairwe, Uromi and Benin City. While he gave himself totally to building up these parishes and nurturing the faith – he generously accepted leadership roles in the SMA when these positions came knocking on his door. In 1979 he was elected Deputy Regional Superior and in 1983 he was elected Society Superior for Benin City. In 1986 he was transferred to the Archdiocese of Lagos and for the next four years ministered in that very busy parish of St Leo's Ikeja. Another leadership role came to his door again and in November 1989, he was elected Regional Superior for Nigeria South. For the next ten years, from Lagos to Kontagora, and from Benin city to Ibadan, he combined concern, encouragement and compassion for the confreres under his care and encouraged initiatives to progress the work of evangelisation in old and new ways – notably the creation of the new jurisdiction, the Prefecture of Kontagora (an area of Primary Evangelisation) took place under his watch in 1995.
Fr Willie's family back home played an important part in his life and he kept in regular contact with them all throughout and his visits home were always special to him. He was delighted when Nuala and Gemma got to visit him in Nigeria in 1992 and he showed them around the places he had worked and met up with many of his friends and former parishioners. Even up to ten days ago from St Theresa's Nursing Unit he was in very regular phone contact with his family members and kept up to date on family news. But the death of his sister Gemma in 1999 was a major blow to him as he was very close to her and he missed her very much.
The gospel today tell us:
"I am the resurrection and the life. If anyone believes in me, even though he dies he will live, and whoever lives and believes in me will never die".
These are the words spoken by Jesus to Martha and Mary as they mourned the death of their brother Lazarus. This is really one of the most powerful statements in the Gospels. Because it means that Jesus holds the key to life and death. Jesus, by experiencing death and rising from the dead has broken the power of death forever. We are sad now because death has claimed the life of our loved one – Fr Willie. But we should not be overwhelmed by it. What sustains us now is our faith and hope in Jesus – who is the resurrection and the life.
Fr Willie would have assisted at many a funeral of family members, relatives, friends and parishioners in the parishes he worked and he would have reflected upon and shared this message from today's gospel, Today we speak these words for Fr Willie because he believed in these words. He has passed through death's door and into eternal life with the Lord. Yes, reunited now with his parents and his sister Gemma and his brothers Frank & Eamon and all his relatives and friends who have gone before him.
In 1999, sickness was to cut short his leadership role of Regional Superior in Nigeria South and he asked to step down from that role and returned to Ireland where he was to spend the next three years in Blackrock Road as he regained his health and became a member of the house staff. By 2002, he made known his desire to return to Africa and for the next three years he ministered at the SMA Regional House in Ndola, Zambia. One thing that Fr Willie was well known for was his hospitality – he was a really great host and welcoming to all who came his way. He loved gatherings and bringing people together to celebrate occasions – be it SMA occasions or golfing and social outings. He loved the banter and the craic.
By 2005, he requested to return to Ireland as his health was not as robust as before and the threat of security breaches in his mission was disturbing him. For the following two years he worked in the Justice, Peace and Integrity of Creation Office in Blackrock Road – helping with the day to day running of the office and being proactive in justice issues and care for the earth campaigns.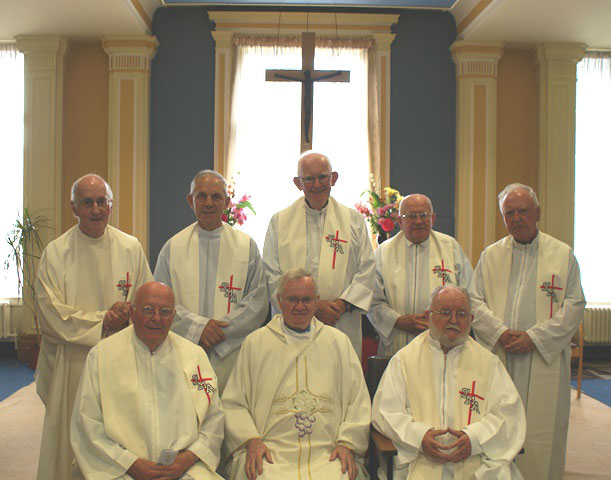 By 2008, his energy levels had decreased and he took on a more retiring role with fewer responsibilities. For the past six years, he was an active patient in St Theresa's Nursing Unit. And whilst his mobility had decreased significantly, Willie had acquired a motorised scooter which he drove along the corridors every day to Mass in the oratory. While in the oratory, he would reverse into a prominent position near the main altar and kept an eye on everything and everyone – especially if the candles weren't lit, the lights not on or the microphone not switched on or if something was missing in the liturgy – he would make it known. In the fine weather, you could meet Willie outside at the back of the house on the walks driving around on his scooter and getting in some breeze – then as proud as punch, he'd tell you that he had just done five rounds on the walks!!
He was gifted with a lively sense of humour and a quick Dublin wit. A proud Dub and yet he would be quick to tell you that he was a Tipperary man by birth. He put his gifts at the service of the SMA and as has been mentioned a number of times over the past few days – he will be remembered far and wide for his gift of hospitality. Many are the members and friends that have been nourished physically and spiritually at his table, the table of friendship and the table of the Eucharist.
Fr Willie gave his whole life to the Mission. He was a missionary who bore witness to the instruction of our SMA Founder – "to go out and give your life in the service of God among the peoples of Africa"
He has now completed his journey here on this earth.
May he enjoy the fullness of eternal life and receive the reward that awaits this good and faithful servant of the Lord.
Ar dheis Dé go raibh a anam dílis.
Monday, 6 May 2019