On February 16, 2018, Fr Fintan Daly celebrated his 80th birthday at St. Leo's parish, Challenge, Ibadan, Nigeria.
A measure of the esteem with which Fr. Fintan is held can be gauged by the fact that both the current and retired Archbishops of Ibadan turned up to celebrate the occasion, along with a large contingent of missionary and diocesan confreres. Archbishop Abegunrin and his predecessor, Archbishop Felix Job, expressed their deep appreciation to Fr. Fintan for his long years of dedicated missionary service to the people of Nigeria, especially to the diocese of Ibadan, including 24 years on the staff of the Minor Seminary.
The congregation and concelebrants included SMA priests and students, OLA Sisters and novices from Ibadan. And, in another expression of respectful appreciation, Fr. Fintan was honoured by the presence of the Rector, staff and students from the Minor Seminary.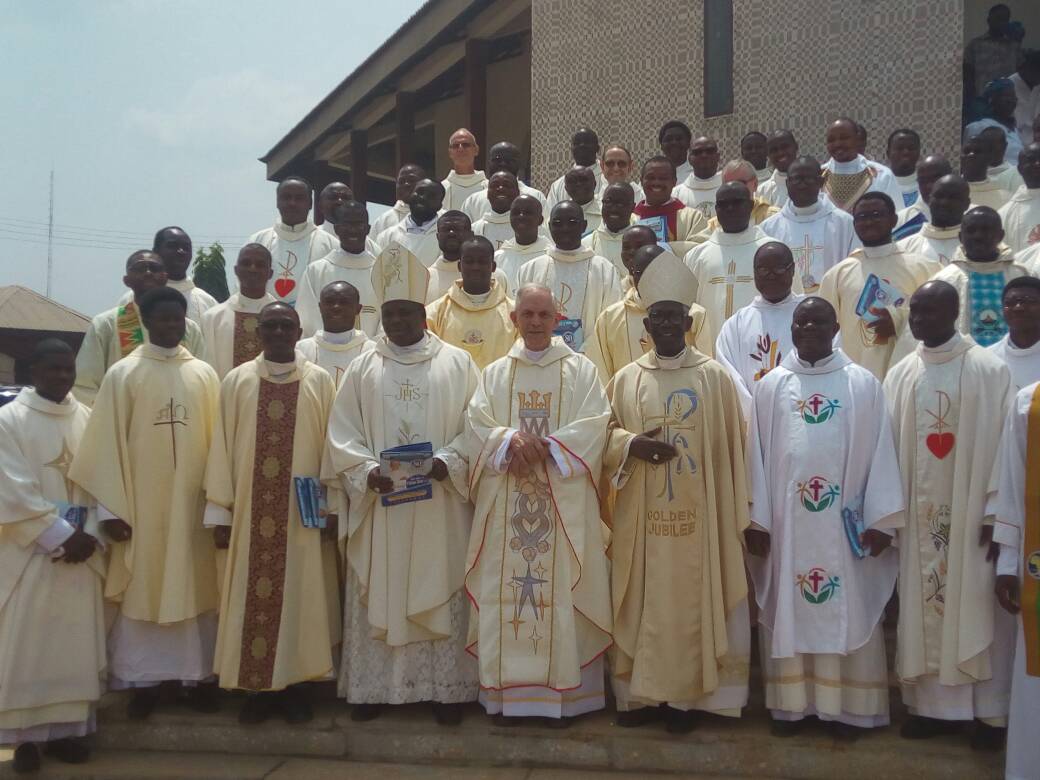 This was an emotional day for Fr. Fintan who, in remembering his own long years of service, is acutely aware of the sacrifice and service given by so many SMA confreres and OLA sisters over the years. 
Just 81 years, ago, in 1937, Fr Edward Murphy, from Carrickmacross, Co Monaghan, died here at the age of 27 after spending only six weeks in the country. Some 120 deceased SMA priests and brothers worked in Ibadan Archdiocese over the years, eight of whom are buried in the .Archdiocese.
The first SMA missionaries visited Ibadan in 1884, but they had come from Oyo and the king of Oyo demanded that they return to Oyo as the two Kingdoms were at war. It was ten years later, in 1894, that they came back to Ibadan. The chief ruler of Ibadan did not want them to stay at all but he was too polite to directly refuse so he gave them a site at Oke Are which at that time was supposed to be an evil forest and he thought they would be driven away quickly by evil spirits. But the spirits did not trouble them, but the rain often did as at first they lived in a bamboo hut. Eventually they built a house and in 1900 they built the first church in Ibadan, which is still there to this day.
They also intended to train young men to become Nigerian priests so in 1901 they admitted a few young men hoping they would become priests. These early candidates did not persevere, but the missionaries persevered in their efforts and eventually the first Yourba priest was ordained in 1929. From these small beginnings the Church in Ibadan has grown in a way these early missionaries could never have envisaged. At present there are over 90 priests ordained for Ibadan. And great credit for that is due to Fr. Fintan and his confreres.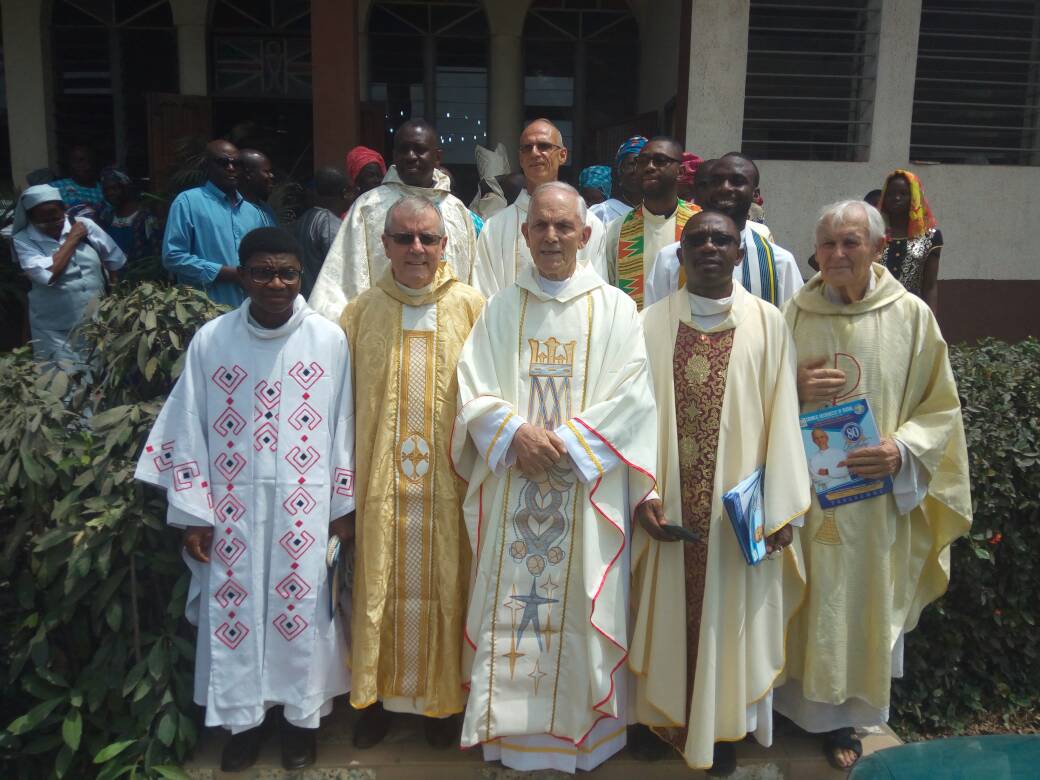 The OLA Sisters were the first sisters to come to Ibadan. They came in 1912 just over 100 years ago. They came from Lagos by train. Some people cut a path through the bush from the railway station to Idikan (near Oke Padi – 'Hill of the Priest') where they established their first convent. When the people saw these white women coming who wore big white veils almost covering their entire faces and long white habits reaching the ground, the people said, "angels are coming" and they were right because the sisters like the fathers brought healing to the sick and education to the children and more important told them about Jesus Christ .
So today, in celebrating this wonderful occasion of Fr. Fintan's 80th birthday, let us also remember all who walked before him, and those who walked with him, in being the joyful messengers of God's Good News. We pray God's blessings upon Fr. Fintan, his family, living and deceased, and all who have shared the gospel journey with him. And we invoke God's blessing on the Archdiocese of Ibadan, praying that the good work done by SMA priests and brothers and the OLA sisters, will continue to realise an endless harvest of faith and transformative love in bringing endless blessings to all of Nigeria. 
Happy Birthday Fr. Fintan! May God's blessings manifest themselves as a gentle and refreshing breeze throughout the remainder of your life. 
Thank you!