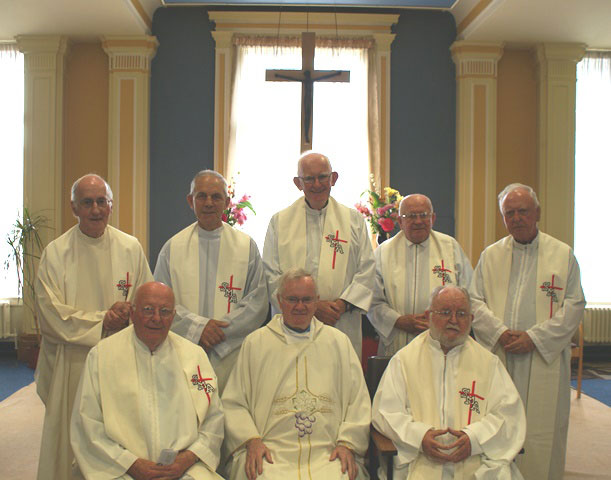 Saturday, 26 July 2014, saw more than 70 SMA members – bishops, priests and brothers – gathered at the African Missions, Blackrock Road, Cork to celebrate with their seven colleagues, members of the 1964 Ordination class.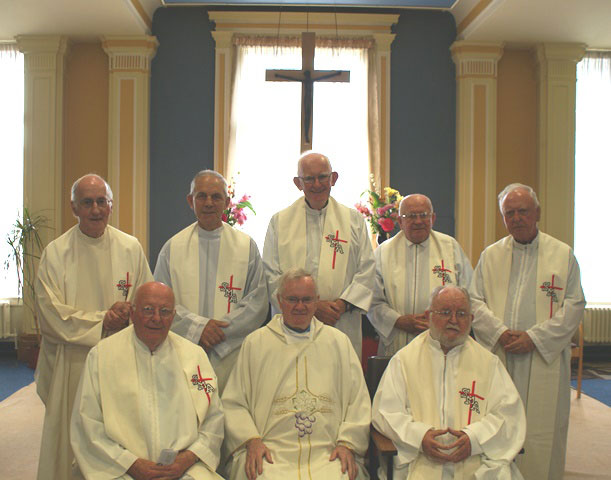 Front row, left to right: Frs Tom Harlow, Michael McCabe [Provincial Leader] and Willie Cusack.
Standing: Michael McGrath, Fintan Daly, Tim Cullinane, Con Murphy and Bishop Patrick J Harrington.
Twelve were ordained by Bishop Eugene O'Doherty in the Cathedral of Saints Patrick & Colman on 16 December 1964. One of them – Fr Fergus Conlan SMA – has gone to his eternal reward. Four others chose a different path in life after some years serving as priests in Africa. They too were remembered and prayed for during the Thanksgiving Mass celebrated by the SMA Provincial Leader, Fr Michael McCabe.
Our seven Jubilarians are Tim Cullinane [SMA Formation House, Ibadan, Nigeria], Willie Cusack [SMA Blackrock Road], Fintan Daly [St Leo's parish, Ibadan, Nigeria], Tom Harlow [SMA Parish, Wilton], Bishop Patrick J Harrington [SMA Wilton], Cornelius P Murphy [SMA Parish, Wilton] and Michael McGrath [Catechetics, Kaduna Archdiocese, Nigeria].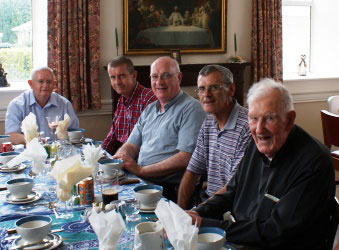 The emeritus Vicar Apostolic of Kontagora, Nigeria – Bishop Tim Carroll SMA – preached the homily which was greatly appreciated by all. Read it here.
After the Mass all enjoyed a lovely lunch prepared by Mr Willie O'Connell and the staff of Blackrock Road. Thanks to Willie and all the staff, including Frs O'Shea, O'Connor and Brennan, for the preparations and enjoyment of the day.
During the meal, the SMA Provincial Leader, Fr Michael McCabe, gave a brief appreciation on each of the Jubilarians who, in turn responded with speeches of varying lengths. The shortest speech was given by the shortest man in the class, Fr Willie Cusack. And the longest – but equally well-appreciated – was by the tallest man, Fr Tim Cullinane. After thanking God for the gifts he had given him in life, Fr Tim thanked God that he ensured he was born in Kerry! And all his classmates agree that Fr Tim is a Kerryman to the tips of his toes!!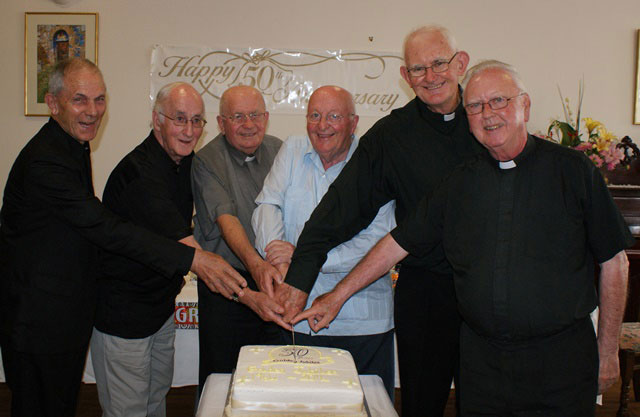 Fr McCabe, echoing the words of the homilist, Bishop Tim Carroll, spoke of the fact that many of the 1964 class have exercised leadership at all levels of the Society – Superior General, Provincial, Regional, Society and House Superiors. He also praised the work of those in the class who were the public face of the Irish Province through their tireless work 'on the road' – as FVC Director, preaching in parishes and schools as part of our Mission Awareness team…
SMA members travelled from all over the country to celebrate with their colleagues. Particularly welcome were those who were home on holidays from different parts of Africa.
Among them were Frs Tom Casey, Martin O'Farrell and Brian O'Kane [all three working in Ndola, Zambia]; Fr Brian's brother, Fr Jim O'Kane [Lusaka, Zambia]; Fr Phonsie Flatley [Ilorin, Nigeria]; Fr John O'Hea [Ibadan, Nigeria] and Donall O'Cathain [Kontagora Vicariate, Nigeria].
As our Jubilarians enjoy the congratulations and best wishes of family, friends and SMA colleagues we wish them continuing blessings as they proclaim the Word of God through their particular ministries. Ad Multos Annos!