SMA Golden Jubilees 2011
The 1961 SMA Ordination class were unique as their ordination to the Priesthood was televised by BBC Northern Ireland. The ceremony took place in St Peter's Church., Lurgan. Sixteen priests were ordained on that historic day. On 13 July 2011, nine of them gathered at the SMA House in Blackrock Road, Cork to celebrate that event and, as they were reminded by Fr Hugh Harkin SMA during his homily, to give thanks to God for 50 years of faithful service in the Lord's vineyard.
Our picture shows the class after the Jubilee Mass, celebrated by Fr Fachtna O'Driscoll SMA, Provincial Leader.
They are, standing, from left to right: Fathers Owen McKenna, Don Burke, Martin Costello, John Haverty, Vincent Brennan and Jim Shevlin.
Seated: Fathers Martin Nolan, Michael Cahill, Fachtna O'Driscoll and Francis Coltsmann.
The readings for the Jubilee Mass were taken from 1 Kings 19:9, 11-13; 1 Corinthians 11:23-26 and John 15:12-17.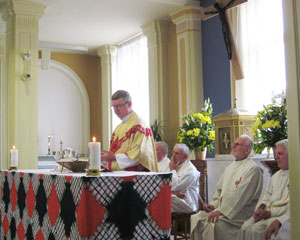 Fr Harkin began his homily with a quotation from A View from the Ridge, the autobiography of Morris West (who wrote the popular novel 'The Shoes of the Fisherman'): " "When you get to seventy years old, your vocabulary should be pretty simple. You only need to have two words left: 'Thank God'. Gratitude is the real mark of genuine maturity, of spiritual health. And it requires deep spirituality to recognize that everything we are, everything we have, is a gift from God".
Our picture shows the Principal Celebrant, Fr Fachtna O'Driscoll, with Fathers Vincent Brennan, Martin Costello, Johnnie Haverty and Owen McKenna listening to his introductory remarks.
A Golden Jubilee is surely a great gift from God as well as being a very special occasion. Pope John Paul II said: "The priesthood is a great mystery and a great gift of God". So the celebration of your Golden Jubilees is an occasion for thankfulness and gratitude to God and to many others. The word itself means to 'rejoice'. Today we rejoice with and salute the class of 1961″. Fr Harkin then drew some reflections from the Readings chosen for the Mass. He concluded his homily with a quotation from the late Archbishop Oscar Romero:
"We are workers.
We accomplished in our lifetime only a tiny fraction of the magnificent enterprise that is God's work.
We cannot do everything, and there is liberation in realising that.
This enables us to do something,
and to do it very well.
We may never see the end results,
but that is the difference between the master builder and the worker.
We are workers, not master builders,
ministers, not messiahs.
We are prophets of a future not our own".
Sixty SMA priests and brothers attended the Jubilee Mass and lunch afterwards. Many stories were shared of the intervening years and photos of the yesteryear compared with the faces of today!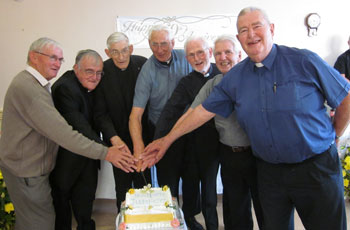 Why did the BBC choose to televise the Ordination? In the late 50's and early 60's Fr John J Conlon had encouraged the BBC to do some Radio broadcasts of ceremonies from Dromantine. He saw it as a way of getting the SMA known by people far beyond Co Down. In 1961 the BBC decided that they would televise the Ordinations. It was agreed with Bishop Eugene O'Doherty that the ceremony be moved to Lurgan as it was not possible to ensure sufficient lighting in St Colman's Cathedral, Newry for a TV transmission.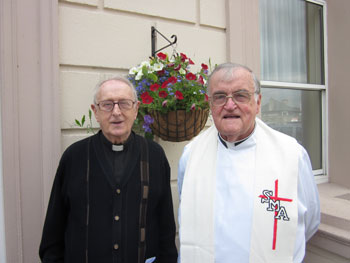 Five of the Jubilarians are based in Ireland, involved in different ministries or retired. The ninth, Fr Jim Shevlin, was incardinated in the Archdiocese of Armagh some years ago but is still part of the SMA family. He is pictured here with Fr Jim Smyth with whom he served in the Archdiocese of New York for some years.
Three of the nine are still serving in Africa:
Fr Johnnie Haverty (from Craughwell, Co Galway) is in the parish of Kachia in the Archdiocese of Kaduna. Fr Johnnie has served all his life in Kaduna, for many years as a teacher and Principal in several schools. In more recent years he is a fulltime parish priest. However, unable to ignore the need for education in his parish he established a primary and secondary school there. St John's College, Kachia is recognised as providing an excellent level of education to the children of the area, both Christian and non-Christian. This is due to the hardwork and diligence of its Nigerian Principal and staff. When Fr Johnnie went to Nigeria in 1961 there were more than 200 Irish SMA brothers and priests there. That number has considerably reduced – 29 – but we now have SMA priests from other parts of the Society, including India and several African countries. All in all, there are 61 SMA priests serving in nine ecclesiastical jurisdictions in Nigeria. There are now 33 Nigerian SMA priests, something which was unthought of in 1961 when an energetic FR Haverty hopped off the boat at Apapa, Lagos!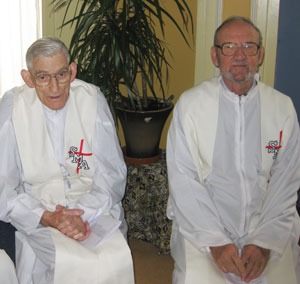 Fr Don Burke (from Waterford City) is now in Ndola diocese, Zambia. He is pictured here with Fr Martin Nolan (on left). Fr Don previously ministered in the Archdiocese of Lagos where he established Boys' Town on the then outskirts of the city. At the end of 25 years in Lagos, Fr Don was asked by the SMA Superior General, Fr Patrick J Harrington, to help re-establish the SMA presence in Poland. At the age of 50 Don agreed to this onerous task, which necessitated him learning a new language (Polish) and adapting to a new culture, not to say anything about the cold winters. With the help of some French and Dutch SMA priests, the SMA presence was re-established there. Today, the Polish District-in-formation has 26 priests, many of them recruited by Fr Don on the famous Polish 'walking pilgrimages' to religious sites.
The third SMA still serving in Africa is Fr Vincent Brennan (Clogher, Elphin, Co Roscommon). Along with his 15 classmates, Fr Vincent was initially appointed to Nigeria. He served for nearly 24 years in Ilorin diocese before responding to a request from Redemptorist Bishop Hallett to establish an SMA presence in the Diocese of Rustenburg, South Africa. Fr Colum McKeogh (died 2 June 2011), a classmate, was the other member of the team who moved south and began their ministry in St Clement's parish, Modimong. Today, Fr Vincent is still responsible for a parish as well as serving as the Secretary General of the Southern African Catholic Bishops' Conference, an appointment he will relinquish in the near future. Since 1984, the SMA team has grown. Fr Pius Afiabor SMA, from Nigeria, now leads a team of 15 SMA priests working in three dioceses: Rustenburg (10), Johannesburg (2) and Pretoria (3).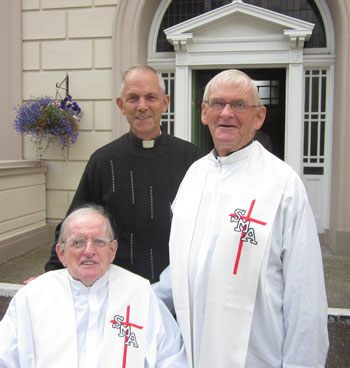 Sixty SMA priests and brothers attended the Jubilee Mass and lunch afterwards. During the meal, Fr O'Driscoll presented each Jubilarian with a gift and gave a resumé of their missionary life, both in Ireland and abroad. Each Jubilarian responded with brief speeches, some recounting amusing incidents from their seminary years or their time as priests.
Their absent classmates, some who have died and others who have taken a new direction in their lives were remembered, both at the Mass and during the speeches.
Our final picture shows two of our Jubilarians (who are also 2nd cousins) with Fr Fintan Daly SMA who arrived the morning of the Jubilee from his mission in Ibadan, Nigeria. Fr Mick Cahill (seated) and Fr Johnnie Haverty were happy to welcome their fellow Galwayman to the party!