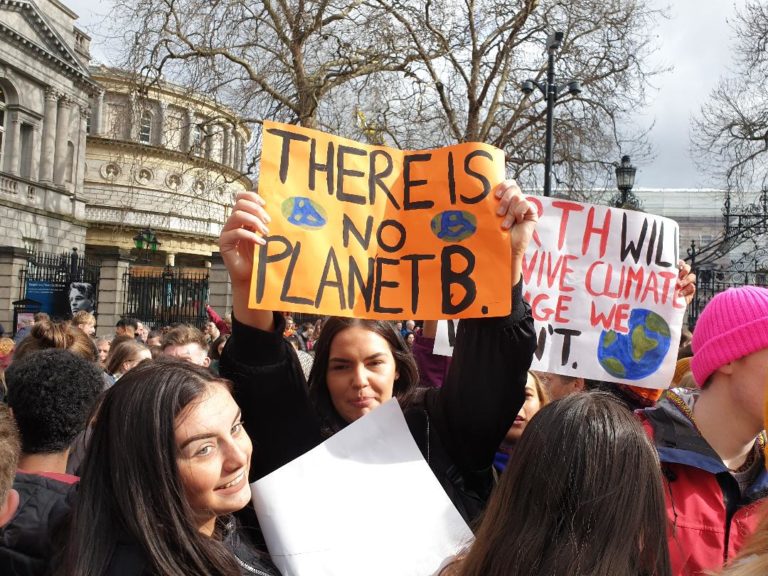 Since a young Swedish girl named Greta Thunberg began striking for action on climate change every Friday, young people around the world–and their teachers, parents, grandparents, aunts, and, uncles–have been responding to her call to take action for the sake of our future. Catholics are joining the call. During the global protest on May 24, there were over 100 Catholic protests around the world. The next global event is on September 20th, when world leaders will gather at the United Nations to discuss the climate crisis.
As the Amazon Forest burns, we stand at a crossroads as a Global Community.
As Church we can shine as a beacon of light for others.
Here is how you can respond to Pope Francis' call to the Church to "go into the streets."
1) Calling the Church to action: JOIN your nearest Global Protest (Dublin or Cork). Bring a Catholic delegation (for example a parish pilgrimage) to the event. Contact email below if you need advice on 'how to'.
2) In Dublin please join FaithS For Climate Action for a 'pre-protest prayer service' at the Famine Memorial on Custom House Quay on Friday September 20th. Time to be confirmed. Following the prayer service we will join the main protest in solidarity with the global climate youth movement who are calling governments to urgent action.
3) Make signs with your favourite quotations from Laudato Si'. Ideas can be found here.
4) If you cannot join the Dublin gathering then check here and here for your nearest local strike OR organise your own gathering showing your support. It does not need to be a major event. You can gather people in front of your local government building or in a university courtyard, a public park or outside your parish church. The most important thing is to publicly call for action on the climate crisis in the spirit of Laudato Si'. Invite local media.
5) Hold a public prayer. If you cannot attend a protest, or if your parish or school wants to support this action in a different way, join the many Catholics publicly praying for Laudato Si'. For example the Laudato Si' Rosary can be found here.
6) Register your event: However you choose to participate, remember to register your participation to show how Catholics are supporting Laudato Si' and action on the climate crisis. You can add your event to the Catholic Protest Map here and also the Global Fridays for Future map here.
Thank you for your support and blessings on your actions.
"The Climate crisis requires our decisive action, here and now
and the Church is fully committed to playing her part"
– Pope Francis
Sample newsletter announcement:
Pope Francis tells us that "living our vocation to be protectors of God's handiwork is essential to life of virtue; it is not an optional or secondary aspect of our Christian experience." (Laudato Si', 217) On September 20, over one million people will be calling for action on climate change to protect all creation. Our (parish / Eco team / youth ministry) will be joining Pope Francis' call to action by joining the FaithS For Climate Action prayer service at the Famine Memorial on September 20th 2019. Time tbc. We will then join the youth in solidarity at the main protest. Details to follow.
Please contact (name, phone/e-mail).
Sample prayers of intercession for the Sunday before / daily masses
O Creator God, bless all those who stand up for our common home. We think especially of the people of the Amazon rainforest. This week may all who join together in solidarity at the Global Protest for Climate Action feel strengthened and renewed in their call to care for creation. (Pause) Lord, hear us.
O God of Creation, may those who gather in the coming weeks in New York to discuss the climate crisis be filled with your wisdom. May they have the courage to take the urgent action that is needed, for the protection of our environment, Your creation; for justice for the poor, and for the generations who are to come. (Pause) Lord, hear us.
Read Laudato Si' prayers throughout the week of action (20th Sept – 27th Sept 2019) and for the UN Climate Talks in New York. Link to prayers here.
Further liturgical resources during this Season of Creation are also available here: 
Social Media
These are the hashtags we recommend using when posting on any social media for the global protests.
• #SeasonofCreation: uniting these actions to Season of Creation, Sept 1- Oct 4 time for Christian unity on creation.
• #FaithsForClimateAction: faith based efforts to support strikes
• #GlobalStrike: the hashtag of the global Climate Strike movement
• #LiveLaudatoSi
Please contact [email protected] for further information or Michael O'Sullivan of the Dublin City Interfaith forum: [email protected]